What makes our products sustainable
Produced with low emissions, ecologically conscious material selection, energy-saving and water-saving usage – products for cleaning and care should be sustainable in many ways. Therefore, responsible behavior at Kärcher includes machine development and the production and supply chain right up to correct disposal – and it does not end at our factory gates.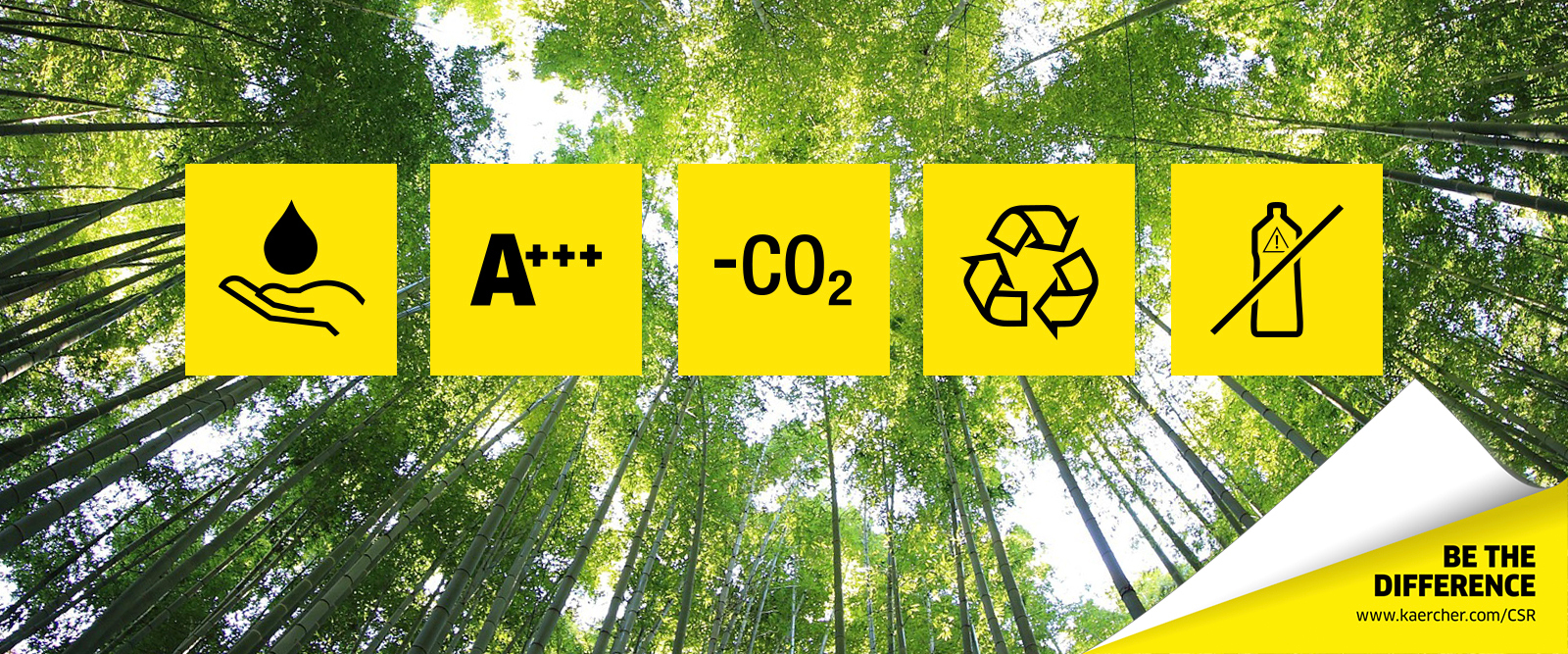 Contribution to value preservation and durability
Consumers now ask important questions upon purchase: Where was the product manufactured, by whom and in what conditions? What materials is it made of? And can it be recycled afterwards? How efficiently does the machine operate? We take these concerns very seriously. Kärcher offers cleaning solutions for households, industry and business – and these consume water, electricity and cleaning detergents. But Kärcher technology also contributes significantly to value preservation and the durability of buildings or machines – and there is already a great deal of sustainability in this.
Learn more here about the sustainability aspects of pressure washers, vacuum cleaners and more.

Saving water
Handling the resource of water responsibly is now more important than ever. What our technology can contribute to this? Cleaning machines can ensure that less water is consumed in a number of ways. Recycling systems in automated car washes, for example, collect up to 98 percent of the used water, process it and use it for the next cleaning process. Pressure washers save around 80 percent of water due to their high cleaning performance compared to working with a garden hose. Pumps for the garden make rainwater usable for watering the area around the house. These examples provide an impression:

Using energy efficiently
We are constantly improving the energy efficiency of our products – no matter whether they are corded, supplied by a battery, or supplied by a combustion engine. An important development in terms of cleaning machines is the Kärcher eco!efficiency mode, which can also be activated during operation. With it, the machine functions are automatically managed at the best possible efficiency. This reduces the consumption of energy, water and detergents. These examples show how that works in practice:

Reducing emissions
Especially in interior spaces and if users work directly on the machine, it is important to reduce emissions or totally avoid them where possible – including operating noise. So it is particularly important with vacuum cleaners, for instance, that they really capture the drawn-in dust and do not release it from the machine again. In other areas, such as with lawn mowers and electric saws, the switch from machines with a combustion engine to electrically operated machines can ensure that absolutely no more direct emissions are produced. Kärcher counts on efficient filter systems for products or offers emission-free products such as the machines of the battery platforms.

Responsible use of plastic
Since 2012, we have managed to quadruple the amount of recycled plastic in our machines. In material procurement, we watch out for sustainable resources, allowing us to close the circuit and to reuse the recycled plastic in products. We have made it our goal to achieve a recycled plastic content of up to 50 percent in our Home & Garden pressure washers by 2025. How sustainable material use already looks today:

Conscious use of detergent
A cleaning detergent does not always have to be used for a thorough cleaning, as plenty of dirt can be removed entirely with steam cleaners or hot water pressure washers, for example. In many areas, however, use of an efficient and application-oriented detergent is essential for the best possible result. Kärcher has been developing products that are good for the environment for more than 30 years. In the development process, a whole range of aspects should be considered to produce a detergent sustainable across the entire life cycle – from raw material selection up to packaging. Since 2012, all Kärcher detergents have been certified with the Sustainable Cleaning Label. The label characterizes products which were manufactured in companies that act in a sustainable manner. In addition, a number of the more than 600 different Kärcher detergents fulfill the requirements of international, sustainable environmental certificates.
This might also interest you: