IVR 100/16 Pp HEPA
The IVR 100/16 Pp HEPA pneumatic industrial vacuum series includes a long-lasting filter for non-stop operations in high volumes. HEPA filtration is available and can keep sensitive debris in place.
Unmatched performance coupled with tremendous value is what the IVR 100/16 Pp series delivers. This air-operated vacuum can be operated with mobility or can be used in a continuous, fixed process application. Its outstanding performance allows the operator to utilize fifty feet or more of vacuum hose, allowing tasks to be completed far away from the vacuum. With its lack of moving parts, the IVR 100/16 Pp can deliver years of dependable service. Available with a HEPA filter and a 26 gallon collection container, the IVR 100/16 Pp is the answer when electric powered industrial vacuums are not desired.
Specifications
Technical data
| | |
| --- | --- |
| Air flow (cfm) | 79 / 79 |
| Vacuum (inH2O) | 201 |
| Container capacity (gal) | 26.4 |
| Filter area (ft²) | 51.1 |
| Sound pressure level (dB(A)) | 70 |
| Weight without accessories (lb) | 306.4 |
| Weight incl. packaging (lb) | 306.4 |
| Dimensions (L x W x H) (in) | 36 x 29.9 x 73.7 |
Equipment
Accessories included with machine: no
Find parts for IVR 100/16 Pp Pneumatic HEPA Industrial Vacuum Cleaner
Find parts & diagrams for your Kärcher cleaning equipment. Select "Find Parts" to begin your search or contact your authorized Kärcher dealer or retailer.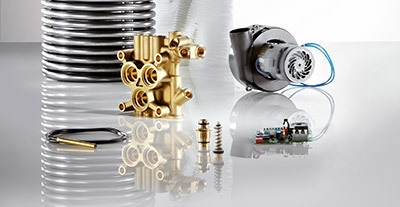 Need help deciding?
Let a local Kärcher dealer help! Whether you have questions on a particular machine or you're ready to buy today, your local Kärcher dealer is a cleaning industry expert and your go-to resource. Click below to have a dealer representative contact you.