Education
Good prospects for success. Education is the most important raw material for the future. The quality of education and training increasingly determines the competitiveness and general prosperity of states and each child. Consequently, substantial sums of money are invested in educational facilities and their operation. In order to secure these investments and achieve a positive learning environment, these facilities require continuous maintenance using professional cleaning technology. The Kärcher system offers convincing solutions for any cleaning task in public educational facilities: perfectly-tailored machines, accessories and cleaning detergents. They are powerful, efficient and cost-effective thanks to innovative technology, low consumption and durability.
Building Exteriors
Some dirt can be difficult to tackle: sidewalks, parking lots, entrances, and loading docks, for example. Our machines make it easy to make a great first impression that lasts. Kärcher offers pressure washers and attachments for building exteriors like brick, glass, and stone and sweepers for your sidewalks and parking lots are the best machines to add to your school.
Quickly sweep parking lots and sidewalks with the KM 90/60 R Bp Adv ride-on sweeper. The easy to dump 16 gallon hopper allows you to clean for extended periods of time without stopping. Kärcher's BD 50/50 C Classic Bp walk-behind scrubber was designed for school use. You can easily scrub away dirt and grime in high traffic areas, while using less water.
Use the HD 3.5/35 G cold water pressure washer as a cart or a skid to efficiently clean building exteriors, windows, stairs, sidewalks, and parking lots. The Building Interior/Exterior Cleaner detergent is safe for use on brick, siding, stucco, concrete, and tile. It is also phosphate free, so you can remove tough dirt and set in spills while being eco-friendly.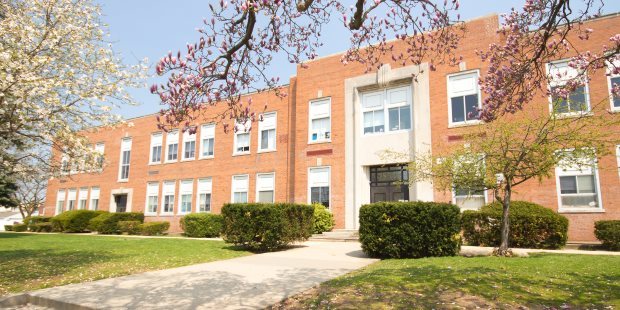 Entry
A clean and orderly entry way provides a welcoming environment to students, parents, and school personnel. A clean entry area incorporates the impression of health and safety. Whether you clean multiple times a day or spot clean as necessary, enroll Kärcher equipment for the job. Our expansive collection of sweepers, scrubbers, and vacuums can take on any task and will leave you with lasting results.
The Armada BRC 40/22 extractor was designed to extract carpets from any direction. Easily extract set in dirt in your entry way rugs and carpets. Kärcher's Chariot 2 iVac 24 ATV can be used on any floor surface. In applications where a sweeper, wide-area vacuum, or duct mop can be used, this stand-on vacuum is all you need.
The self-propelled KM 75/40 W Bp sweeper is maneuverable to clean congested areas with ease. With this machine, you can clean indoors or out, carpet or hard floors. It's versatility allows you to clean faster and more efficiently. The BR 30/4 C compact scrubber provides you with clean and dry floors with a lightweight, upright scrubber. It's as easy to use as an upright vacuum and you can quickly and safely return areas to use after scrubbing.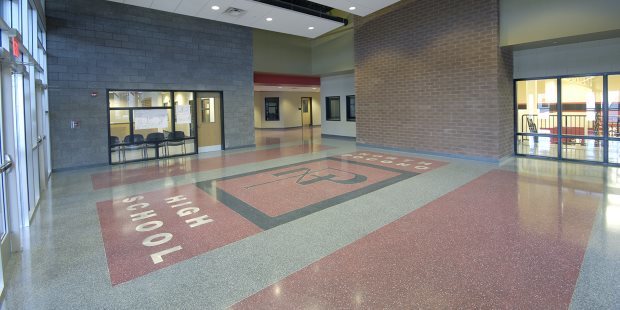 Common Areas
We offer efficient and productive cleaning options, so you can provide a relaxing space for visitors and students alike. You and your staff will be confident in the clean achieved with our vacuums, scrubbers, extractors, or spotters. Kärcher puts hygiene first, keeping your main traffic routes clean and safe.
The KM 70/30 C Bp Adv sweeper makes quick work of any sweeping needs with its highly productive electronic driven broom. It also includes a flat pleated filter for dustless sweeping indoors – so you can sweep up messes in your common areas with ease. Kärcher's BR 40/10 C Adv is a compact scrubber with large clean and dirty water tanks for longer run times in clean in congested areas. Now clean up near lockers, tables, or chairs.
The CVU HEPA upright vacuum is quiet and lightweight and includes HEPA filtration, for cleaner air in your school. You can easily clean up messes quickly in your common areas. For set in spills and stains in carpet or upholstery, use the Puzzi 8/1 C extractor. The dirty water tank is removable and swivel casters are included for easy maneuverability.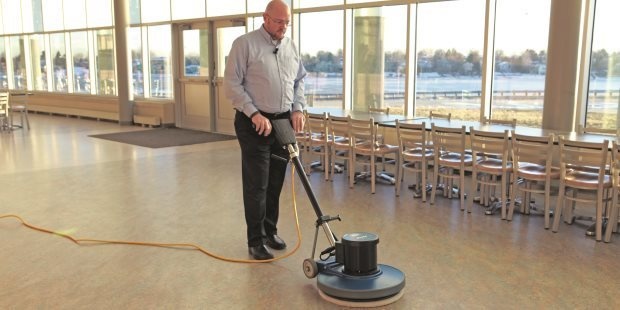 Hallways & Fountains
Preventing slips and falls in hallways by cleaning up weather debris and spills quickly is an imperative part in keeping your school clean and safe. Our top of the line scrubbers, sweepers, extractors, and vacuums are designed to make daytime cleanup quick and easy.
Use the SGV 6/5 steam cleaner to disinfect drinking fountains each day. It is easy to use and includes one switch to control all operation. You will easily be able to stop the spread of germs from drinking fountains. The EB 30/1 sweeper is perfect for quick cleanup in busy and crowded areas. This sweeper is incredibly quiet, allowing you to clean during school hours without disrupting students.
Saving you and your school time and money is something we're proud of- the Kärcher Sensor XP upright vacuum is powerful and reliable. It efficiently removes soils that could ruin carpets and hard floors. The Admiral 8 extractor has a robust design built for reliability. With an adjustable handle and fingertip controls, it is ergonomic and comfortable for all users.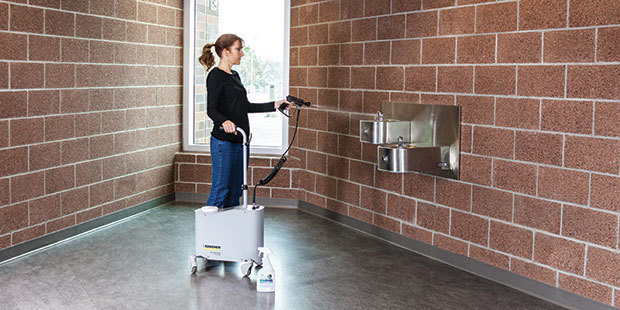 Classrooms
Classrooms are bustling and busy and full of germs. Cleaning everything from coat racks, lockers, desks, white boards, vents, and floors can be a challenge to manage. Kärcher is proud to offer vacuums with HEPA filtration, scrubbers and extractors that can be used during the day in your noise sensitive classroom, and specialty equipment with school safe detergents.
Reducing germs and the spread of bacteria in your classrooms is important for students, parents, and teachers. Use the PS 4/7 Bp Mister with VitalOxide to spray on desks, chairs, whiteboards, door knobs, and any other high touch points. VitalOxide is a no rinse sanitizer and kills harmful bacteria, mold and mildew, eliminates allergens, and deodorizes instantly. Our SG 4/4 steam cleaner can easily remove grime and fingerprints from desks and windows and can remove germs from high touch point areas.
Kärcher's BV 11/1 backpack vacuum allows you to move around quickly and easily to spot clean your classroom, while the Sensor XP upright vacuum features automatic brush height adjustment for all types of floors.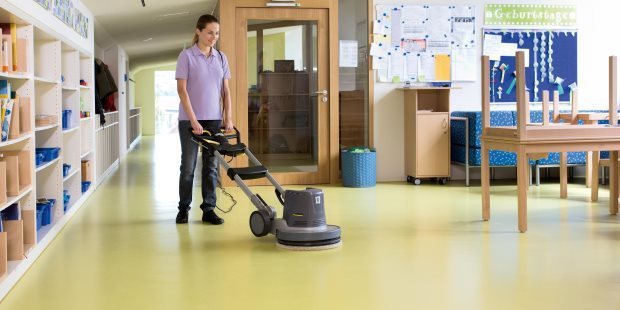 Restrooms
Not only do you need to clean restrooms, you need to disinfect frequently touched surfaces, and use school-safe cleaning detergents. Kärcher offers steam cleaners, scrubbers, sweepers, and detergents to help you clean quickly and efficiently.
The BD 30/4 C Bp scrubber will clean between stalls, around toilets and sinks, and will leave floors safe and dry. Our BV 5/1 Bp backpack vacuum is 100% battery operated, allowing the user to move around uninhibited, cleaning bathroom floors to pick up debris before scrubbing.
Kärcher's NT 68/1 wet/dry vacuum can clean up messes of any size. The front mounted squeegee makes quick work of water recovery. The B 60/10 ECO AutoMop reduces slips and falls by picking up all water it puts down. It is the perfect cleaning solution for restrooms – combining a mop & bucket with a walk behind scrubber, leaving your restroom floors spotless.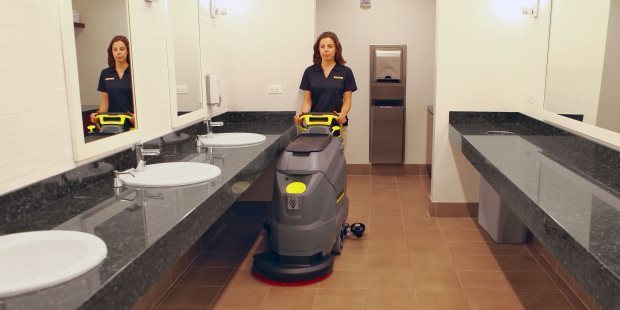 Offices & Lounges
Your school office is a bustling, high traffic area, making it a challenge to clean. Make a great first impression with top of the line vacuums, extractors, and scrubbers, keeping your offices and lounges sanitary and safe.
The Lightning 2000 burnisher provides a consistent high gloss shine on your office and lounge floors. If your offices are carpeted, the walk-behind Clipper 12 extractor will clean even the dirtiest carpets with power and confidence. It's user friendly design and durability make this the perfect extractor for your school.
For daily cleaning, use the Sensor S2 HEPA upright vacuum. Vacuum up dust and debris in high traffic areas and leave your workspace air cleaner with HEPA filtration. The SG 4/4 steam cleaner can remove fingerprints, grime, germs, and stubborn dirt without chemicals.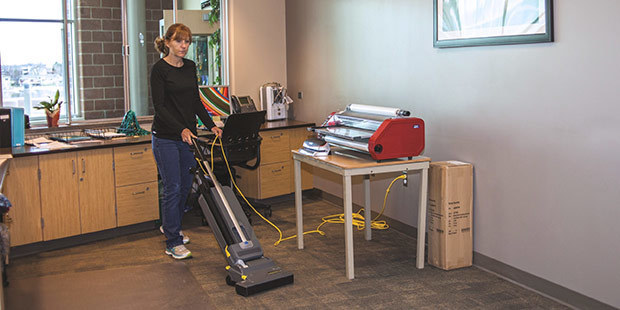 Kitchen & Cafeteria
We know that you need to clean more than a few dirty dishes in your kitchen. Kärcher's pantry is filled with scrubbers, pressure washers, and specialty cleaners to keep your kitchen sanitary and floors safe and dry for employees and students.
The B 40 C/W Bp walk-behind scrubber is quiet, compact, and customizable. Now you can easily scrub cafeteria and kitchen floors quickly and easily. Kärcher's BDS 43/DUO C can do it all – it tackles carpet, stone, tile & grout, wood, vinyl, concrete, epoxy, and other surfaces. Your kitchen floors will be sanitary and slips and falls will be prevented.
The food safe HD 2.3/14 C Ed Food cold water pressure washer was designed specifically for the food industry. This top of the line machine allows you to regulate pressure and water flow seamlessly. Paired with the Heavy Duty Degreaser detergent, all surfaces in your kitchen will be free of grease and unsightly kitchen grime.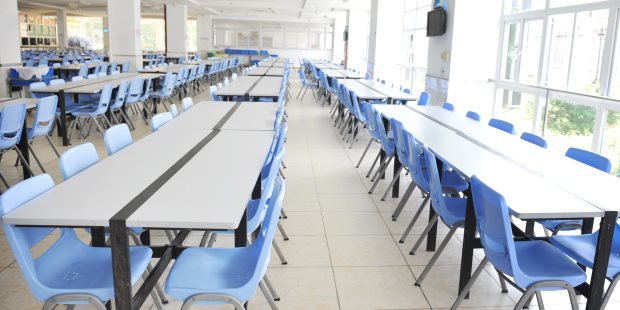 Library & Computer Lab
Removing dust and dirt from libraries and computer labs quickly helps keep books, computers, and furniture in better condition for longer. Easily steam clean frequently touched areas, extract stains from furniture and carpeting, vacuum up spills, and sweep up debris from floors with ease.
Removing gum from carpeting can be a pain, but with the SG1 C Bp backpack gum remover, you can quickly and conveniently remove unsightly gum stains. To remove set in spills or stains on carpet in your library, use the Priza spotter extractor. Easily remove spots from chairs, upholstery, and carpets.
The innovative Armada BRC 40/22 C extractor includes an extractor deck that rotates to allow cleaning in any direction. You can safely and quickly extract carpets between aisles of tables or books and along walls. Kärcher's Nuwave wide area vacuum makes quick work of any area with its 26 inch vacuum path. It is easy to maneuver between aisles of books or around chairs and lounge areas.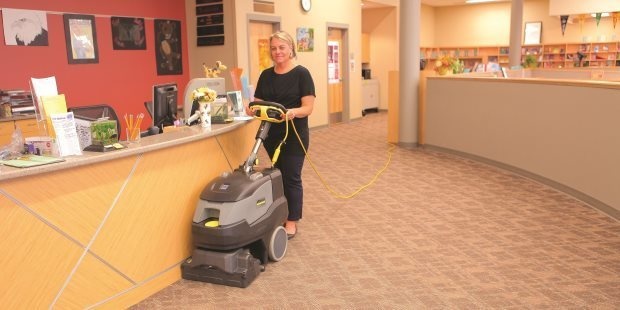 Gymnasium & Pool
The health and wellness of your students is your priority. Our goal is to provide you with safe and effective cleaning tools. Reducing germs, steam cleaning, and quick scrubbing allows your students to feel safe and clean.
Kärcher's SG 4/4 steam cleaner hygienically cleans without the use of chemicals – allowing you to clean, sanitize, and deodorize floor mats, gym equipment, weight machines, and high touch points. The Radiant with orb technology is the all-in-one machine you need for gym floors. Easily remove finish from wood, vinyl, or VCT floors. This machine tackles scrubbing, polishing, sanding, extraction, interim cleaning, and grinding on all surfaces with less vibration than any other floor machine on the market.
Use the AB 84 CUL air blower to dry your gym or pool area 50% faster so your recreation areas are back in use quickly after cleaning. The upright handle and transport wheels for added safety and convenience allow you to move the air blower from area to area with ease while cleaning. The BD 50/50 scrubber is quiet and can be configured to meet your cleaning needs. The suction bar allows you to pick up water quickly around the pool to prevent slips and falls.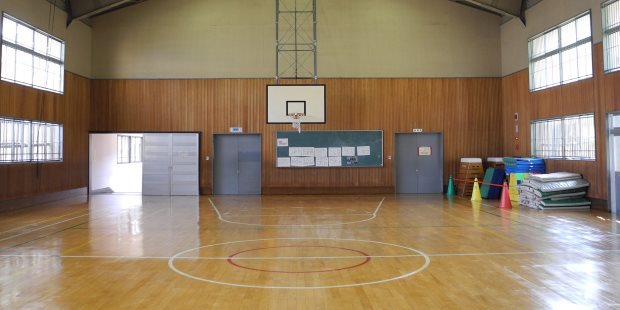 Science Lab & Specialty Rooms
Science labs and specialty rooms often contain hard to clean matter. We have the cleaning tool for every job – whether you're cleaning glass, plastic, metal, rubber, floors, tables, sawdust, paint, glitter, or spills from an experiment gone wrong.
Kärcher's NT 45/1 Tact wet/dry vacuum includes large wheels and front swivel casters for easy maneuverability and can pick up coarse dirt and liquids spilled in science labs. It's a great tool to keep on hand for quick cleanup. The KM 70/30 C Bp Adv walk-behind sweeper is efficient on hard and soft floors, allowing you to sweep up messes in any room.
Scrubbing floors is important in keeping your school safe for students. The BR 35/12 C Bp can clean in any direction and provides perfect scrubbing right up to the edge of your lab tables or workbenches. It also includes 3 gallon fresh and dirty water tanks for your convenience. Conquer all surfaces with the BDS 43/DUO C floor machine – carpet, tile & grout, wood, vinyl, concrete, epoxy and other surfaces. This machine excels at chemical-free stripping, interim carpet encapsulation, and tile & grout cleaning, leaving every area exceptionally clean.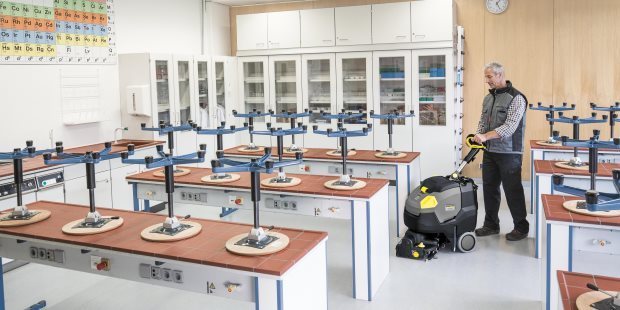 Theater & Music Halls
Sweeping up left behind papers just scrapes the surface of theater cleaning. Removing set in stains and spills from upholstered seats is a breeze with Kärcher extractors and spotters. Low moisture encapsulation cleans thoroughly and dries fast so carpets and seats are ready for use for your next band concert or theater production. Our extensive line of sweepers and vacuums will help speed up your cleanup time in aisles.
You want to keep your theaters as germ free as possible. We recommend using the PS 4/7 Bp Mister with VitalOxide to kill virus, bacteria, and mold. It is safe to use on any surface and dries quickly – no wiping required. Kärcher's BV 11/1 backpack vacuum is a portable back mounted vacuum, allowing the operator to move around quickly and easily through aisles and under seats.
The ECO! T11 Bp CartVac is a mobile cleaning solution, including an integrated vacuum. You can store cleaning supplies, trash or other cleaning equipment, and vacuum with the integrated hose. To easily remove spots and stains from carpets in aisles and high traffic areas, use our Red Carpet detergent. Intended to be used with vacuums and extractors, the results will be visible, leaving your theater inviting for years to come.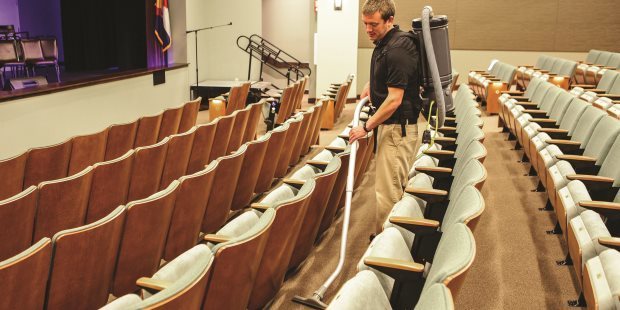 Playgrounds
Playground equipment is prone to collecting germs along with other debris from being exposed to the elements and lots of children on a regular basis. Regularly using a cold water pressure washer regularly to remove debris can help keep the playground equipment last longer. Kärcher's line of detergents can help you quickly and easily spot treat any high traffic areas or bodily fluids.
Kärcher's perfectly sized NT 65/2 wet/dry vacuum was built tough with two powerful motors, providing constant suction power. Cleaning up debris and playground messes has never been easier. Use the gas powered HDS 3.5/30 P Cage hot water pressure washer to spray off playground equipment, sidewalks, and rubber mats with ease. The hot water will leave these surfaces disinfected and can easily remove weather debris and grime from surfaces you don't want kids to interact with.
The portable HD 3.0/27 G cold water pressure washer is perfect for daily use. Spray wood or rubber chips back into their proper spots, remove gum and debris from sidewalks, and remove mud and footprints from building entrances. The FRV 30 surface cleaner easily attaches to your pressure washer and includes dirty water pickup, leaving each are you clean looking spotless. It uses non marking swivel castors to move easily across indoor or outdoor surfaces, leaving the ground dry.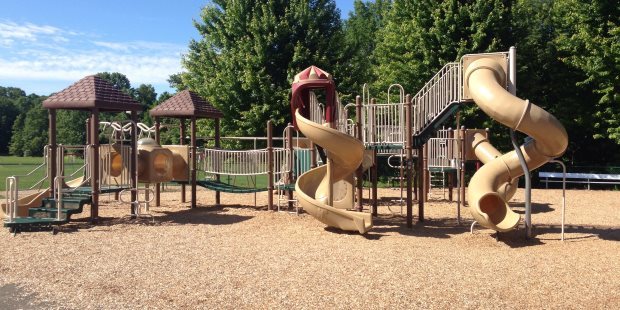 Buses & Bus Barns
Keep your bus maintained appropriately to keep it in good condition for years to come. Scrubbers, vacuums, and steamers can help you easily and quickly clean the bus interiors while a pressure washer can assist with exterior cleaning.
The 2412 top load parts washer is the ideal entry level machine for your bus barn. It can be easily moved anywhere in the shop and can handle parts up to 24 inches wide. A cabinet pressure washer like the HDS 3.5/30 Es ST NG can be installed in your shop and can wash buses quickly. This machine delivers up to 5 gallons per minute at 3000 PSI.
Vacuuming dirt and dust from bus stairs and around the driver cockpit is a constant battle. Use the BV 11/1 backpack vacuum to efficiently clean up these areas. Because it is battery powered, you won't be held back by cords. Kärcher's PS 4/7 Bp mister with VitalOxide can be sprayed on all surfaces on the bus to kill virus, bacteria, and mold. It also deodorizes and eliminates allergens – perfect in helping you keep kids and bus drivers healthy throughout the school year.