BBQ cleaning: Here's how to clean a grill properly
There's nothing like a barbecue in summer. For lots of people barbecuing with family and friends in the garden or on the patio is the highlight of the summer season. Regardless of whether a BBQ grill is only used on balmy summer evenings or all year round, electric, charcoal and gas grills need to be looked after so that they remain reliable for a long time. BBQ grill cleaning is quick and easy with these practical tips.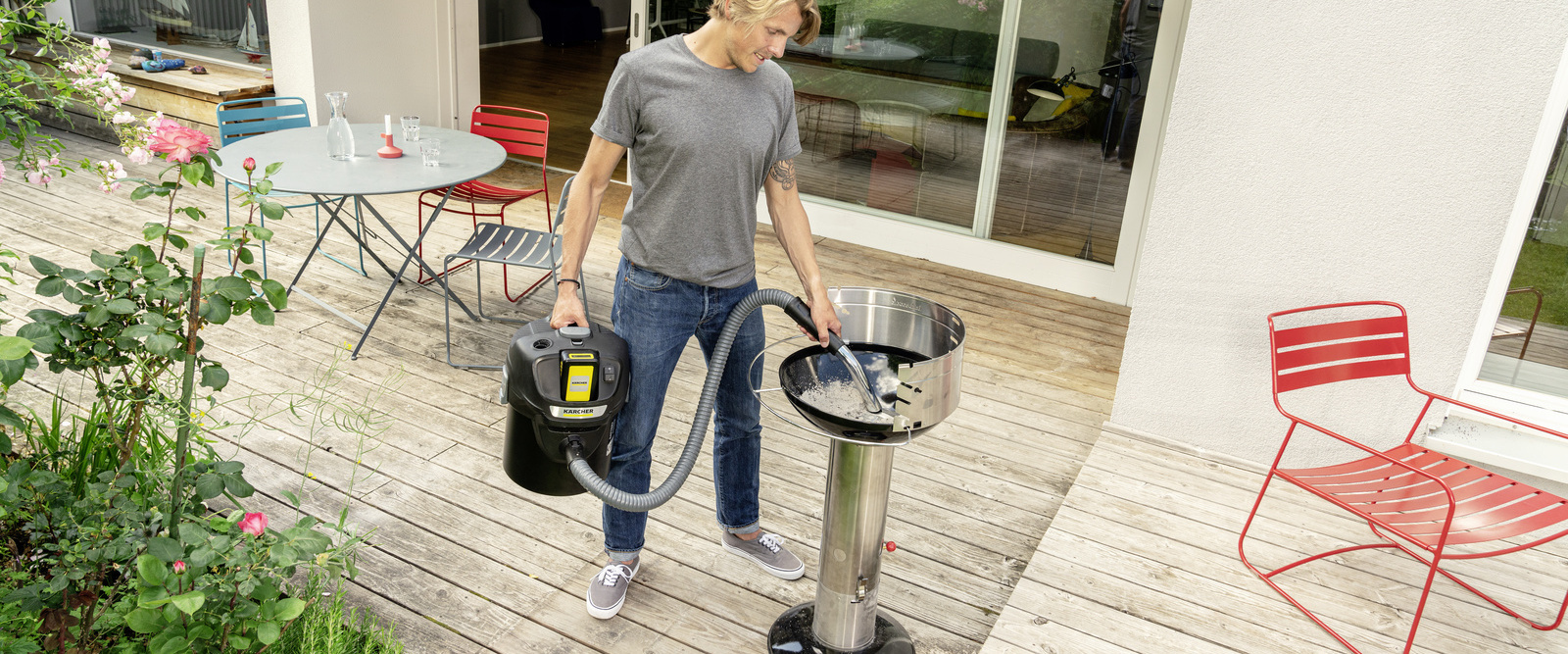 Why is regular grill cleaning important?
In order to grill safely and comfortably whenever you want to, a grill should be cleaned regularly. This will ensure that the equipment is always ready for use, and regular cleaning and care ensure that grilled food can be perfectly cooked. How often the grill is cleaned inside and out depends on the frequency of BBQ use and how mucky things get. A simple mid-level cleaning should be done regularly, though. A thorough all-round cleaning, for example with a steam cleaner, is time-consuming, but usually only required once or twice a year – ideally once before and once after the barbecue season.
Tip
Before using a new grill for the first time, it should be heated on high for approx. 30 minutes. This allows manufacturing and oil residues to evaporate.
How to clean a BBQ: before or after use?
A regular cleaning measure before each use can include heating the grill on high for 15 minutes and then cleaning the grate with a grill cleaning brush. This way, any food residues or rust left behind can be easily removed. This process also kills bacteria. Before placing food on the grill, spray the grate with a little non-stick spray, this prevents the food from sticking to the grill and remaining there.
There are also a few tricks for keeping grease and residues to a minimum when barbecuing. Use marinade and other sauces sparingly to ensure that not too many drips onto the grill. Thanks to aluminium drip trays, grease and other liquids can be collected, preventing them from getting onto the grate, the grill floor or into narrow gaps on a BBQ. Coarse dirt on a BBQ can be avoided by 'indirect grilling', especially with charcoal grills. To do this, place an aluminium drip tray in the centre of the lower level of a grill, and the charcoal is piled up to the left and right of the tray. Cooking residues can be collected in a controlled way.
After use, heat the grill on a high setting, preferably with a closed lid, so that most of the residue inside the BBQ grill burns off. A wire brush can be used to clean the gaps – the brush will ideally be single, double or triple-sided depending on the design of the grill. Empty the drip trays after use or dispose of them in the recycling.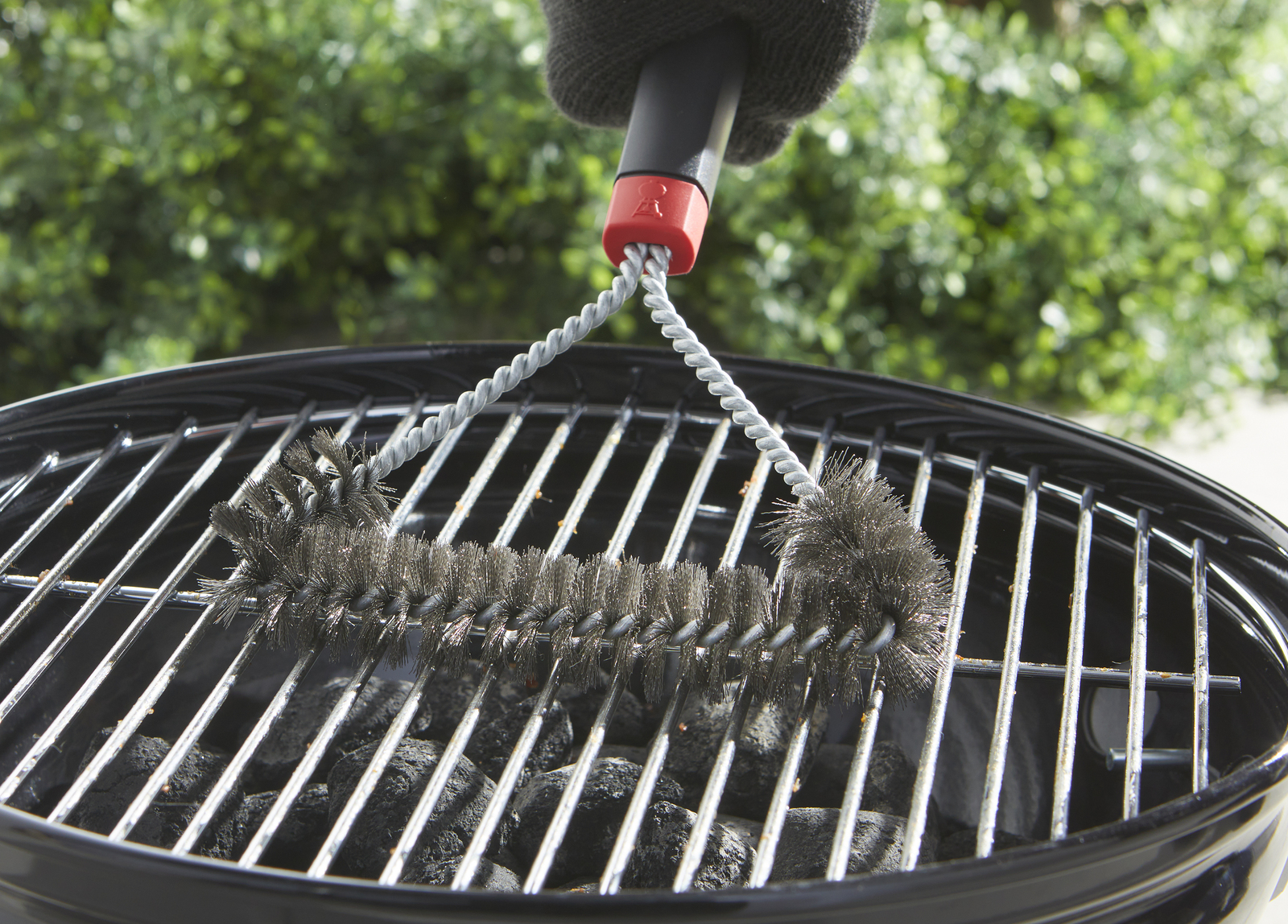 BBQ cleaning with a steam cleaner
To clean stainless steel surfaces thoroughly, including the grill hood, side panels and controls, consider using a steam cleaner. First, steam all surfaces using the brush of the steam cleaner. Repeat this with a microfibre cloth, you clean all surfaces with the power of steam. Grease and food residues can be dissolved by the steam and absorbed by the microfibre cloth.
Light grease residues on stainless steel can also be cleaned with lukewarm water, washing-up liquid and a microfibre cloth. Alternatively, special grease-dissolving grill cleaners from specialist shops also work well.
For tougher dirt in tricky places, such as on a cast iron grill plate or stainless steel grid shelf, the steam cleaner can be used in combination with a small brass brush. In the case of an enamelled grate, it's better to use a plastic brush set. Scrub stubborn dirt using the brush while adding steam. Wipe away loosened dirt with an old cloth. If the grill is integrated into an outdoor kitchen, the steam cleaner can also be used to remove grease and food residues from surfaces such as the worktop.
Tip
When cleaning a barbecue with a steam cleaner, water drips can leave stains on the floor, stone pavers, or on wooden decking. It's therefore advisable to protect the area underneath the grill with foil or newspaper before cleaning the BBQ grill itself. Alternatively, there are special, reusable grill mats to protect the surfaces under your grill from grease, food and the weather. If something does go wrong, your patio slabs will quickly be clean again with these tips.
Charcoal BBQ cleaning with an ash vacuum cleaner
With a charcoal grill, evaporated grease accumulates over time in the kettle and lid. This can be removed with a steam cleaner or grease-dissolving cleaning agent as described above.
However, grilling with charcoal not only leaves a crusted grill grate and greasy surfaces, but also ash in the grill tray. After smothering the embers, the charcoal should always cool down overnight (for approx. 12 hours). The next day, anything that's left can simply be cleaned up with a ash vacuum cleaner and disposed of with the help of a dirt bucket, and all this without having to come into contact with the dirt.
Tip: Store your grill properly
After cooling and cleaning your BBQ, it's important to store the grill well. If the device is not in use, cover hoods are a good idea. They protect the BBQ against dust, moisture and scratches. Stainless steel grills can remain outside all year round without issue if using a hood.
Safety information for electric, charcoal, and gas grills
Barbecuing with gas
Always ignite with an open lid.
Check and clean grease trays regularly.
Always turn off the gas at the grill itself and only then turn off the gas bottle.
Check the gas hose regularly for leaks – especially after long breaks.
Never store gas cylinders in closed rooms.
Charcoal barbecues
To light charcoal, use lighting cubes instead of liquid lighters as they are a safety hazard.
Use a charcoal chimney on the grill grate, never on the floor.
After grilling, smother the embers by closing the air vents and the fan.
Always leave the charcoal to cool overnight after grilling and only dispose of it after 12 hours of cooling.
BBQing with an electric grill
Always connect the grill only to individually fused sockets and don't use multiple plugs.
Protect the connections from moisture.
Do not use an electric grills indoors – they are only suitable for outdoor use.
This might also interest you: