Cleaning garden furniture: Tips and tricks for its care
A terrace or porch doesn't look homely unless it has something adorning it: Garden furniture! To keep the chairs and tables looking their very best, they will need to be washed from time to time. But when it comes to cleaning garden furniture, you might find that the situation is somewhat similar to when making New Year's resolutions. At first, you're really motivated, then your enthusiasm starts to wane. However, in order to get the most out of your garden furniture for as long as possible, it really should be cleaned and maintained on a regular basis.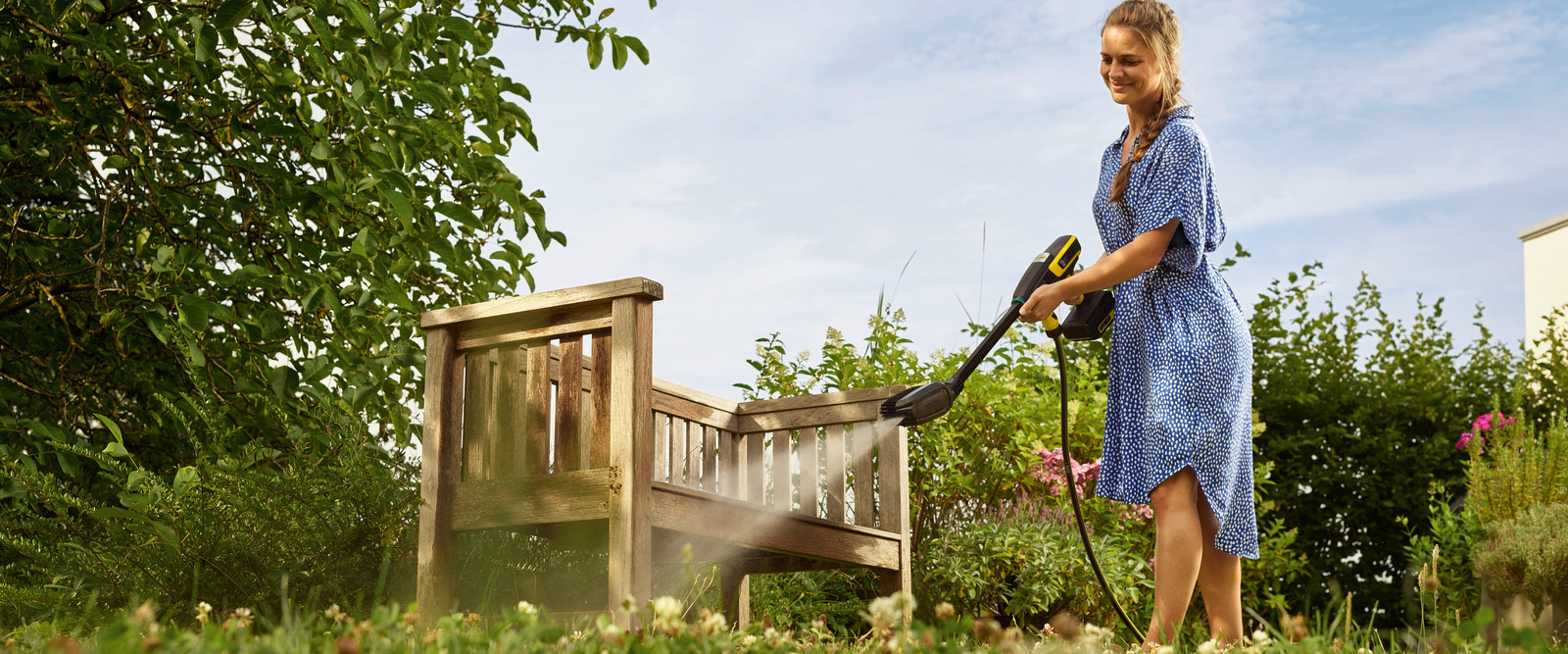 What should you keep in mind when cleaning garden furniture?
Before we talk about what tools and care products are needed to clean the garden furniture and how various materials should be cared for, let's first go over the basic information.
Cleaning garden furniture is not just about making it look new again, it's also about preventing stubborn dirt deposits such as moss or fungal lichen from attacking the material and ruining its durability. That's why it's worth reading up on garden furniture care so that you're informed and can make the most out of your furniture.
The following products can be used to clean garden furniture:
When to clean garden furniture?
Garden furniture should be cleaned at least twice a year - preferably at the beginning of the garden season in spring and then again in autumn, when it is time to winterise your garden. Incidentally, cleaning garden furniture should always be done in dry weather. This allows each piece to dry completely and enables any oils or varnishes you may use (i.e. to impregnate wooden furniture) to have time to work their magic.
There's nothing wrong with cleaning the garden furniture even more often if you wish. This can depend though on what materials the furniture is made out of, how much it's exposed to the weather and how important it is to you that your benches, chairs, tables, etc. look presentable. If the furniture remains outside all year round, it will be exposed to various weather conditions, which means that it may get dirty more quickly and therefore needs cleaning more often. In the autumn and winter months, it's worthwhile putting your garden furniture somewhere dry e.g. in the shed or cellar.

Cleaning garden furniture: Tips for wood, plastic and other materials
There are also exceptions to the rule when it comes to garden furniture care. Different cleaning agents are recommended depending on the material: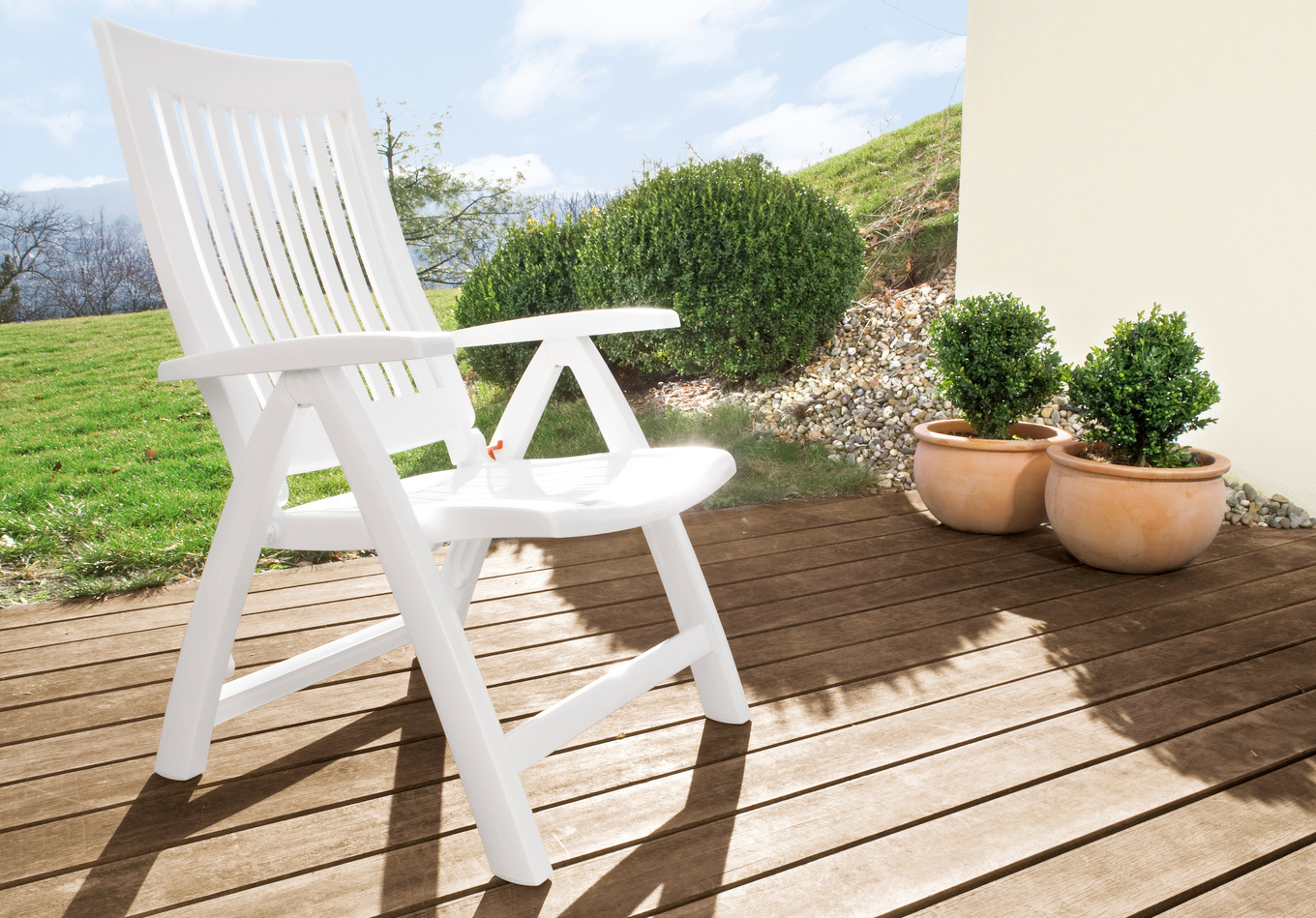 Plastic
Plastic furniture will turn yellow and grey over time if left outside. This yellowing and fading can be removed with a special plastic cleaner. Unlike conventional all-purpose cleaners, this type of detergent contains active dirt remover that cleans plastic garden furniture very effectively.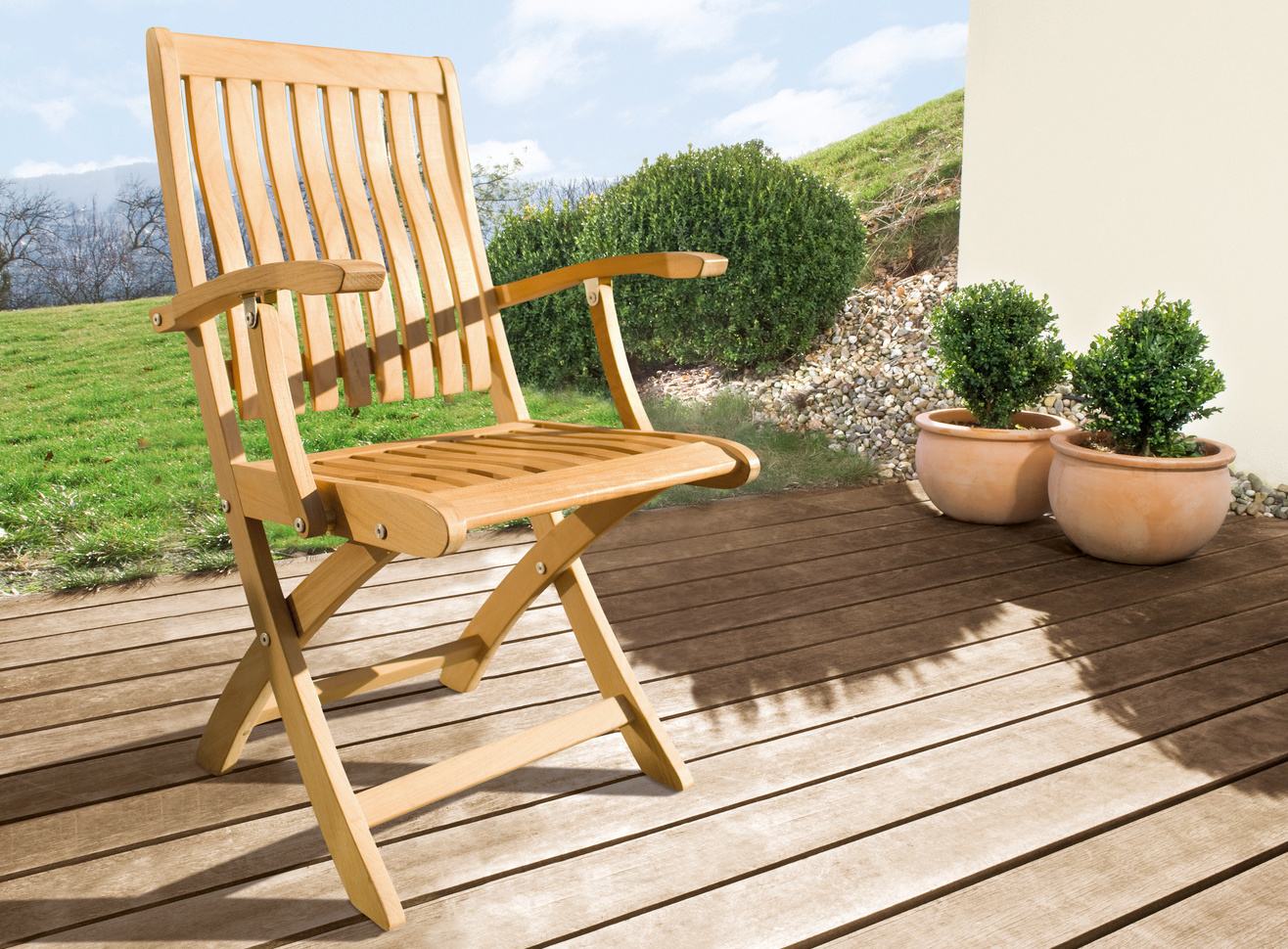 Wood
In contrast to resistant wood types such as teak, eucalyptus or robinia, which are naturally weather-resistant due to essential oils, lacquered garden furniture made of softwoods (e.g. beech or spruce) usually requires more care. You should always work with the grain and avoid aggressive cleaning products or wire brushes. Whether you decide to clean using soap you've mixed yourself or you opt for a wood cleaner from a specialist shop, the dissolved dirt residue should be rinsed off thoroughly and then the furniture should be polished with a dry cloth and treated with oil.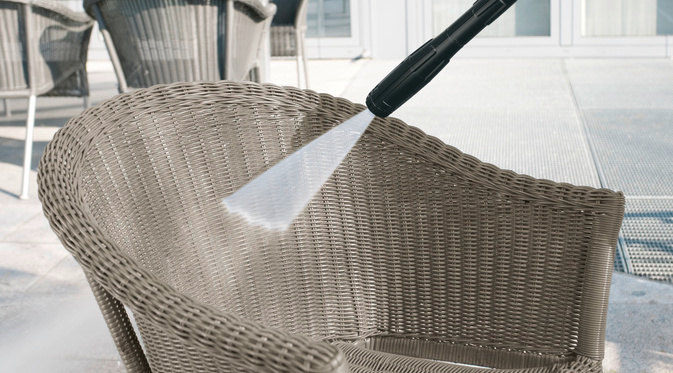 Rattan
The interwoven, uneven natural material makes manual cleaning with a rag or cloth not so easy. Splinters are also likely to form when cracks appear. In addition, dirt can accumulate in the gaps between the woven basket material. This can be cleaned quickly and effectively with a low pressure-, a medium pressure- or a high pressure washer. If using the latter, make sure you use a low pressure setting and keep your distance from the furniture, so you don't damage the sensitive material. Wear appropriate protective clothing, such as thick gloves and safety glasses. Since rattan is not particularly weather-resistant, is brittle, prone to cracks, and often falls victim to grey spots, it is better to put garden furniture made of rattan in the shed during the autumn and winter months.
Tip
To keep rattan furniture flexible, it can be lightly coated with water from time to time. But be careful because too much water can make rattan brittle. Therefore, after a thorough cleaning, the furniture should always be dried off.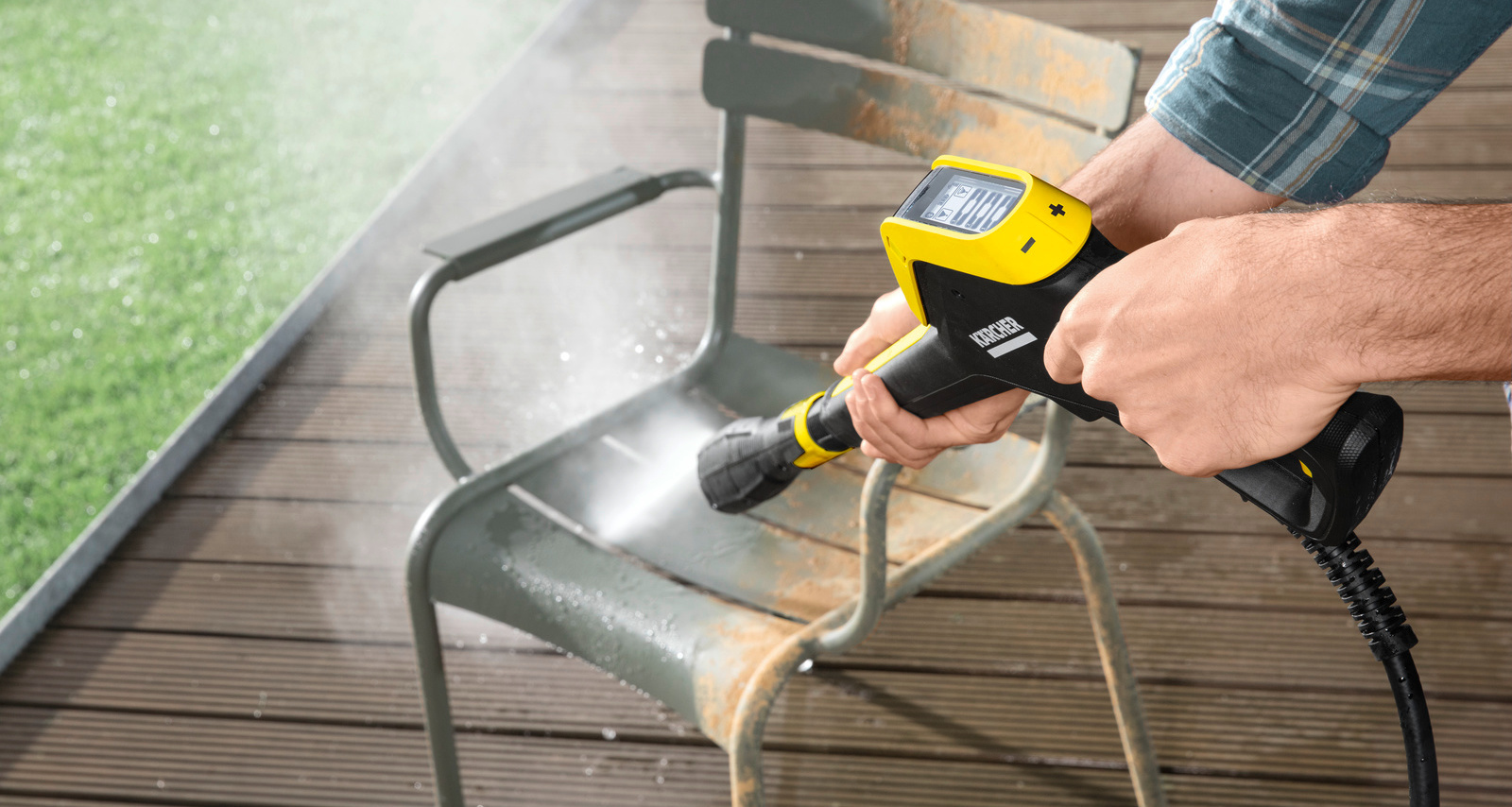 Metal
Garden furniture made of metal should look its shiny best. Cleaning is quite straightforward due to the material being so resistant. The fastest way to get metal chairs and benches clean is with a high-pressure washer. Dirt can be removed effectively with the help of an additional wash brush, which is attached to the pressure washer. It's also possible to use a normal sponge for cleaning metal furniture. If you notice that unsightly rust stains have formed on the furniture, high pressure cleaning is the only way to remove them.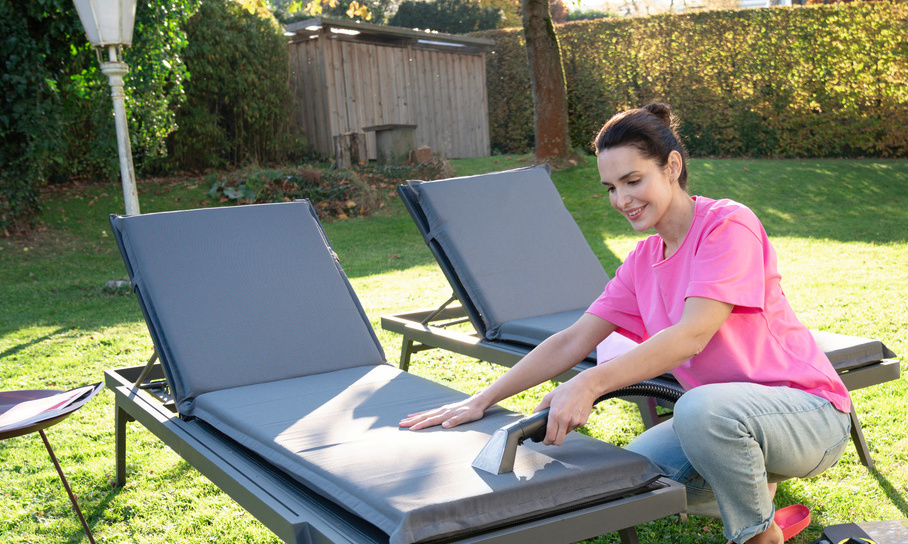 Material
So that your garden furniture is completely clean, seat cushions, pads and upholstery should also be washed. Pollen or leaves can be removed quickly and easily with a hand brush. But what if you spill something while at a barbecue? Grease stains like these can be removed most effectively in the washing machine. Most covers have a zip on the side and can therefore be removed. If the cover is not removable, brushes, sponges or rags can be used. Simply apply a little washing-up liquid or detergent to some lukewarm water and scrub the stain thoroughly, but not too hard, using circular movements. For particularly stubborn stains, a universal stain remover will help. You can also clean the upholstery in a more hygienic way using a carpet cleaner. The best thing to do is to remove the cushions and store them somewhere after each use rather than just to accept their wear and tear.
Removing coarse dirt, stains and grey spots
Before you begin the cleaning process, all garden furniture should be removed from the patio. This prevents any dirt residue from soiling the furniture right after it's been cleaned. This could definitely be the case if you're using a pressure washer.
Before cleaning the garden furniture with water, remove all dust and loose dirt with a hand brush first. If you then decide to clean the garden furniture without a pressure washer, you can clean the garden table, chairs, and benches at the same time by spraying them with the garden hose. Special attachments such as a cleaning spray gun with rotating jet or regular spray lances can amplify and concentrate the water jet. These methods do a pretty good job of removing pollen, stains, bird droppings and insect remnants.
Now take a sponge or wash brush and scrub the surfaces thoroughly with soft soap dissolved in lukewarm water or special cleaning agents. Then rinse off the loosened dirt, polish the surfaces dry with a cloth or let them dry in the sun. When it comes to wooden furniture, you may find that there is some grey discolouration. If this is the case, apply a special greying agent to the affected areas and leave it for a few hours. Then rinse with clean water.

Cleaning garden furniture with a pressure washer
If you want to save time and effort when cleaning garden furniture, you can clean and care for your garden table, chairs and benches with a pressure washer. For very stubborn dirt, there are many suitable accessories you can attach to the appliance, such as a wash brush. Contrary to the belief that this wastes water, the opposite is actually true. With a pressure washer, you can target areas that are affected by particularly stubborn stains after you're finished with the quick surface cleaning - this allows you to clean the garden furniture, but without wasting water.
But be careful! Not every material can withstand being cleaned using high pressure and cleaning agents. Wood is a natural material and reacts quite sensitively to moisture or cleaning agents, depending on the type and how it was manufactured. Garden furniture made of hardwood, such as robinia, oak, teak, or bamboo, can easily be cleaned with a pressure washer. Garden owners should be careful with wooden furniture made of spruce or beech, as their surface can quickly be damaged by excessive water pressure or appliances.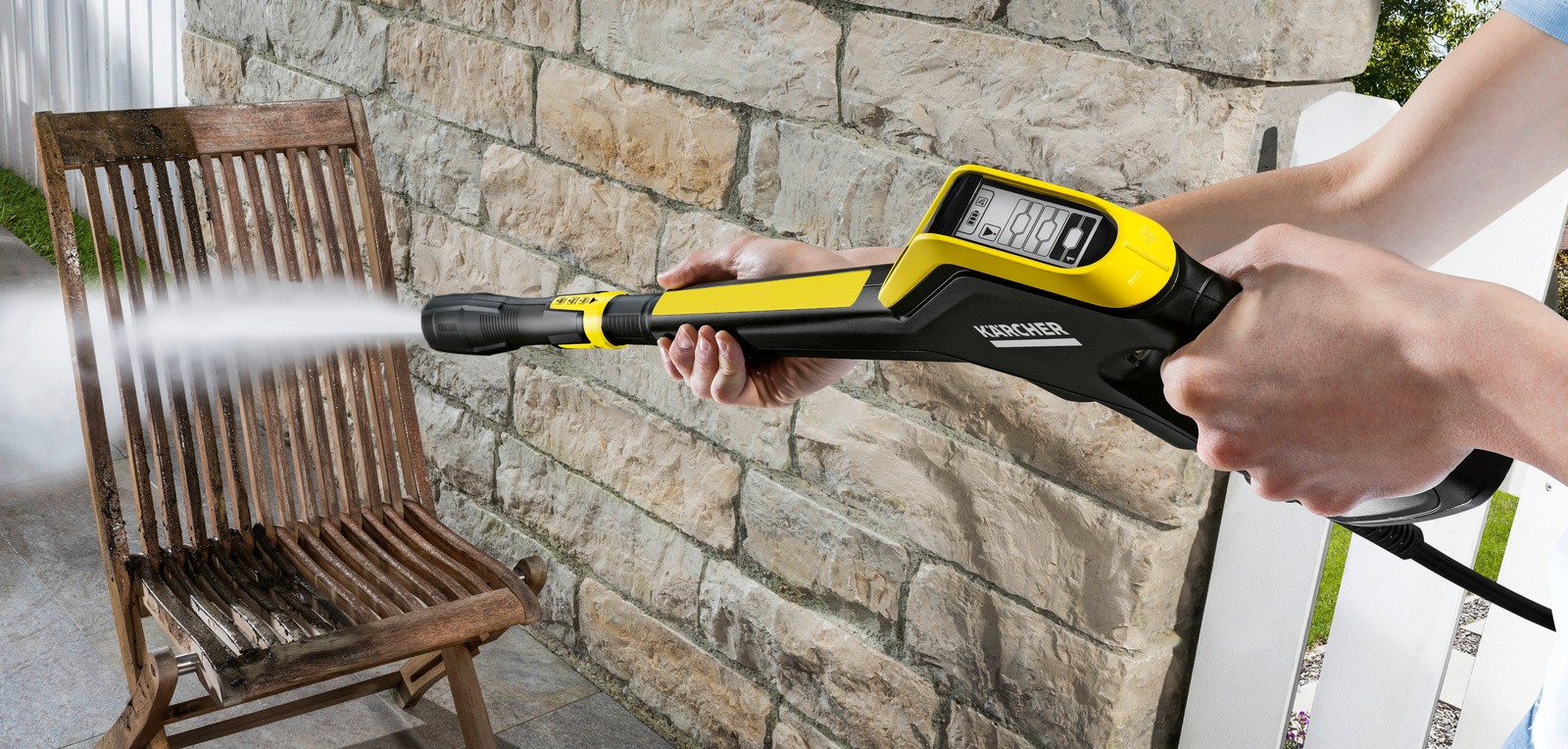 How to clean garden furniture with a pressure washer and suitable detergent:
First, remove any coarse dirt from the garden furniture. To do this, you can use the "SOFT" or "HARD" settings on the device to increase or decrease the pressure. Here you can also use a regular spray attachment and the garden hose.
Put the pressure washer's suction hose into the bottle or pour the detergent into the tank and set the jet pipe to the "MIX" setting. This ensures that the detergent solution mixes into the water jet during operation.
Spray the cleaning agent onto the garden furniture at low pressure, leave to work in for about 30 seconds and then rinse off the loosened dirt thoroughly using the high-pressure setting. This may take a while especially if the dirt is quite stubborn. After that, the garden furniture should be left to dry thoroughly.
The final touches of garden furniture care: Which cleaner to choose?
Soiled garden furniture can be cleaned and the grey patches removed more easily by using special care products and cleaning products. The product you use depends on the material that needs to be treated. You can choose either a universal cleaner or a special concentrate. A special wood preservative oil can be applied after cleaning to seal wooden garden furniture, for example. This ensures that the surface is sealed and also protects the material from moisture penetration at the same time. Care products such as the 3-in-1 wood cleaner are conveniently mixed directly into the pressure washer's water jet. This allows you to clean, maintain and protect the garden furniture from UV rays.
Suitable products for garden furniture
This might also interest you: