No more cleaning ever again?
Cleaning in the year 2040
Robot vacuum cleaners have long since become a modern-day reality and networked cleaning systems are becoming established in the building service contractor market. But how will it continue? The cleaning industry cannot conduct business using innovative gimmicks per se. Customers are cost-conscious, and cleaning is not normally something to become emotional about. When major trends such as electrification, digitisation and networking, automation or sensors enter the cleaning domain to an increasing extent, precise customer needs are the driving force behind them.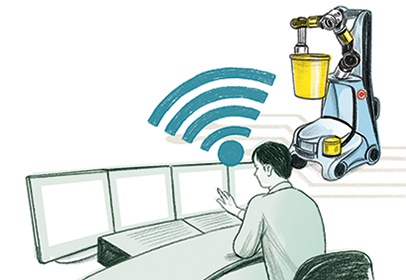 Building cleaning of the future
Building cleaning is a long-established business. In contrast to other industries, one trend does not follow the next – however, a look into the future can, based on real customer needs, be both innovative and visionary. With the advent of Connected Cleaning, the use of digitally connected cleaning machines, sensor-based cleaning on demand is not far away. This will enable building service contractors to provide individual services to customers tailored to their needs and increase the level of quality and satisfaction. The use of service robots on demand or pay-per-use models also offers opportunities not to be missed.
Data – the key to new business models
Already today, fleet and process management solutions support building service contractors in their work, irrespective of whether they need to know the number of hours actually worked, the cleaning status of a facility or when the machines require maintenance. The key to such solutions is the intelligent acquisition of relevant data, which is made available to operators in real time and on the go.
Looking ahead, the usable data pool can be expanded substantially to realise cleaning on demand with precision. The advantage is being able to use all data in an intelligent building. Weather sensors can provide an indication of weather conditions, such as whether heavy rainfall will make cleaning necessary. The sensors on lifts indicate which floors are more frequented. Login and logout data of WLAN networks or simply the Outlook calendar indicate which offices or conference rooms are in use. At some time or another, sensors will even be able to directly sense the type and degree of contamination. This list is endless and shows that the selection and evaluation of relevant data offers a basis for working with greater precision. The trend is moving away from reducing the level of cleaning for cost reasons, through to intelligent, dynamic use planning. This offers opportunities for new business models: basic cleaning services could be offered at a basic rate. Intelligent cleaning on demand, which customers can rely on, could be charged at different rates – as is already the norm in other industries. Digital control through to the recording of visitor satisfaction via service panels provides the necessary transparency for the building owner to provide proof of the services that have been rendered and invoice the same.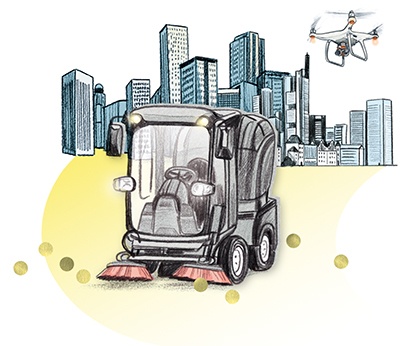 Interview
Interview with Marco Cardinale, Head of Product Management Floor Care at Kärcher, about the demands of building cleaning, the secret of truly autonomous cleaning robots, and how intelligent these helpers will be in everyday life.
Topic cleaning in the future: what do professional operators need?
Building service contractors today have two major challenges to contend with: cost pressures on the one hand, with labour costs accounting for around 80% of their expenses and, on the other hand, the fact that labour is becoming increasingly difficult to find and can be deployed more productively elsewhere. Our task is to provide the best possible support to building service contractors in their work and processes so that they can reduce their overall cleaning costs. Productivity and efficiency are crucial in this.
When it comes to efficiency, can cleaning robots make a difference?
This is currently only possible, and economically viable, on large, unobstructed surfaces. There are cleaning robots for scrub vacuuming on the market, but in our view these are still somewhat underdeveloped. The cost of these is also three to four times higher than for comparable scrubber driers. And there is still room for improvement in terms of the level of safety, reliability and autonomy – for example, navigation is not always working reliable and you still need someone to fill and empty the tanks.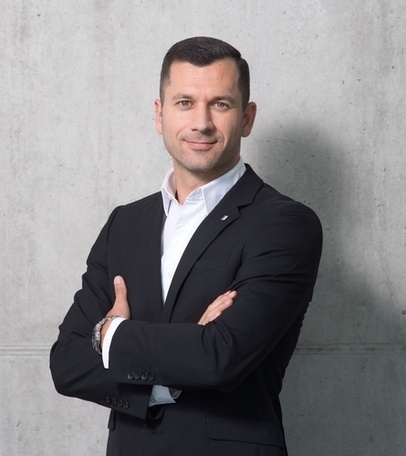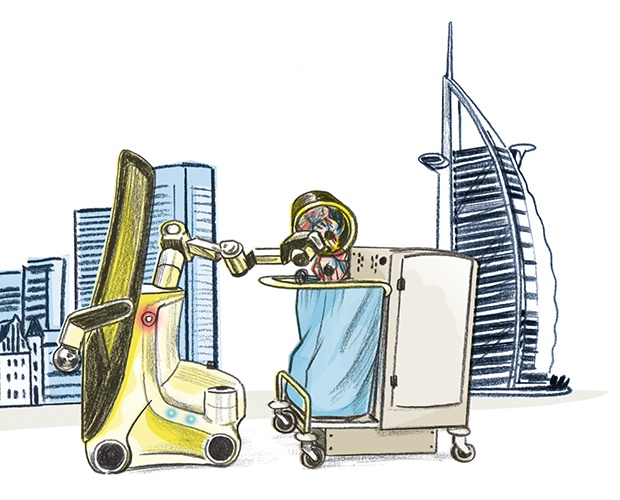 So would cleaning robots not be viable for a wider market?
For more complex areas of use like office cleaning, with many obstructed surfaces, cleaning robots cannot currently match the efficiency of a professional cleaner. There are, however, many areas of application in which the use of a robot is conceivable and efficient with currently available technologies. Essential for us is 100% functionality and safety, especially if the robots are to be used in public spaces. Developing this is exceedingly complex, as the sensor technology, for example, must provide environmental perception that guarantees collision-free operation; for example, if a shelf falls down in a supermarket or there is a person standing in the way. The challenge is to intelligently link different technologies, which requires high-performance software.
What would your perfect cleaning robot look like, and where would it be used?
My vision is to have a cleaning robot that achieves maximum autonomy and that can be used on all surfaces 100% safely and economically. That would be the breakthrough that must be made in the next three to five years, and that current solutions have not yet made. This would allow us to open up numerous fields of application, even in busy public areas.
And thinking one step further than that – will there be intelligent cleaning robots?
Of course, a great many possibilities can result from combining digitisation, i.e. the smart networking of data, and automation, i.e. robotics. But I think in our industry we always have to look at what will actually bring our customers added value, and bring our solutions into line with their requirements. This guiding principle also applies to comprehensive intelligence.
Kärcher Fleet management system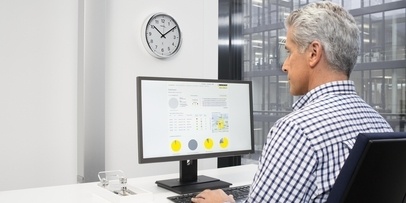 Kärcher Fleet is a telematics system for organising machine fleets.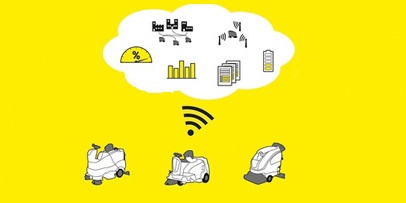 Machines send performance data to Cloud server via GPS and the mobile network.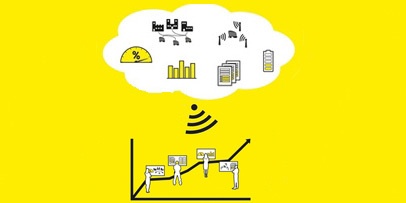 Commercial cleaning contractors can use this data to find out where their scrubber-driers and sweepers are deployed, when they have been used to perform what work, and what condition they are in.
How will we get to grips with dust and dirt in our own four walls in the future?
We are relaxing on the terrace and control all Smart Home & Garden functions with one app via our smart glasses or directly through thought. Suddenly, we notice that a component of our robotic lawn mower is broken. Without further ado, we scan the product code, select the relevant component via the app, print it out on our 3D printer and fit it. Meanwhile, a sophisticated sensor in the kitchen has detected that the oven needs cleaning. The oven door opens automatically and via the cloud activates the station with our mini cleaning drones which, equipped with the appropriate cleaning agent, clean the oven meticulously. Once everything is running perfectly at home, we take our bike to the sharing washing bay and have it polished by cleaning robots until it shines. We place our shopping order for dinner on the move so that our house robot can already accept the chilled food delivered by a transport drone in advance.

Even though many of these things today still sound like science fiction, they will become a reality with current technologies and customer needs. Looking even further into the future are visions, for example, where a direct connection is established between machines and the brain. No touch screen, no input field – only an interface between our thoughts and the machines. Such developments are based on concepts from medical engineering.