On the track of A SWABIAN SPECIALITY
The Maultasche (Swabian ravioli) and Kärcher have one thing in common: they both hail from Swabia and can be found all over the world. Like Kärcher products, these delicacies wrapped in dough are popular around the globe: from sambusas in Africa and wontons in Asia to empanadas in South America. Join us for a brief journey that shows how culinary delights can bring people together and how cleaning technology can ensure carefree feasting.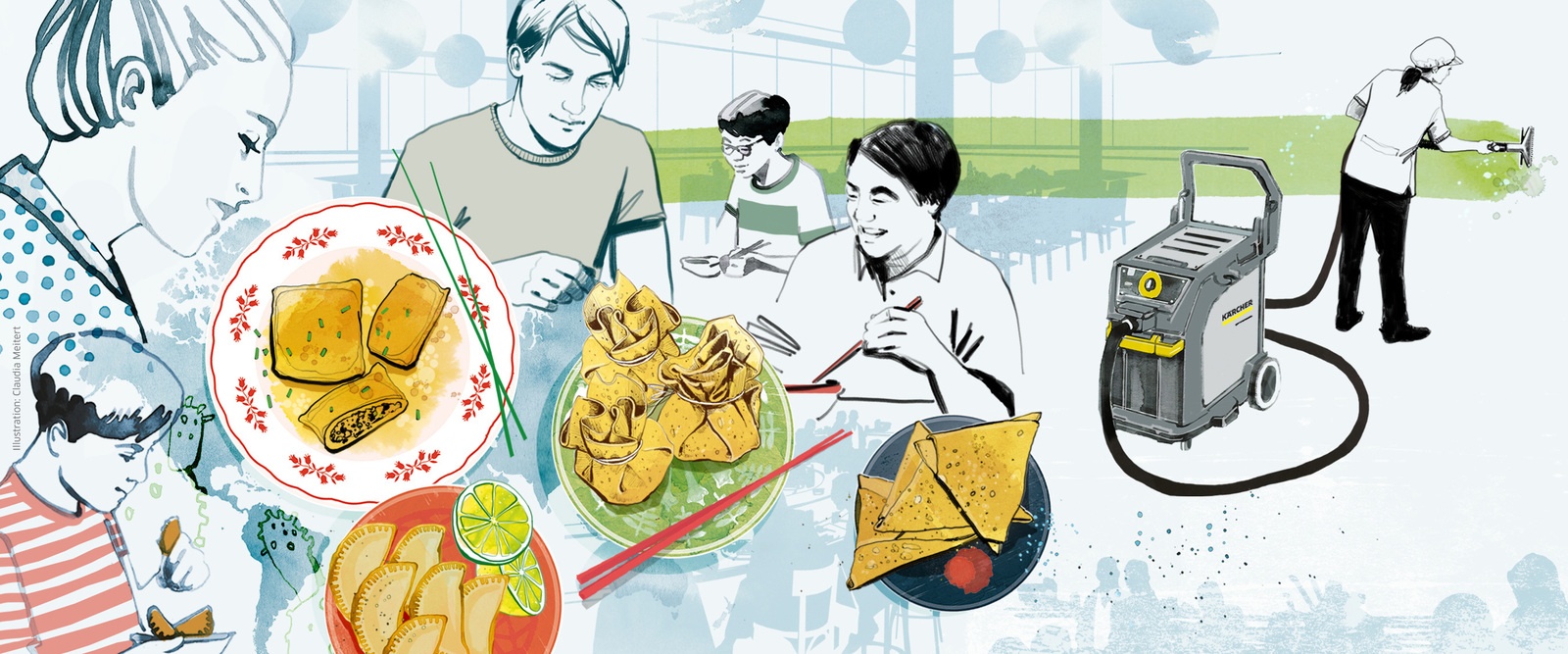 In the beginning, there was agriculture: The ingredients
Nowadays, food is about much more than satisfying our basic needs – all around the world, consumers want to be able to eat without thinking twice about whether the food is safe. From growing grain and breeding livestock to processing, production processes must be safe and meet strict hygiene requirements. But what exactly does this mean?
Taking the example of the Swabian Maultasche, it is clear that even a basic, traditional dish poses great challenges for all those involved. According to the classic recipe, the dumpling consists of meat, bread, spinach and spices and thus incorporates various different areas of agriculture.
In the case of grain, warehouses in particular have to be very clean. The reason is that flour for bakeries and the food industry is produced only a few days before use because it can only be kept for a short time in the quality required for large-scale production. The grain must therefore be stored carefully. As dryness is a particularly important factor, water is avoided when cleaning the warehouse halls. This means that most of the cleaning is done with vacuum cleaners and sweepers.
In livestock farming, the effort invested in terms of hygiene varies according to the type of animal. Whereas cows are comparatively uncomplicated and robust, calves require buildings, feeding facilities
and water pipes to be meticulously cleaned and disinfected with hot-water high-pressure cleaners before the animals are allowed in. Both the pens and transport vehicles for pigs are also subject to very high cleaning requirements, including regular disinfection.
Spinach is transported rapidly from the field to the processing facility. It has to go from harvesting to freezing within a few hours, while maintaining high hygiene standards at all times, to ensure that it is still full of vitamins when it reaches the consumer.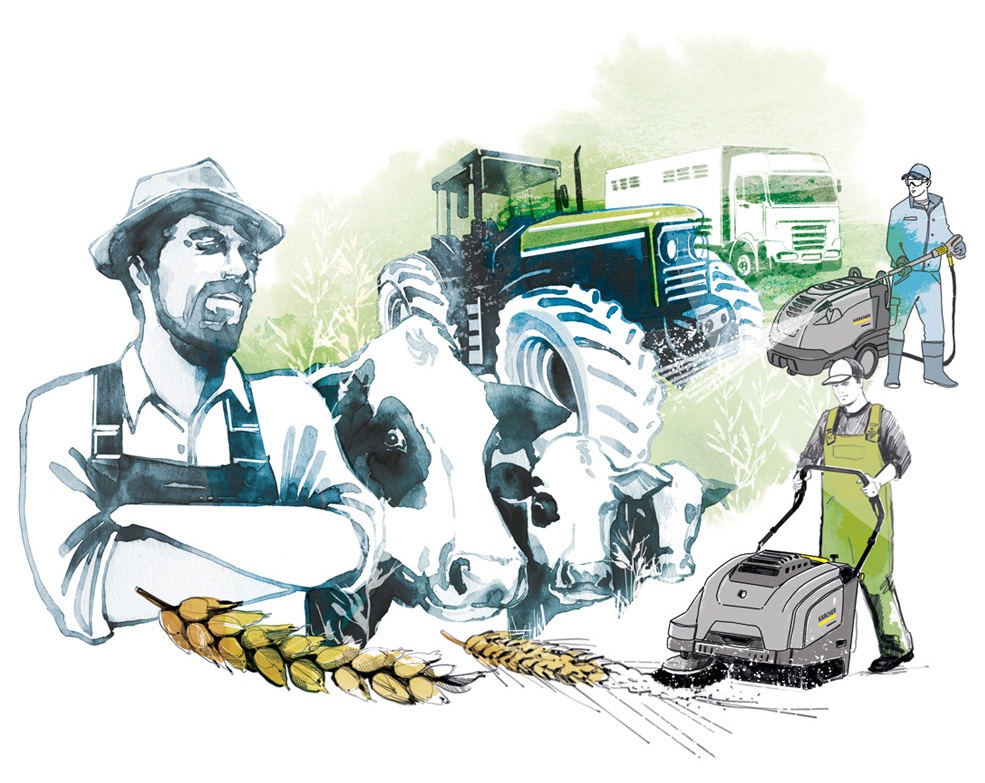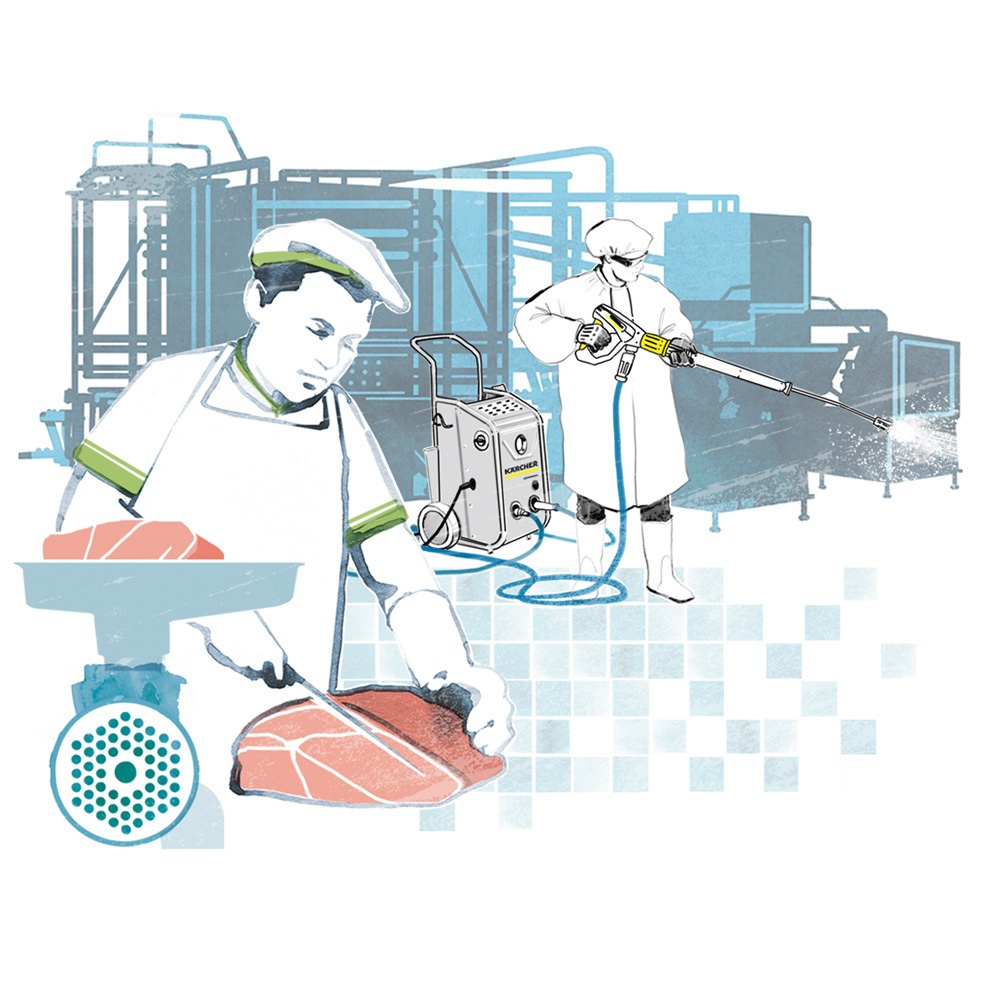 Minced meat: Germs don't stand a chance
Finely minced meat and sausage meat are used to make the filling for the Swabian Maultasche. In the field of meat processing, germs and bacteria must be eliminated effectively and residues of cleaning agents must then be completely removed. The production facilities and rooms therefore undergo comprehensive cleaning and disinfection at the end of every workday.
First, the production machines are switched off and removable parts are dismantled so that all the contaminated areas can be reached and the machines can be thoroughly cleaned. During the subsequent preliminary cleaning, visible meat residues are removed with clear hot water using a high-pressure cleaner. The facilities and machines are then thoroughly cleaned with special hygienic high-pressure cleaners. They are made of stainless steel and have high-pressure hoses that are resistant to animal fat. Water and a suitable cleaning agent are mixed to form a foam which is applied to production machines, walls, floors and shafts. In contrast to liquid cleaners, the foam adheres much more easily to vertical surfaces and stays on them for longer. After a specified application time, the foam is rinsed off with hot water. The last step is disinfection and subsequent rinsing with clear tap water.
In order to be able to carry out this complex cleaning process efficiently, many slaughterhouses rely on a stationary high-pressure unit with several points of use. Depending on requirements, hot water and chemical dispensing can be used. Steam cleaners with certified disinfection and HACCP approval ensure that areas which are difficult to access, such as joints between tiles, conveyor belts or other parts that come into contact with the product, are cleaned as required. Hot steam can be used to remove stubborn contaminants such as fats, oils or limescale, which are breeding grounds for germs and bacteria, without the need for chemicals.
Explosive dough: Flour dust hygiene
According to legend, the Swabians hid the Maultasche meat in dough so they could keep eating meat during Lent – hence the humorous German name "Herrgottsbscheißerle".* The dough is therefore an important component of the Swabian speciality. The main challenge during its production comes from the fine flour dust which is an explosion hazard and settles on machine components, reducing their service life.
Stationary, ATEX-compliant extraction systems draw in the flour dust immediately during dough production. The ATEX Directive 2014 / 34 / EU (Atmosphères Explosives – potentially explosive atmospheres) defines which machines can be used in areas where there is a risk of explosion. In addition, there are mobile vacuum cleaners with hoses that are resistant to heat up to 200°C, which are used for the intermediate cleaning of ovens.
Dry ice is used for basic cleaning in order to remove dried dough residues from conveyor belts and production machines. The big advantage is that the machine does not have to be dismantled, as it is possible to clean it directly during the production process.
For this purpose, pellets of frozen carbon dioxide at a temperature of − 79°C are accelerated by compressed air. When the pellets hit the surface to be cleaned, the surface is cooled significantly, causing the dirt film to tear open. It can then be easily removed.
Water is only used at the end of the day to clean the production facilities and ensure thorough cleanliness. Either stationary high-pressure units with several points of use are installed or individual mobile machines are used for this purpose.
* The German nickname literally means "small God-cheaters" and alludes to pulling the wool over God's eyes with the green colour of the meaty filling and by hiding it in dough.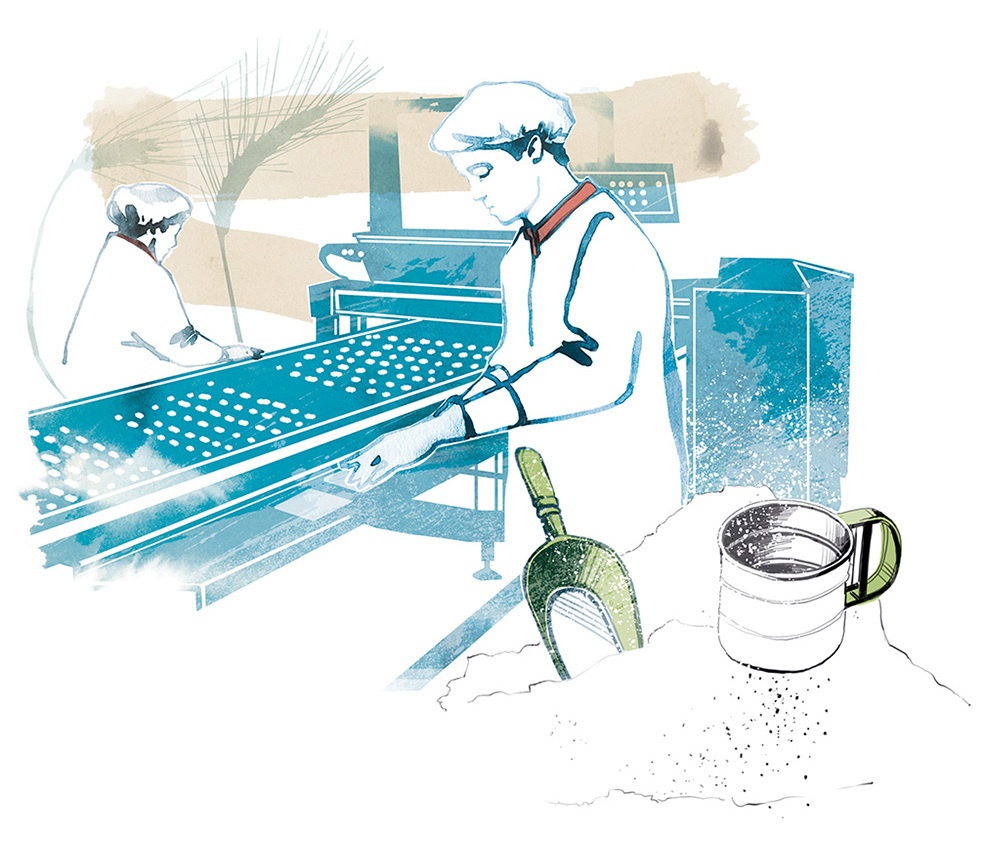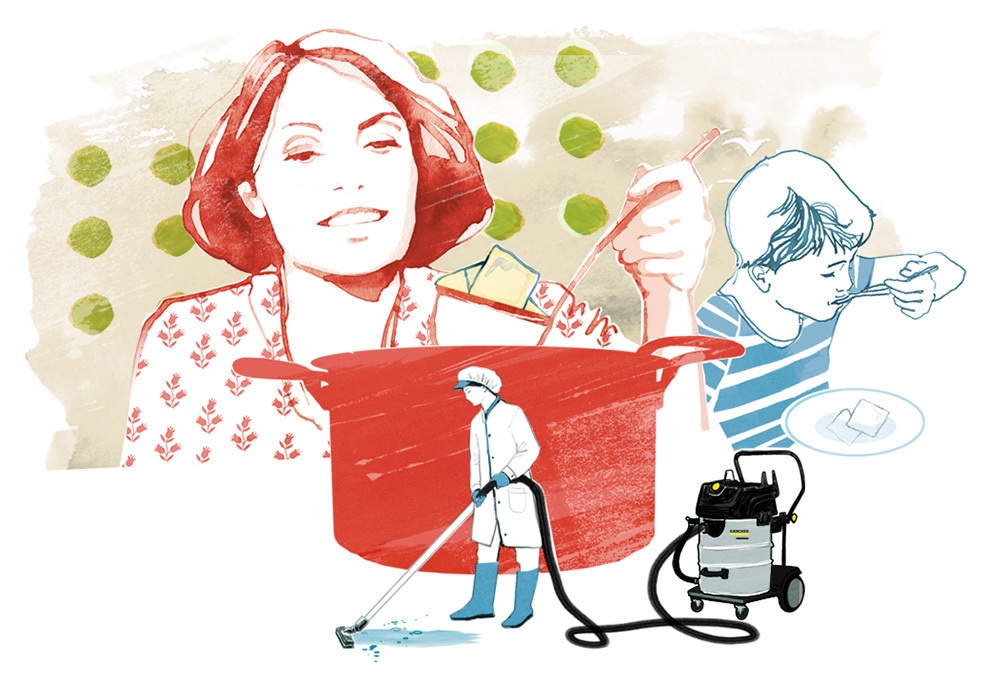 The finished product: It's all coming together
At the end of the process, the dough and filling must be combined to produce the finished Maultaschen ready for the supermarket shelf. When ingredients with different properties are combined, the risk of cross-contamination increases. Wet and dry vacuum cleaners with stainless steel containers remove dirt from conveyor belts, production facilities and floors. Hygienic high-pressure cleaners made of stainless steel are also used. They are resistant to hot water up to 85°C and have two detergent tanks with clear rinsing function. Large areas can be cleaned effectively and economically with vacuum sweepers and scrubber driers. Using the appropriate cleaning technology ensures that the final steps for producing the perfect Maultasche meet the required hygiene standards.
Maultaschen at Kärcher
For chefs of a Swabian family company, the Maultasche is part of the standard repertoire. They are prepared as soup in a broth, with sauteed onions or sliced with egg. The name derives from the Maulbronn monastery. Legend has it that Maultasche originated there when resourceful monks tried to circumvent the rules of Lent and "hid" the meat in spinach and dough. Enjoy your meal!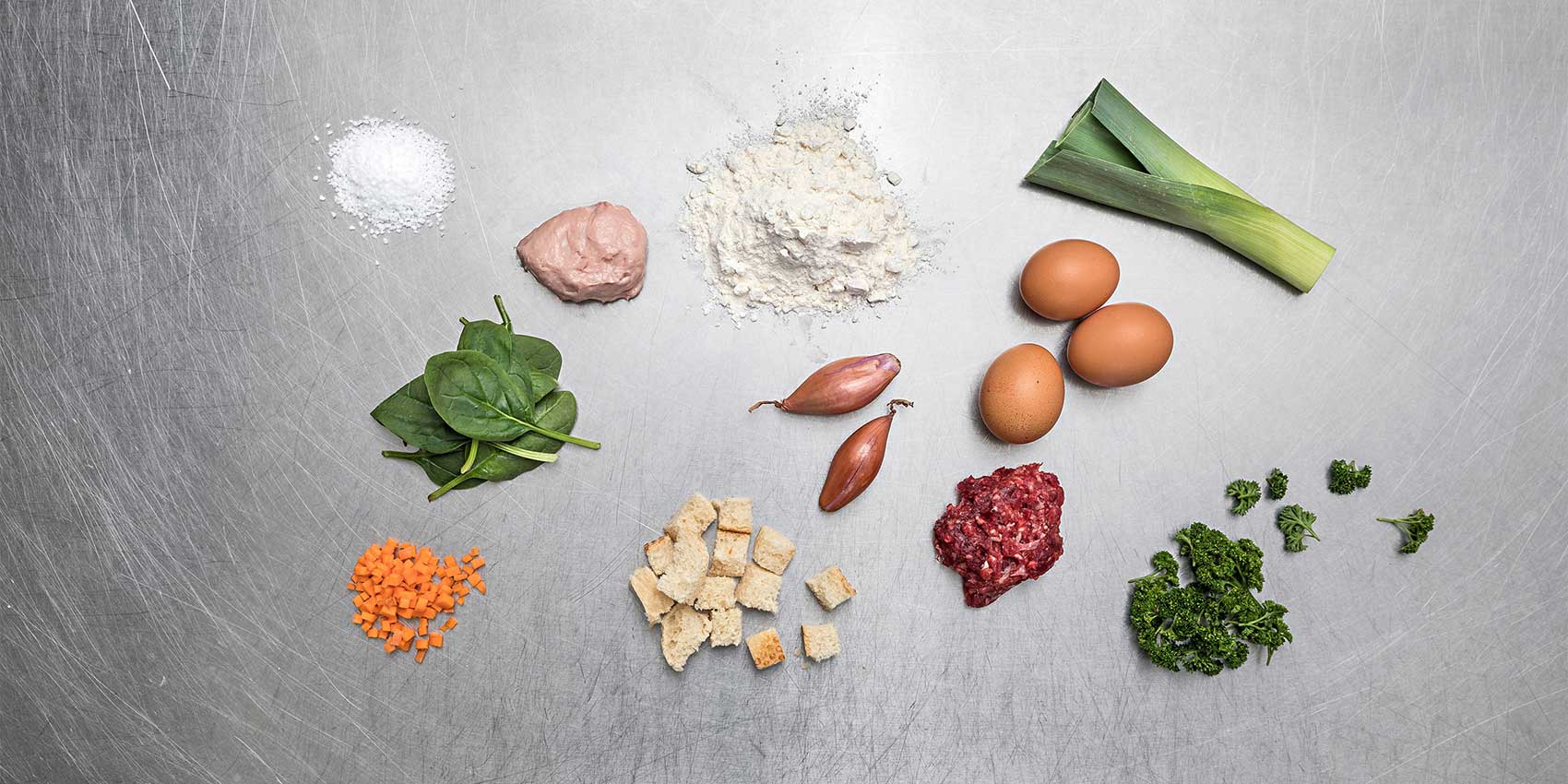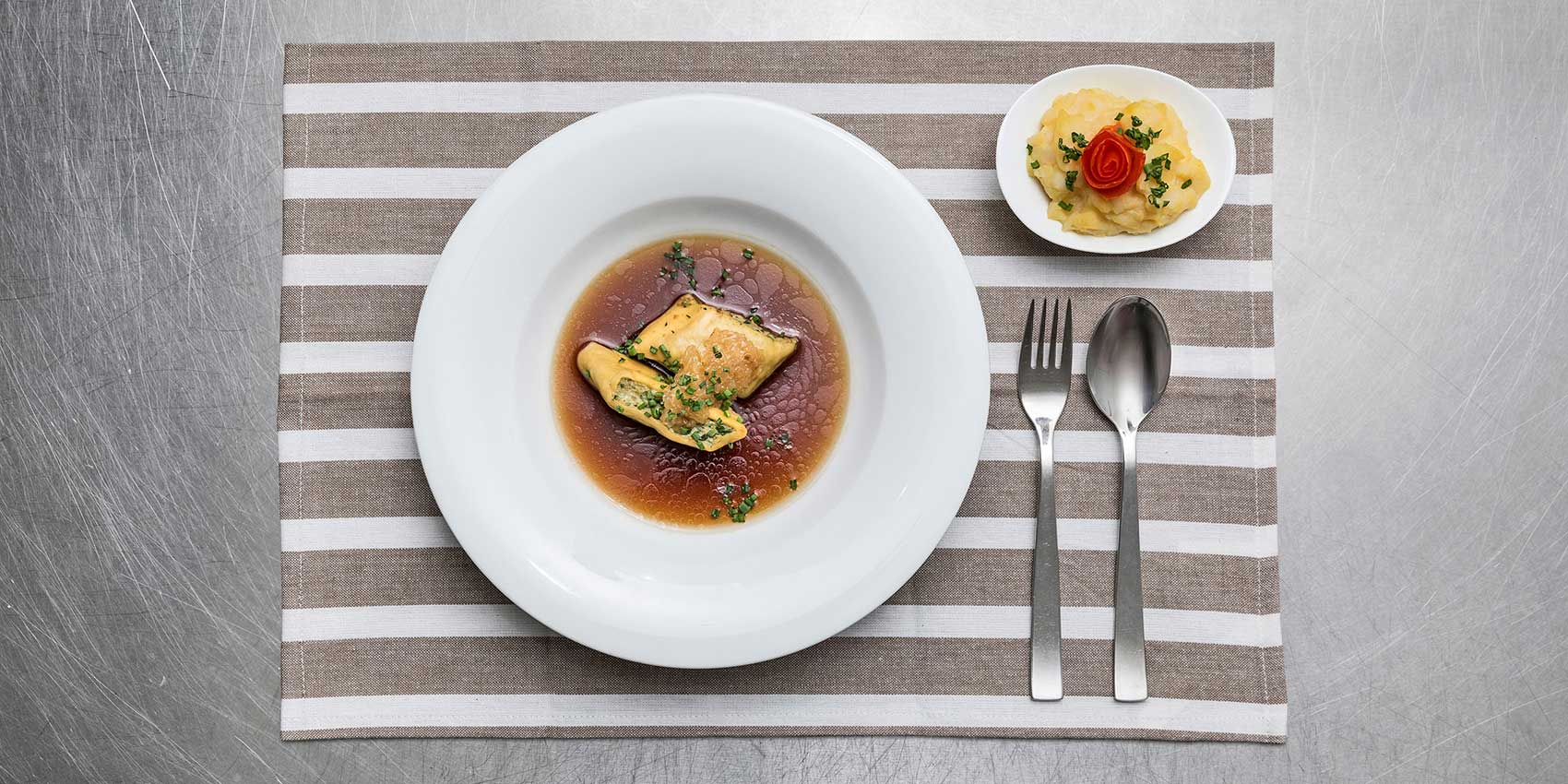 Three questions to Steffen Heintel, Team Leader Food Obersontheim in Germany
Since when have you been cooking for Kärcher and what do you like the best?
I've been cooking for Kärcher since 1 November 2018. I really like the original, regional food from Baden-Württemberg. But also international meals, such as a freshly prepared wok dish.
What preparation do you prefer for Maultasche (Swabian ravioli)?
In an altogether classic sense I prefer the Maultaschen fried in onion butter or in a hearty beef stock with lots of fresh chives and homemade potato salad.
Are Maultaschen a canteen dish or when are they eaten in particular in Germany?
Maultaschen are a very popular dish at Kärcher. The preparation ranges from classic, fried with egg through to topped with cheese. There is also a vegetarian variant.
We regularly eat Maultaschen here in southern Germany – particularly common during Lent. With regard to the origin of this classic dish there is one story in particular that tends to persist: During Lent a monk came up with the idea of rolling up his favourite meat with spinach and all other ingredients in a pasta dough. It was not to be seen by God - hence the name "Herrgottsbscheißerle" ("small God-cheaters").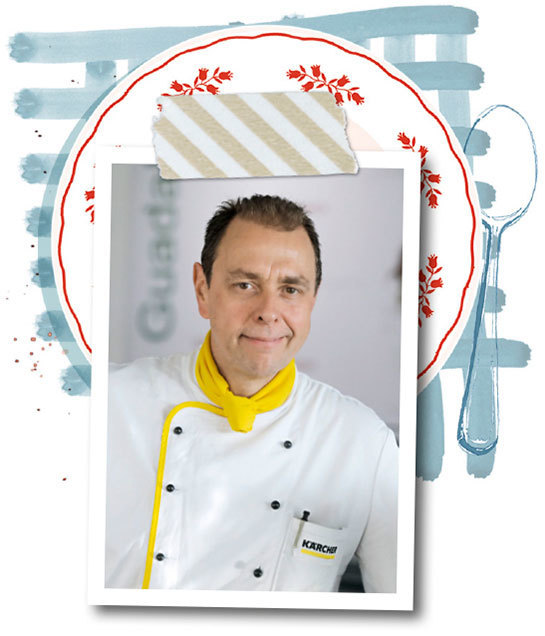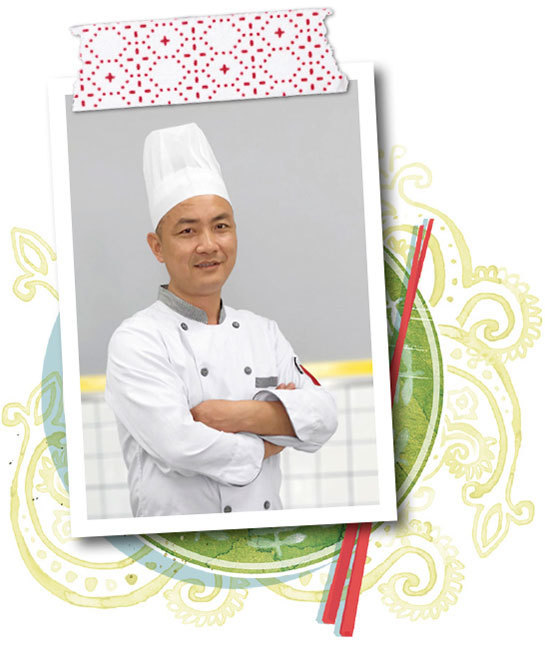 Three questions to Yong He, Executive Chef at the Kärcher Canteen in Changshu
Since when have you been cooking for Kärcher and what do you like the best?
Since October 2015 I have been cooking for Kärcher in Changshu and I like preparing delicious traditional Chinese food best.
Which preparation or recipe of those do you prefer?
I prefer to serve wontons with shepherd's purse and minced pork.
Are wontons served in the Kärcher canteen? Is there an event or time of the year where they are eaten traditionally?
In our Kärcher canteen we traditionally serve wontons on two occasions. On February 2nd because that´s "Dragon Heads raising Day". Traditional Chinese people believe that the dragon is an auspicious creature, and the wonton represents the dragon's eyes, so they would eat the wonton to pray for grain harvest and wealth. The other occasion is on August 15th where families gather together to eat wonton to celebrate am family reunion.
World map of dumplings
Whether in Europe, Africa, Asia or South America: people all over the world love dumplings, which are an integral part of many eating cultures.