Cleaning the reception area
The reception area is like a business card for every hotel, car dealership or museum. The place where guests enter an establishment should be somewhere they feel welcome and comfortable – at best, so comfortable that they want to return. But it's not just stylish furnishings and smiling staff which are crucial here; the reception area should also be immaculately clean to win over every visitor, since hygiene plays a key role in places where people are constantly coming and going. Here is an overview of helpful measures to ensure every reception area can show itself at its best.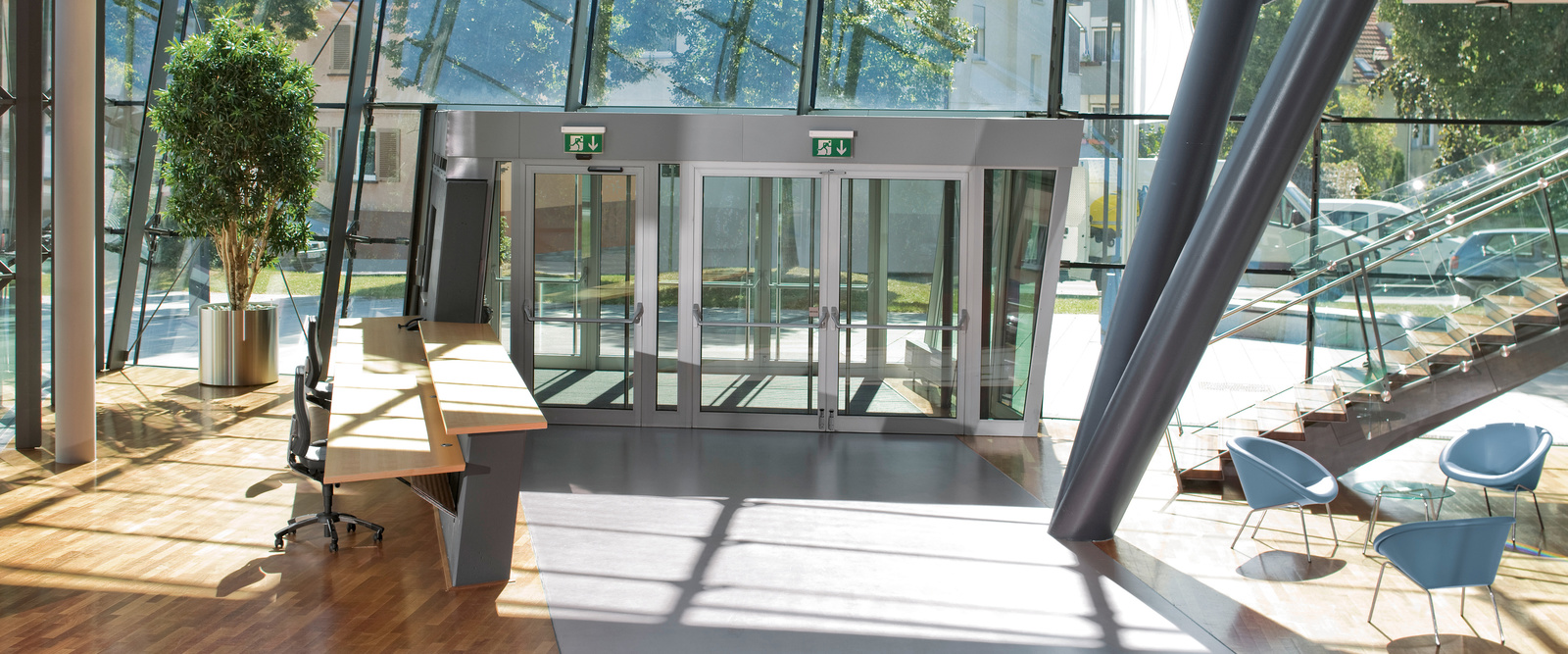 First impression: Clean
Five minutes at the reception desk at the lawyer's office, ten minutes waiting to check in at the hotel – reception areas are generally not places where people tend to spend a lot of time. However, they are busy with foot traffic, as well as being spaces where numerous interactions typically take place: Filling in a form, talking to the staff, paying, providing a signature, sitting down for a minute until it's your turn. Accordingly, there are many surfaces that can be touched and become soiled quickly.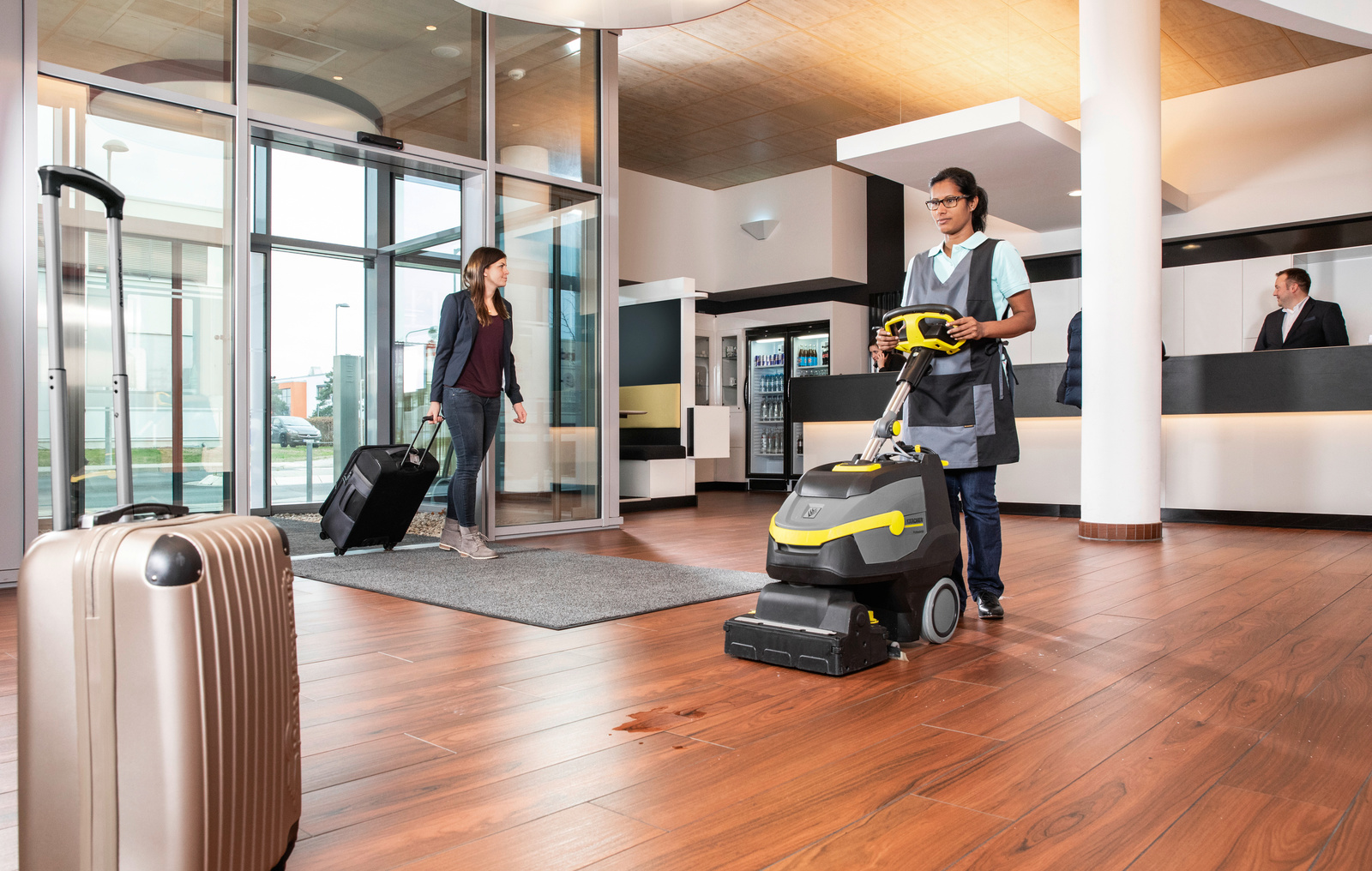 Top of the list for every reception area: Well-maintained floors
Of course, floors are particularly susceptible to contamination. Anyone coming in usually also brings in dirt from outside, especially in wet weather, and especially if the premises are directly accessible from outside and are not reached via a stairwell, for example. Dirt trap zones and entrance mats can be a saving grace here: They prevent dirt from being carried into the premises and also, to a certain extent, keep out moisture and snow. The mats should be cleaned regularly with a wet and dry vacuum cleaner, electric broom or upright brush-type vacuum cleaner. The machines are also suitable for maintenance cleaning in the adjacent floor area.
Even with this measure, of course, the floors still need regular thorough cleaning. When it comes to hard and resilient floors, such as tiles or linoleum, manual wiping systems are a popular choice for daily maintenance cleaning. Dry vacuum cleaners or wet and dry vacuum cleaners have also proven their worth for maintenance cleaning, as they fulfil a wide range of cleaning tasks, adapting flexibly to different floor coverings. Another factor that should also be considered is that using a manoeuvrable scrubber drier is worthwhile for an area of 100 square metres and above. It not only works more thoroughly than a manual wiping system allows – it also achieves a more hygienic result, as the dirty water is sucked up immediately. Even with more intensive cleaning steps, such as intermediate and deep cleaning, the scrubber drier ensures both time savings and impressive results. Of particular importance in floor cleaning is the fact that the different floor coverings used in reception areas also have different cleaning requirements. Therefore, the nature of the floor coverings should be taken into account in all cleaning processes.

Cleaning and maintaining natural stone
Natural stones with the same or similar look can have very different technical properties, particularly with regard to sensitivity to alkalis or acids, firmness and water absorption. It is these factors which determine which stone is suitable for which purpose and how it must be maintained in order to retain its appearance for a long time. Before cleaning, you must therefore have thorough knowledge of the stone's properties based on its mineral composition and surface treatment, as well as its usage.

Cleaning fine stoneware tiles
Fine stoneware tiles are an attractive, very popular floor covering which stands out thanks to its robust and slip-resistant qualities, as well as its very low moisture absorption rate. A modern and safe design medium, it is impossible to imagine floor coverings without fine stone nowadays.
Impeccable glass surfaces for a flawless look
Well-maintained glass surfaces also let a reception area shine. Glass is often used to create a light and friendly atmosphere, but is susceptible to visible contamination. Spot contamination is best tackled with glass cleaner and a cloth. For larger areas, using a professional window washer together with a squeegee or a commercial surface vacuum cleaner will achieve an even result. With the help of the Window Vac, puddles on the floor and associated safety risks can be prevented.
So tempting to sit on: How to keep upholstered furniture in reception rooms looking good day after day
To achieve a long-lasting good impression, there is one aspect just as crucial as brilliantly clean glass surfaces: Well-maintained upholstered furniture. If you don't want annoying stains to spoil the overall impression, you have to be quick because stains should be removed the same day they appear. This is because fresh stains are easier to remove, easier to spot and cannot spread any further.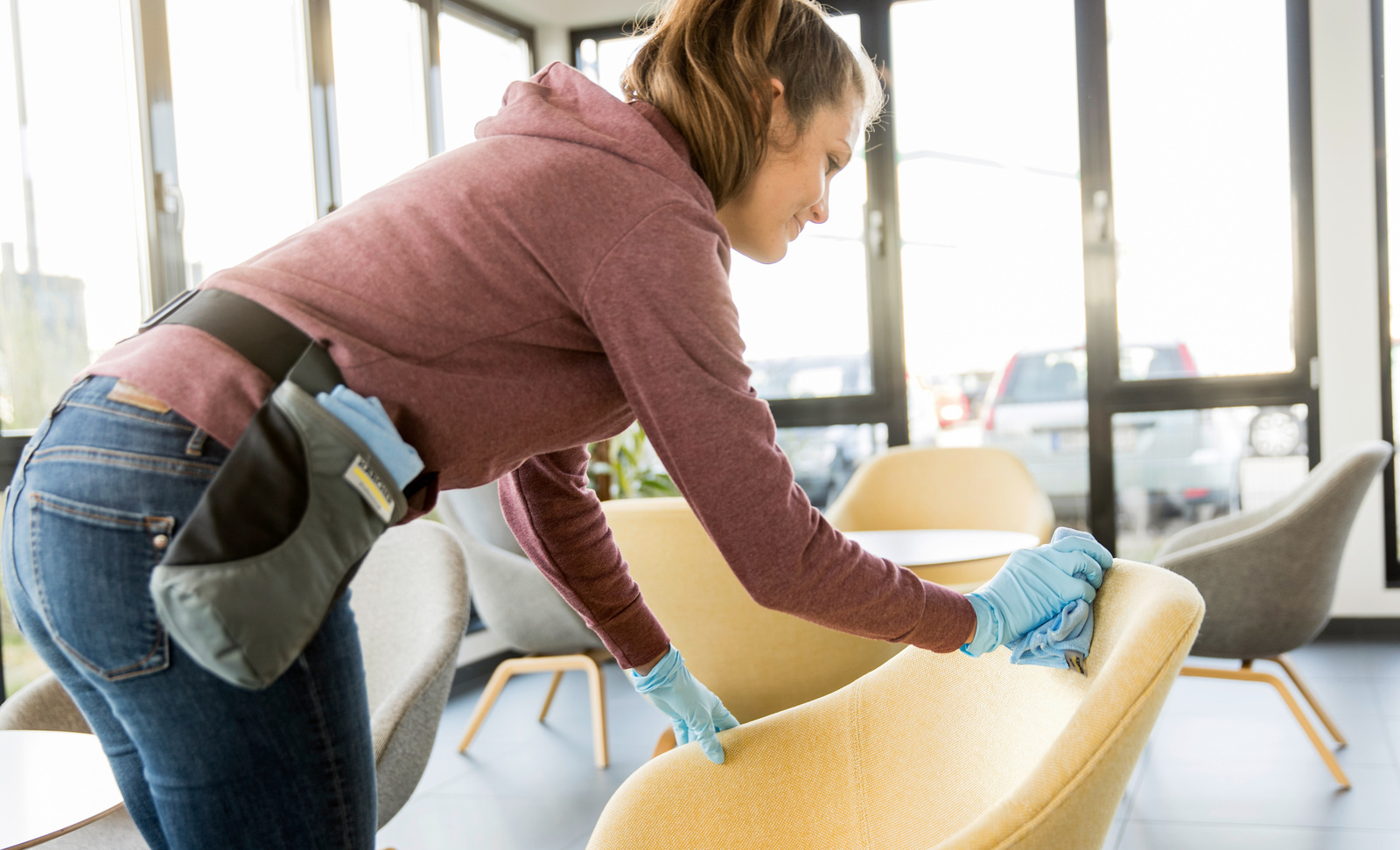 Manual stain removal
Ninety per cent of all stains are already water-soluble – it is therefore advisable to tackle the stain first with a microfibre cloth or microfibre pad and water. A gentle dabbing motion is required, then gentle rotating movements from top to bottom, which removes the dirt from the fibre. This is important to keep the dirt from being pushed further into the fibres.
If the stains are not water-soluble, a stain remover based on water-miscible solvents should be used. Spray a microfibre cloth with the stain remover spray and dab the affected area until the stain comes off. Then remove the stain from the fibre with gentle rotating movements from bottom to top.
Tips:
Remove loose dirt with a vacuum cleaner prior to stain removal
Do not exert any excess pressure on the surface
Always use a clean area of the cloth
Drying can be accelerated by dabbing with a dry cloth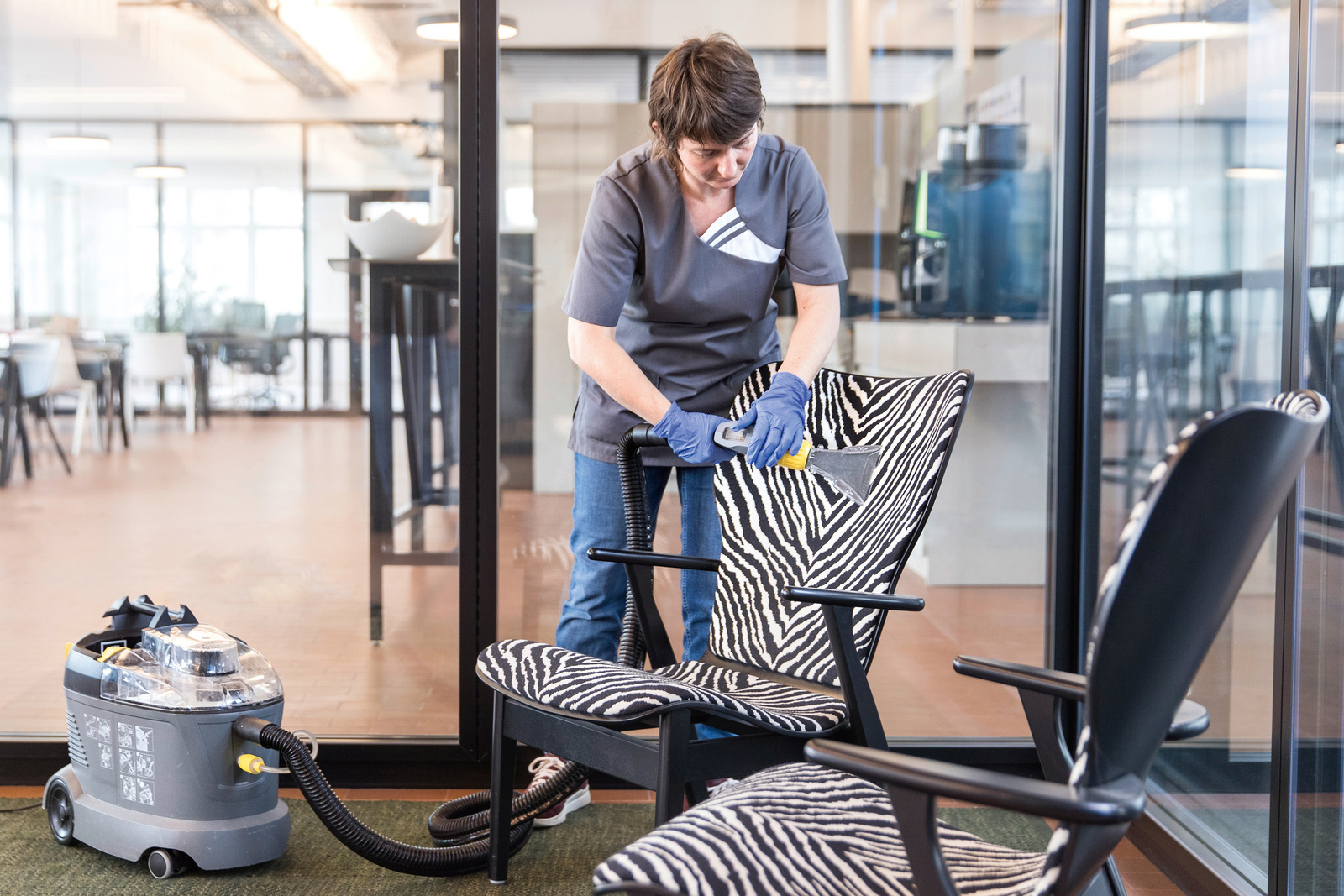 Mechanical upholstery cleaning
For more elaborate deep cleaning of upholstered furniture, there is the option of using a spray extraction machine. Spray extraction, which can be carried out in both a single-step or a two-step process, achieves a thorough cleaning result deep into the material.
Surface cleaning
To ensure that all visitors feel completely at ease, special attention should also be paid to surface cleaning. Due to increased hygiene requirements, the reception desk, a hub of human interaction, once again plays a hugely important role here.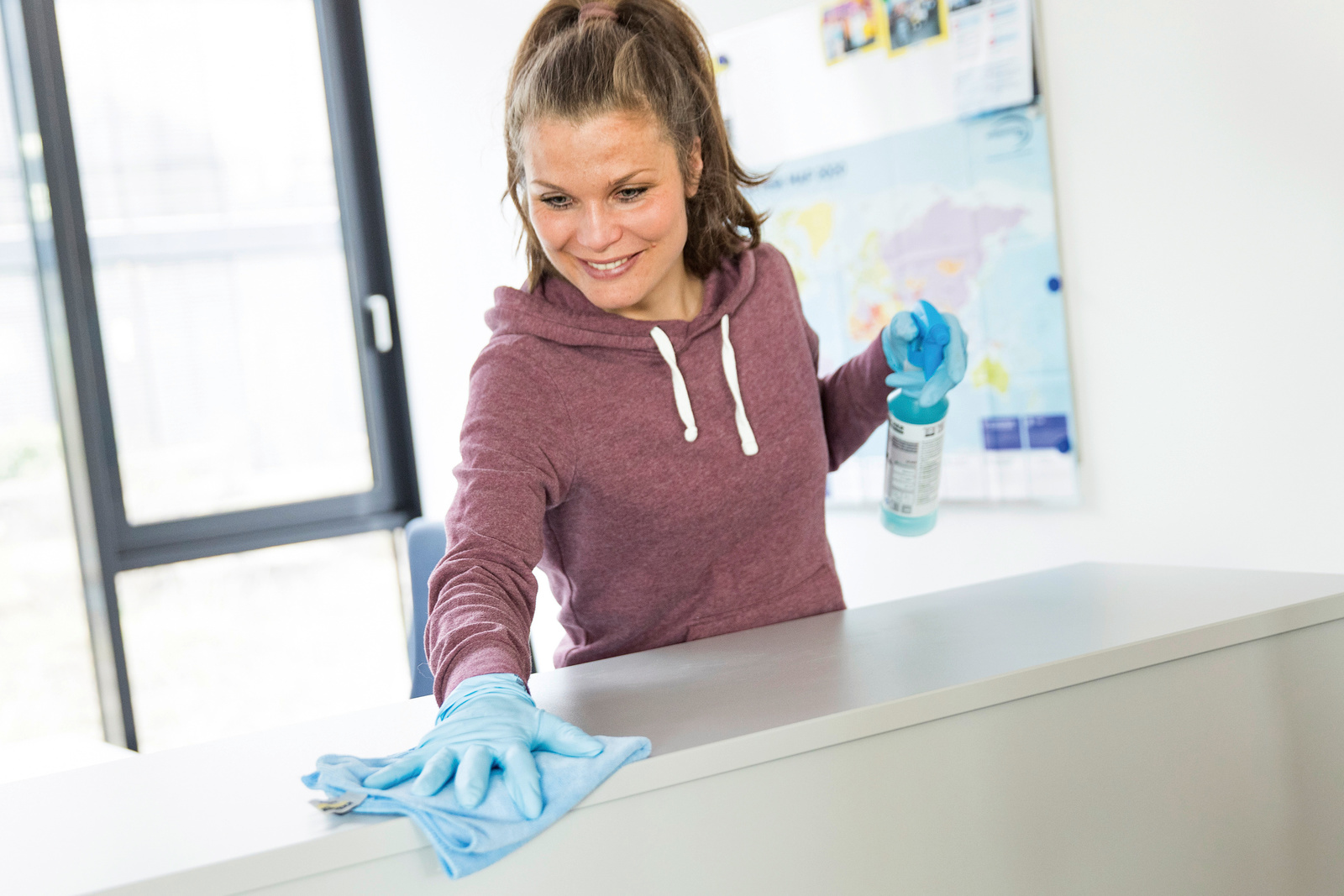 Manual surface cleaning
For manual surface cleaning, the use of microfibre cloths and spray bottles with a cleaner – disinfectant cleaner if necessary – is recommended.
Two methods can make the work process more practical and safer: The colour method, for example, in which blue cloths are used for surfaces and red cloths for WCs and urinals, so that there is no risk of confusion. What's more, the eight-fold or 16-fold method for cloths can be used to ensure that surfaces are always cleaned with a clean side of the cloth and germs are not carried over from one surface to the next. A microfibre cloth is folded down once and, depending on the size, folded once or twice to the side. Then a clean side of the cloth is sprayed with (disinfectant) cleaner and the surface is wiped. By systematically folding the cloth, eight or sixteen areas of the cloth can be used before a new one is needed.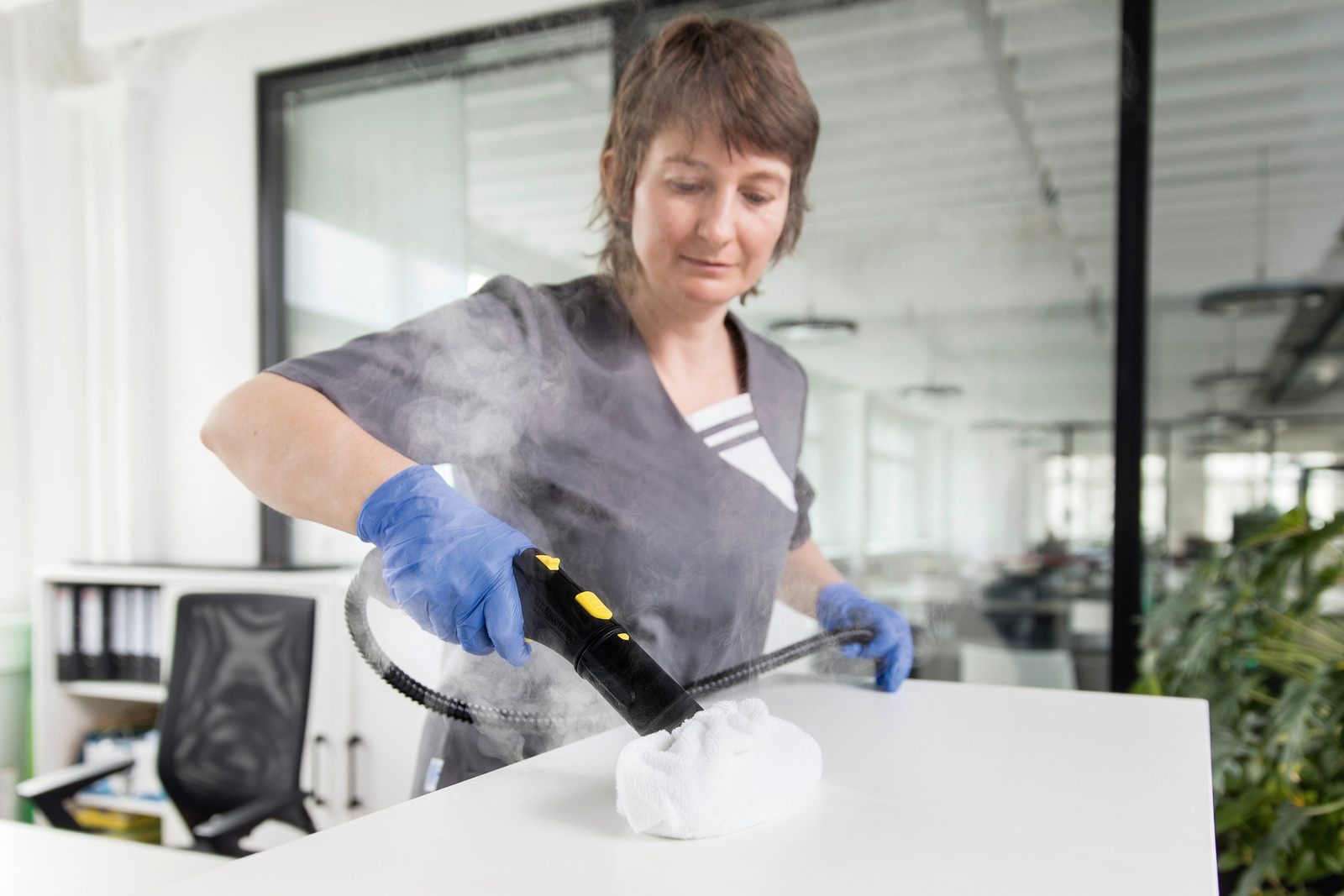 Using steam cleaners for surface cleaning
As an alternative, a professional steam cleaner can be used. The machines are an effective and time-saving solution thanks to the high cleaning temperature, helping to ensure appropriate hygiene and combat germs or viruses. The steam emerges in very fine drops and, depending on the machine type, at a temperature of around 100 °C and a pressure of up to 8 bar. It is possible not only to clean floors and furniture effectively, but also areas that are difficult to access, which the steam can reach.
A clean reception desk
Reception is an area where impeccable hygiene is of paramount importance. Even before guests approach the desk, they should be given the opportunity to sanitise their hands. Contact surfaces that are touched by many people must be cleaned and disinfected regularly, and the panes of Plexiglas®, which are installed in many places to protect personnel, also require attention. To prevent them from becoming cloudy or scratched, they should be cleaned with a fine microfibre cloth and water. If an additional cleaning agent is used, this must not be highly alkaline or acidic, or have too high an alcohol content, so as not to damage the material.
Tip:
When personnel leave and arrive for a shift change, it is also advisable to pay attention to the area behind the counter –
the desk and telephone, for example, should be cleaned and disinfected.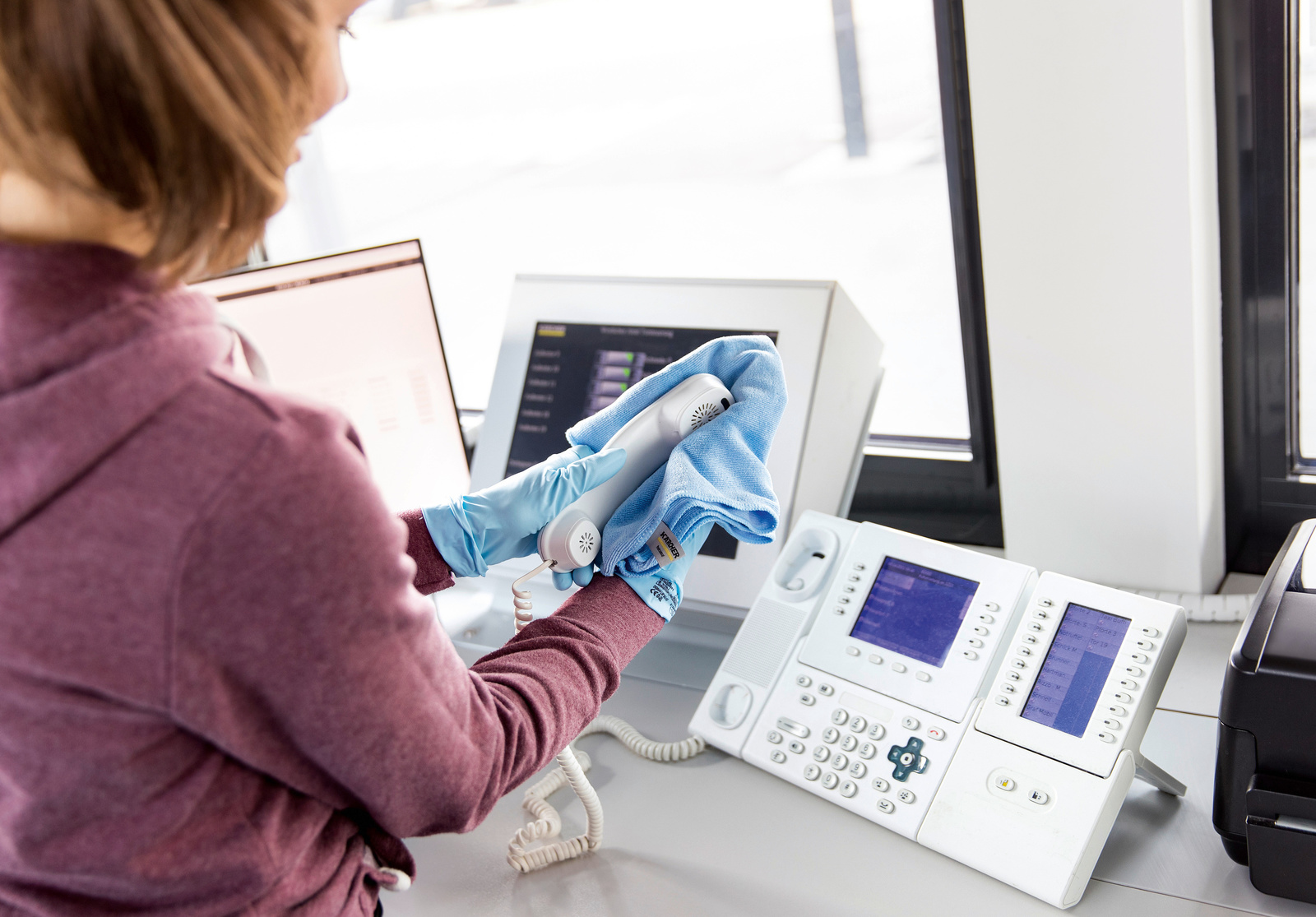 Suitable products for your area of application