Production and filling of drinks
Companies in the brewing and drinks industry must ensure that their results are tasty and hygienically ‰awless. That is no easy task given the large quantities, high humidity, narrow pathways, large surface areas and kilometre-long pipelines.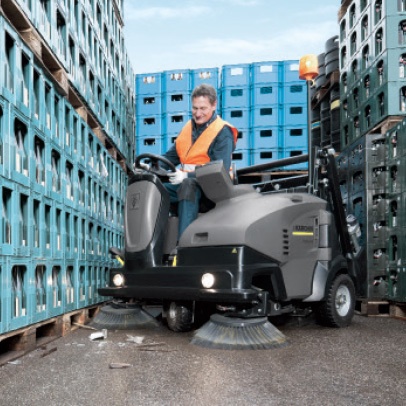 Refreshing cleanliness
In order to produce drinks of a consistent quality and impeccable taste, cleaning must be optimally carried out in the manufacturing process.
Using our ride-on vacuum sweepers with sweeping crescent side brushes, you can protect goods in outside and storage areas against dirt. Large areas and corners can be swept with ease and in no time in only a few passes. Further advantages are offered in the shape of electrohydraulic high container emptying, fully automatic Tact filter cleaning for virtually dust-free cleaning, and the Kärcher Intelligent Key System, which allows you to assign different rights to different users. Tanks, containers and pipelines can be cleaned with our mobile high-pressure cleaners as well as our stationary high-pressure units with several points of use. Stationary highpressure units can be made ready to use any time at the push of a button, without set-up times and without having to transport mobile machines. And with accessories such as the pipe cleaning hose and nozzle, pipes are clean inside and out. The hose works its way through the pipe using the pipe cleaning nozzle, with four nozzles set at a 30° angle.
Deep cleaning with steam
High humidity in the drinks production process encourages the formation of mould. By cleaning critical areas with our steam cleaners, you can achieve effective disinfection entirely without chemicals – as certified by an independent laboratory. Our stainless steel Surface Cleaner with automatic dirty water suction also allows you to clean walls with hot water up to 85 °C. For narrow corridors and storage areas, our fully configurable scrubber driers are available – brush heads, squeegees, mains or battery operation and additional equipment details can be added according to your requirements.