Production of ready meals
Different ingredients and primary products must be brought together for often complex end products. The danger of crosscontamination grows with the
complexity of the process, as does the importance of pro fessional hygiene.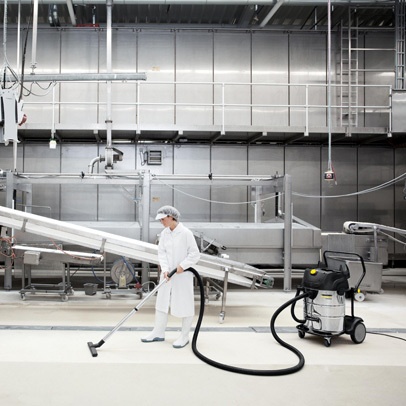 Cleanliness is essential
Ready meals are complex recipes for which the cleanliness and hygiene requirements are very high during production.
When producing ready meals, raw materials and ingredients with the most diverse properties are combined. The danger of cross-con-tamination grows with the complexity of this process, which you can only prevent through optimal cleanliness and hygiene. For the reliable removal of large quantities of dirt from conveyor belts, production systems and floors, our powerful wet/dry vacuum cleaners with two motors, stainless steel containers and electronic filling level monitoring are ideal. You can also use our Hygiene high-pressure cleaners in rustproof stainless steel, which are resistant to hot water up to 85 °C and have two detergent tanks with rinsing functions. All brass parts coming into contact with water are food safe.
Spotless surface areas
Large surfaces can be cleaned economically and efficiently with our individually adjustable vacuum sweepers and scrubber driers in various sizes and models. Our ride-on vacuum sweepers with Tact automatic filter cleaning achieve optimal cleaning results. The roller brush on the rear axle ensures that high kerbs can be driven over easily. And our step-on or ride-on scrubber driers not only save time, thanks to automatic fresh water filling, but also significant amounts of cleaning agent thanks to Dose, the precise, consistent cleaning agent dosing unit which is adjustable from 0 to 3 %.