Tidying up and tinkering about: Practical tips for DIY enthusiasts
Nothing gives you that sense of satisfaction than creating something with your own hands! Spring is the perfect time for DIY when the sun starts to make an appearance and the nights become longer. If you decide to take the plunge and start a house or garden project, you'll know that these DIY projects involve a lot of dirt and dust. With these DIY tips, your workshop will be looking good as new once you're done with your task.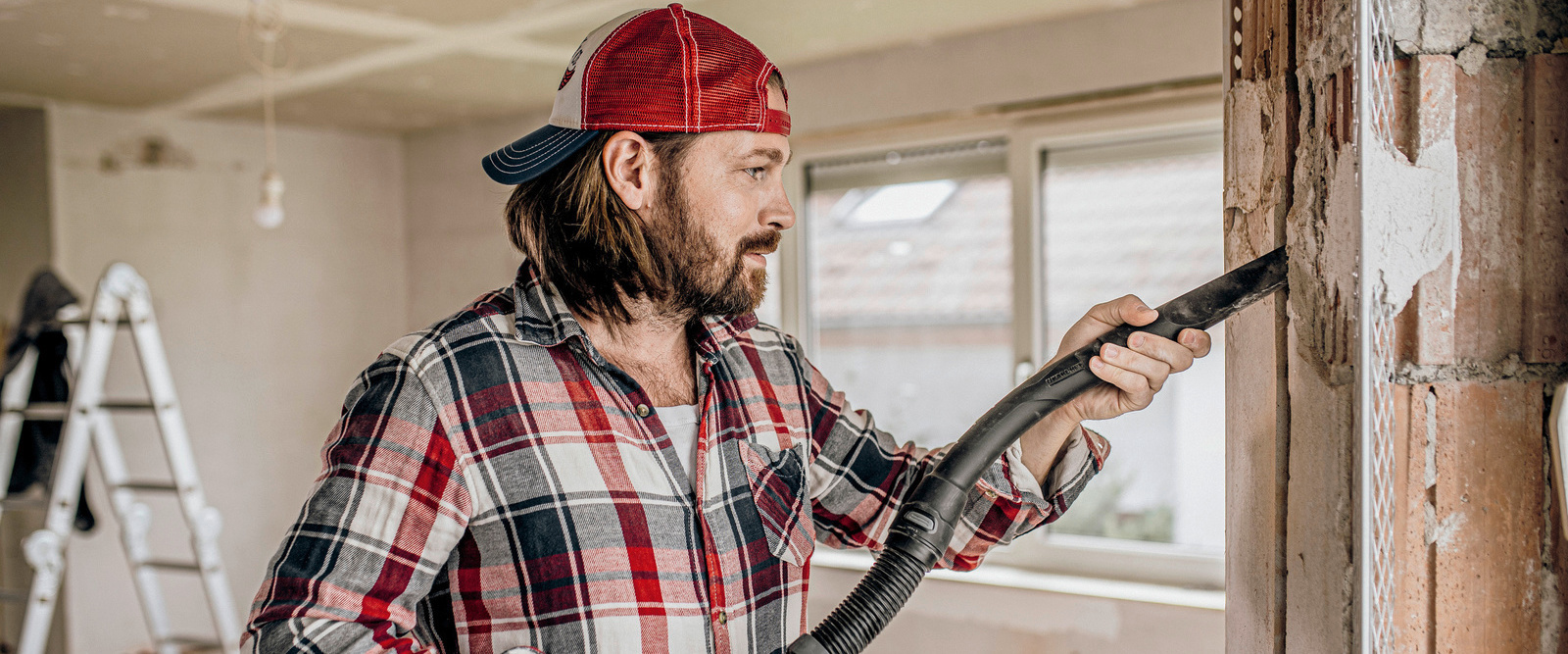 Preparation is key
It's a well-known fact that you can't make an omelette without breaking eggs. So it stands to reason that you can't expect to do DIY projects without encountering a lot of dirt and dust. Don't be surprised that a lot of cleaning and tidying is on the cards after completing your renovation project. This is particularly important for allergy sufferers. Many DIYers resort to commercial vacuum cleaners to tidy up their workshop. Due to the coarse dirt and the sheer amount of dust, however, these appliances can quickly reach their limit. To efficiently remove fine and coarse dust or to avoid dust from being created in the first place, a wet and dry vacuum cleaner is the better choice.

Garden DIY: Spruce up the outdoors
When the temperatures start to rise in spring, nature awakens from its winter sleep, which signals that it's time to spruce up the garden and therefore time for DIY! The patio, flower and vegetable beds, and garden furniture could do with some TLC after being neglected over winter. Garden care is on the cards.
After paths around the house have been cleared of leaves and dirt, the patio has been swept and the lawn has been tended to, you now have time to concentrate on small DIY projects. There are countless tips and instructions on how to upgrade your garden to your liking. This often involves extending the outdoor area of the house with elements you build yourself. One trend that has caught on in recent years is self-built flower beds made of stone or wood. After all, raised beds and raised planter boxes are not only practical and look good, but also enable plants to grow even in places where soil conditions are not optimal. Homemade patio furniture is undoubtedly one of the most popular DIY projects.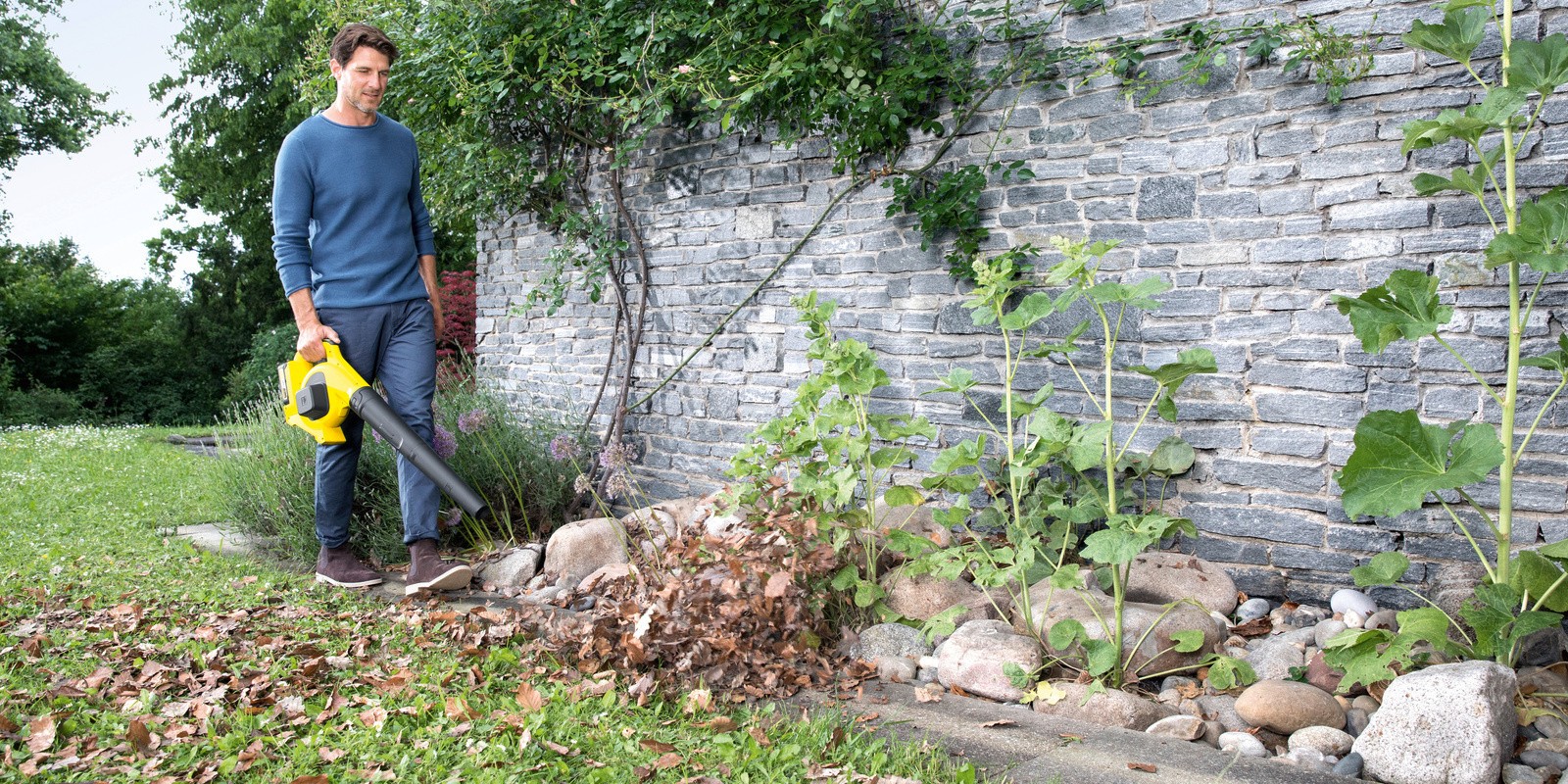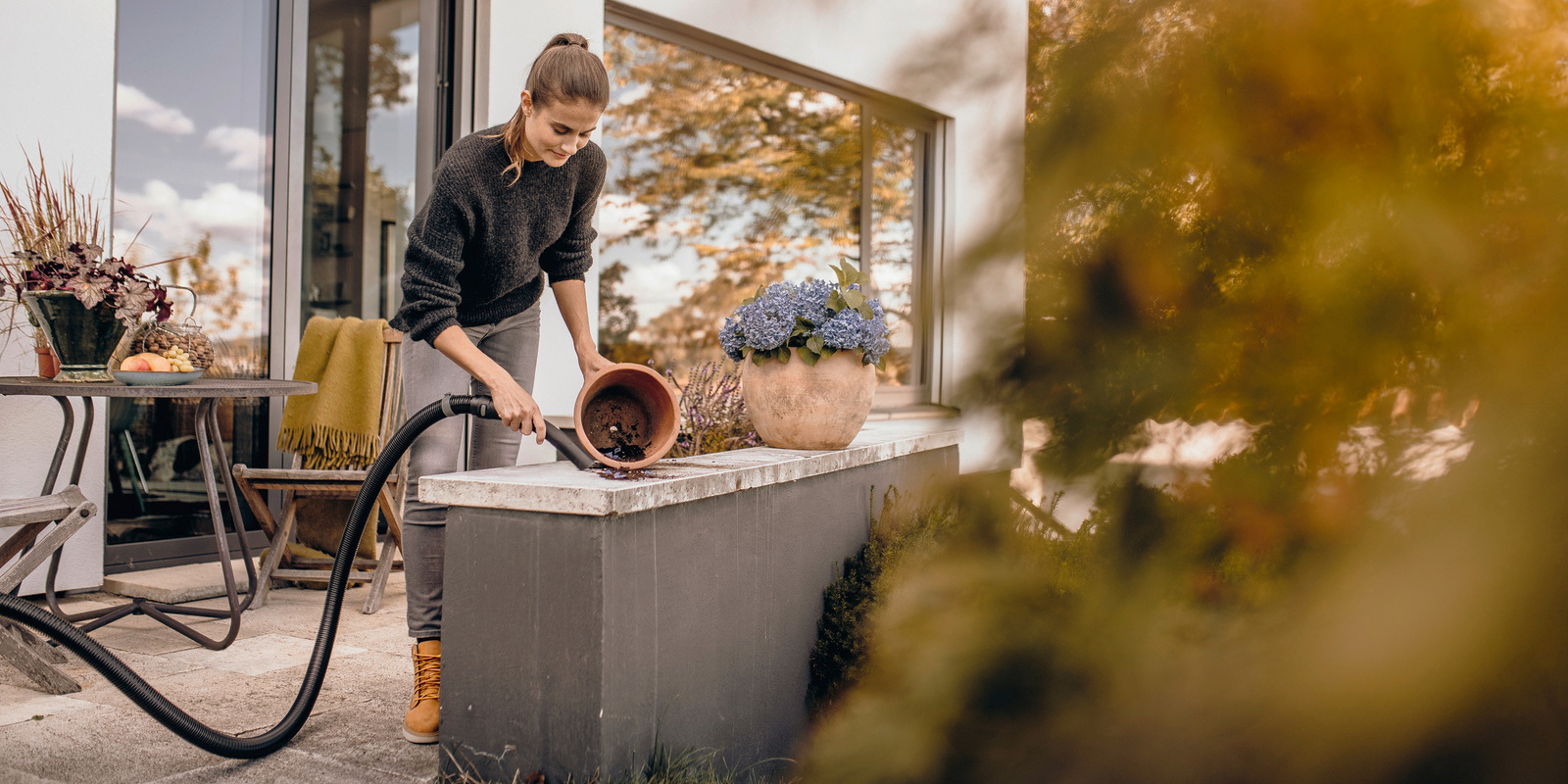 Tip
After using a saw to cut wood or stone, DIYers will find that a wet and dry vacuum cleaner helps to effectively remove the resulting dust. And if you had a little faux pas while replanting or planting beds and planter boxes, you can simply vacuum up the water as well as wet dirt with the wet and dry vacuum. These vacuums are available as cable or battery powered models. Cordless units with a rechargeable battery do not require a power outlet and offer users more freedom and flexibility. For larger areas, a sweeper is a good choice for removing petals, sand, soil or leaves quickly and effortlessly.
Working in the home: Ways to avoid dust
However, DIY is not limited to the garden, but can also be carried out in the home. After a few years, it's normal for some items such as the kitchen, the tile backsplash in the bathroom or the living room cabinet to find themselves on your list of things that need upgrading. Whatever kind of DIY you undertake, it will no doubt consist of painting and drilling.
If your house is being remodeled or extensive renovation work is being carried out, it's normal for a lot of construction waste to get produced - for example, when tearing down old walls or drilling into them. In order to get the living space livable once again, the larger pieces of debris should first be carried out of the room by hand or using a dustpan. A wet and dry vacuum cleaner with an integrated filter bag can then be used to remove the fine pieces of dust efficiently and quickly. This makes it particularly easy to vacuum up construction and renovation debris such as plaster, cement or pieces of brick. The vacuum cleaner also makes light work of damp dirt, which can occur when stripping wallpaper.
A wet and dry vacuum cleaner is even helpful for smaller renovation projects, enabling you to avoid costly basic cleaning after the renovation work is done. Dust can be prevented thanks to the device's extensive range of accessories. For some projects, like adding new track lighting to the ceiling, you spend more time actually covering furniture and cleaning than doing the actual DIY. A drill dust catcher can help! The accessory is simply connected to the suction hose. To collect the drilling dust, the attachment is placed at the desired position on the wall or ceiling and the vacuum is switched on. The drill dust catcher will remain securely attached to wherever it's placed. Now you can drill without having to worry about dust or residue because the drilling dust is immediately picked up by the wet and dry vacuum cleaner. Tip: It is best to leave the vacuum cleaner running for some time after drilling. This prevents excess drill dust from landing on the floor.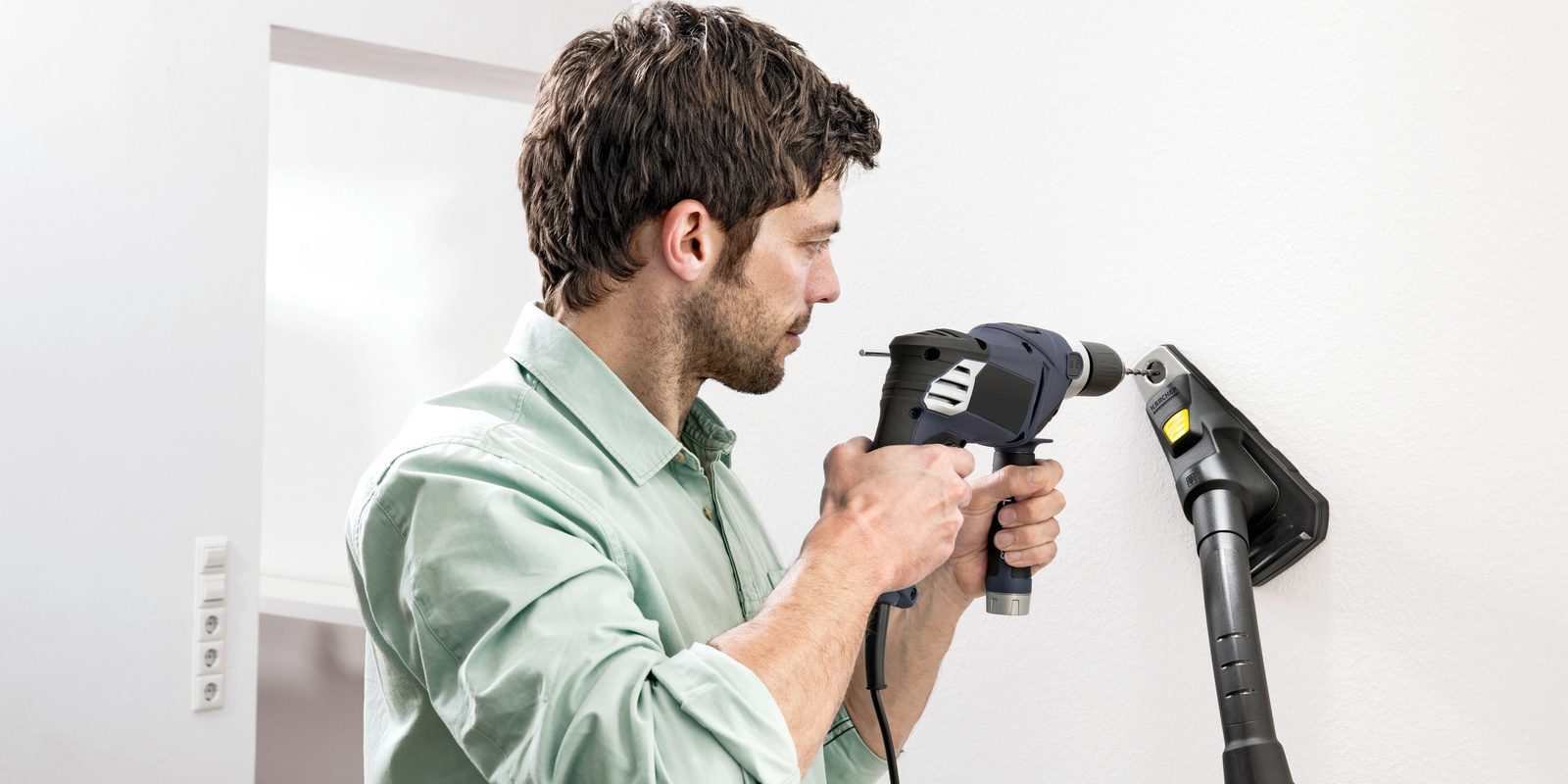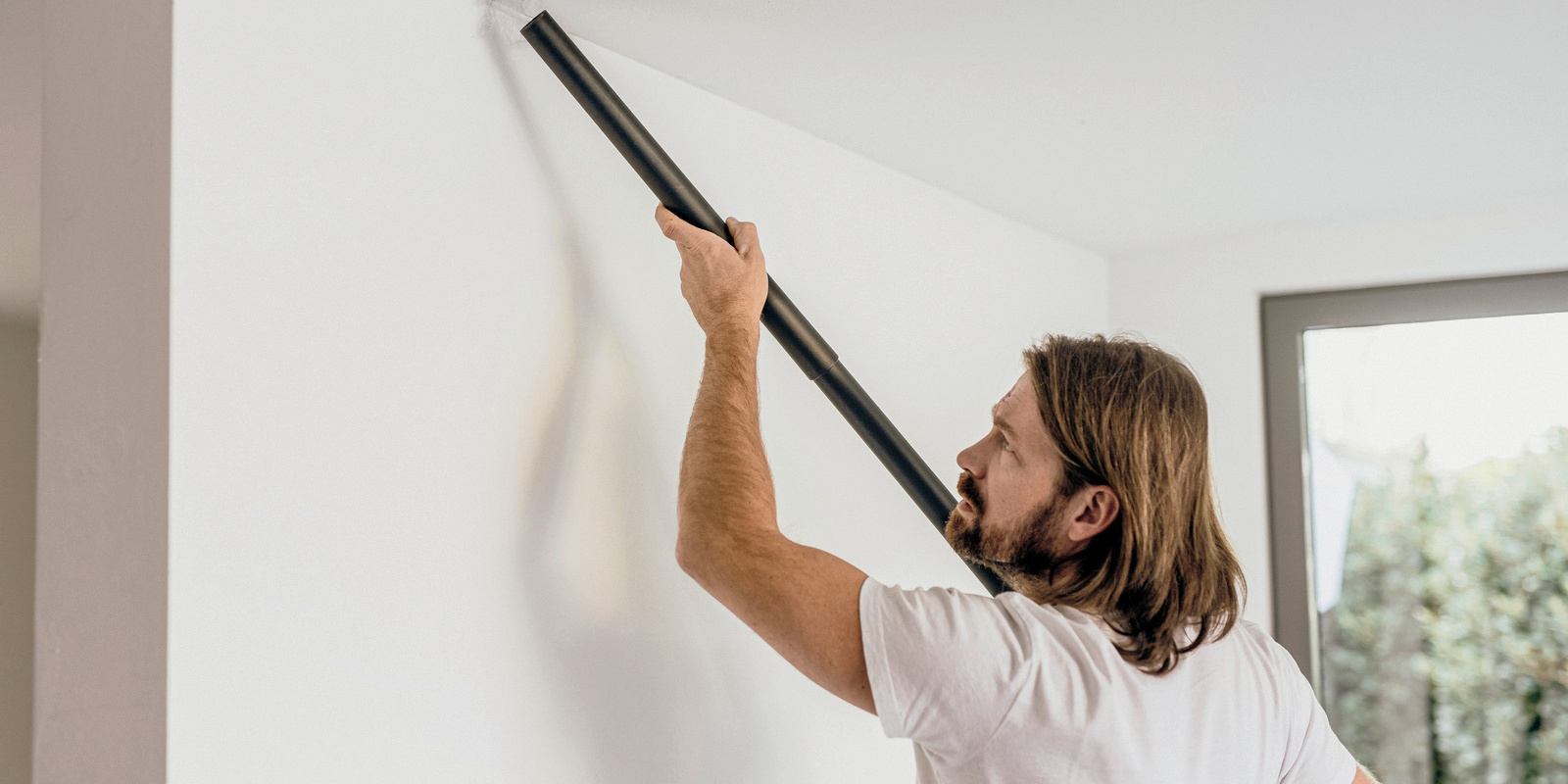 Clean garage, workshop & shed after DIY project is complete
A suitable workshop is essential for DIY enthusiasts. Not only can all your tools, equipment or building materials be safely stored in it, but it can also be used for planing wood and working in peace. No wonder that many homeowners have set up a separate room in their home for this purpose. On the other hand, for those who have a little less space or only occasionally do DIY, the garage is usually the ideal place of retreat. By parking the car outside, DIYers then have enough space, peace and quiet and enough power connections to tackle their projects head on. But what can be done to stop all that dust from forming? And how can the garage be cleaned afterwards?
The wet and dry vacuum is the ideal vacuum cleaner for your workshop. If you cut wood or stone in the garage and want to avoid dust, you should use the vacuum while you work. Some models come with an integrated socket for additional flexibility. Chop or circular saws, routers and sanders can be connected directly to the wet and dry vacuum cleaners with a power socket. The vacuum is automatically switched on or off via the power tool and dirt produced during planing, sawing or sanding is extracted right away. At the same time, the vacuum cleaner is ideal for removing wood dust. To ensure that the wet and dry vacuum cleaner effectively vacuums up fine dust, you simply have to insert a filter bag.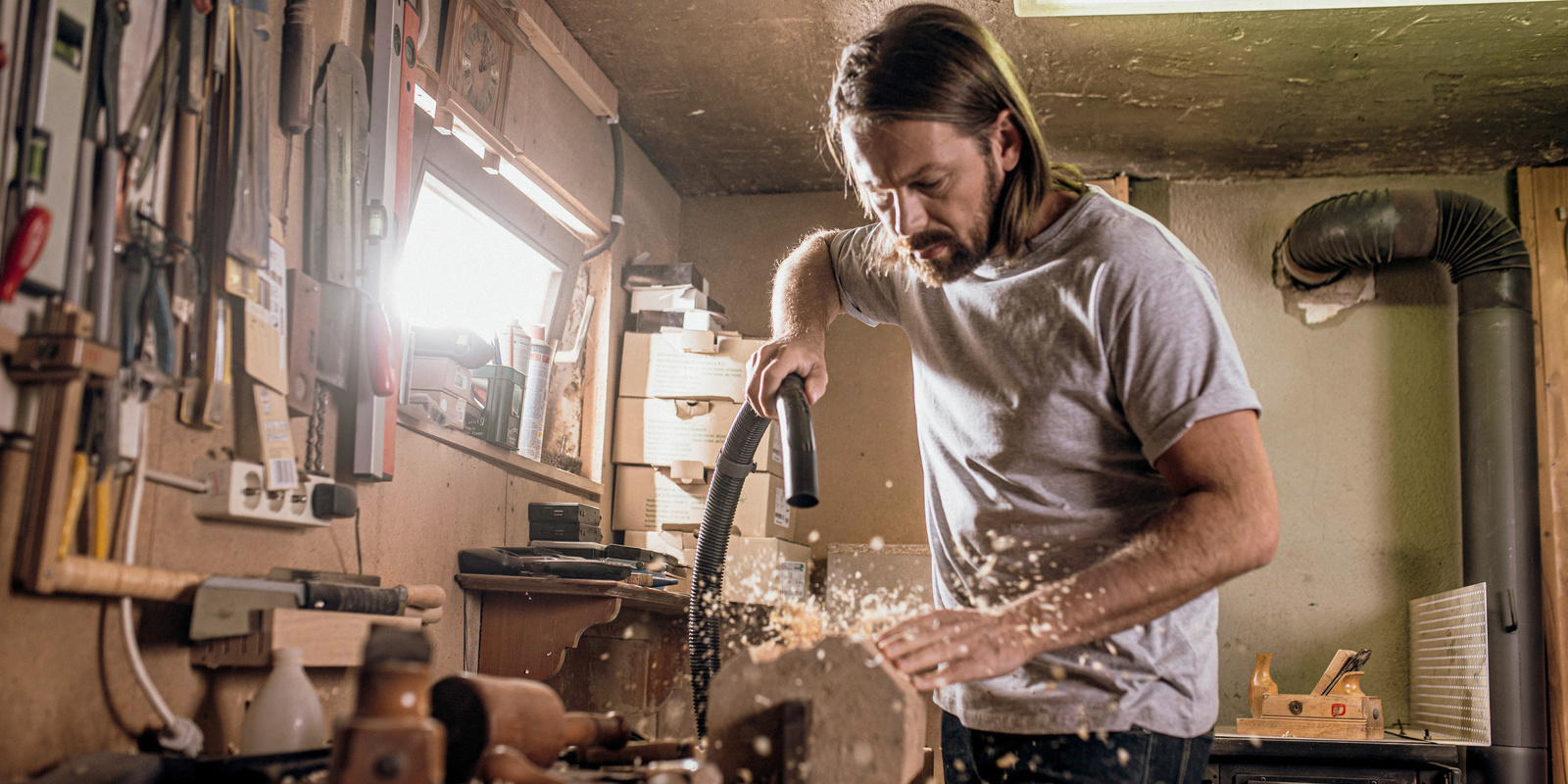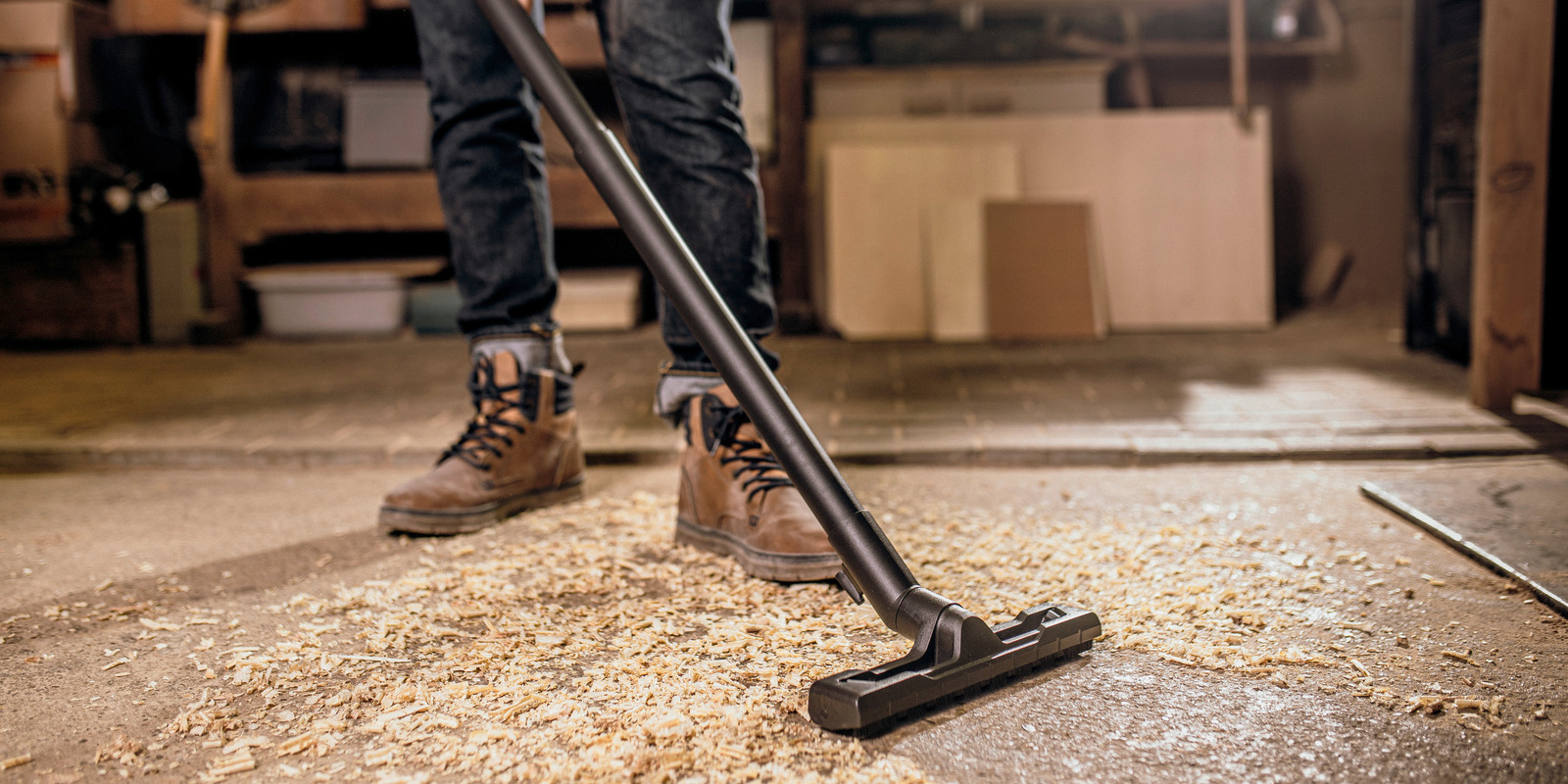 Tip
If you're already cleaning your garage, you might as well vacuum your car. A wide range of accessories for car cleaning can be attached to the wet and dry vacuum cleaner to clean the car mats as well as smaller storage areas and also to ensure cleanliness between the seats.
Clean the garden shed
Instead of tinkering away in the garage, many ambitious do-it-yourself enthusiasts have a small workshop at their disposal in the garage or garden shed. A workbench can usually be installed without any problems so that minor and major work can be carried out on the house and garden. If you own a shed like this, you will be aware that tidiness often takes a back seat due to the numerous DIY projects going on. If there are appliances and tools in the shed that are not constantly used, dirt, dust or even pests such as beetles, ants or spiders can accumulate on and between the tools. Therefore, it is recommended to clean the shed regularly - especially after completing very extensive DIY projects in the workshop.
The first step is to think about organising the shed. Shelves and brackets on the walls not only keep things tidy, but also make cleaning the workshop much easier. It is therefore best for hobby DIYers to clean out the shed thoroughly before cleaning it. Smaller in between areas in the workshop can be cleaned with a wet and dry vacuum cleaner. All you need to do is attach a normal suction tube, switch on the appliance and vacuum between brackets, shelves and tools.
Do not worry if you come across screws or nails hiding in the gaps. The wet and dry vacuum cleaner can also remove coarse and sharp materials quickly and easily without getting damaged thanks to its high resistance as well as the special suction tubes that come in various sizes. Even larger areas between circular saws or workbenches are easily taken care of with the vacuum cleaner. This is because most models have a blowing function and therefore don't just suck up the dirt, but also effectively remove wood dust and similar dirt even from the smallest of gaps by blasting them with its strong air flow.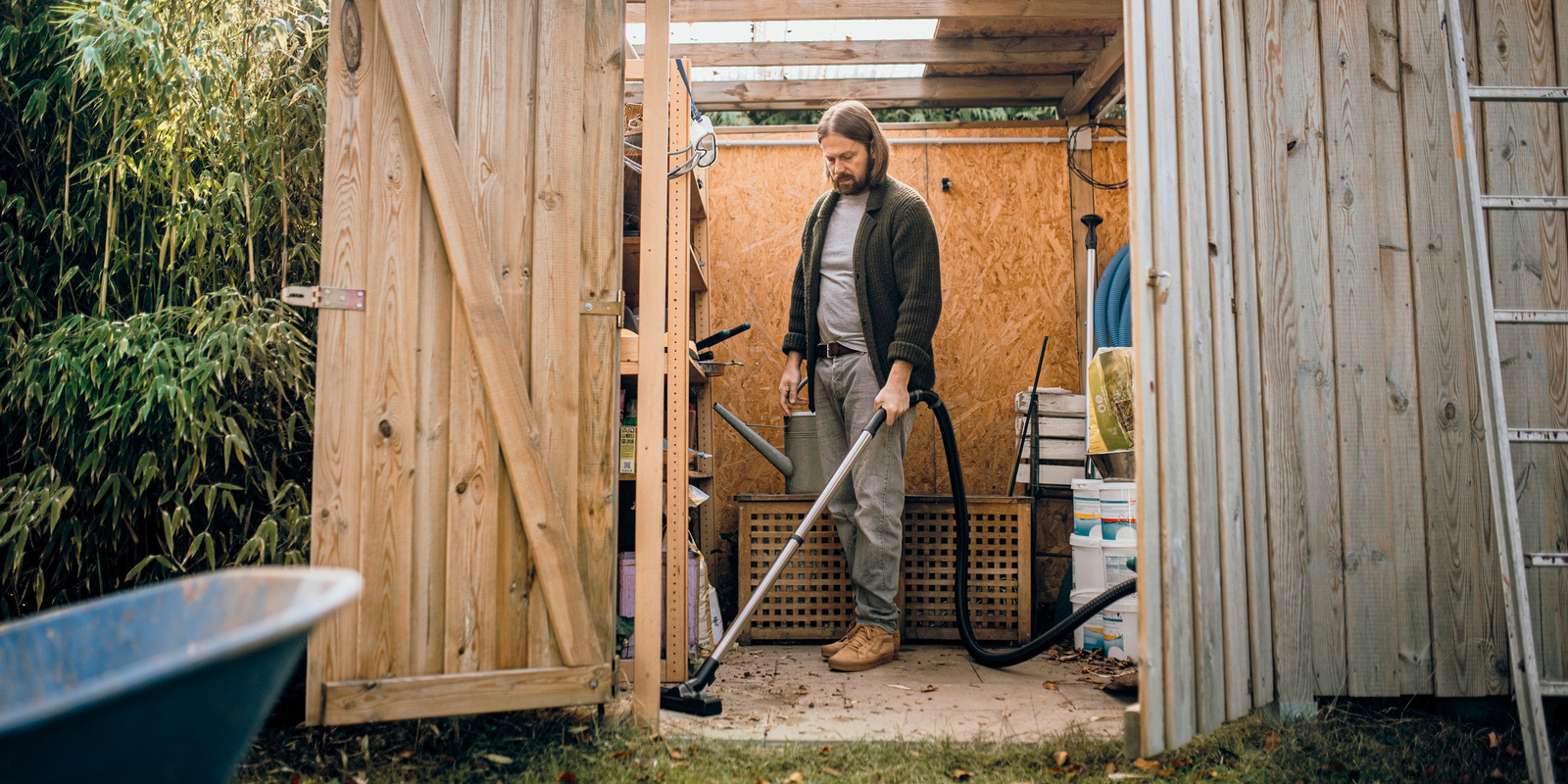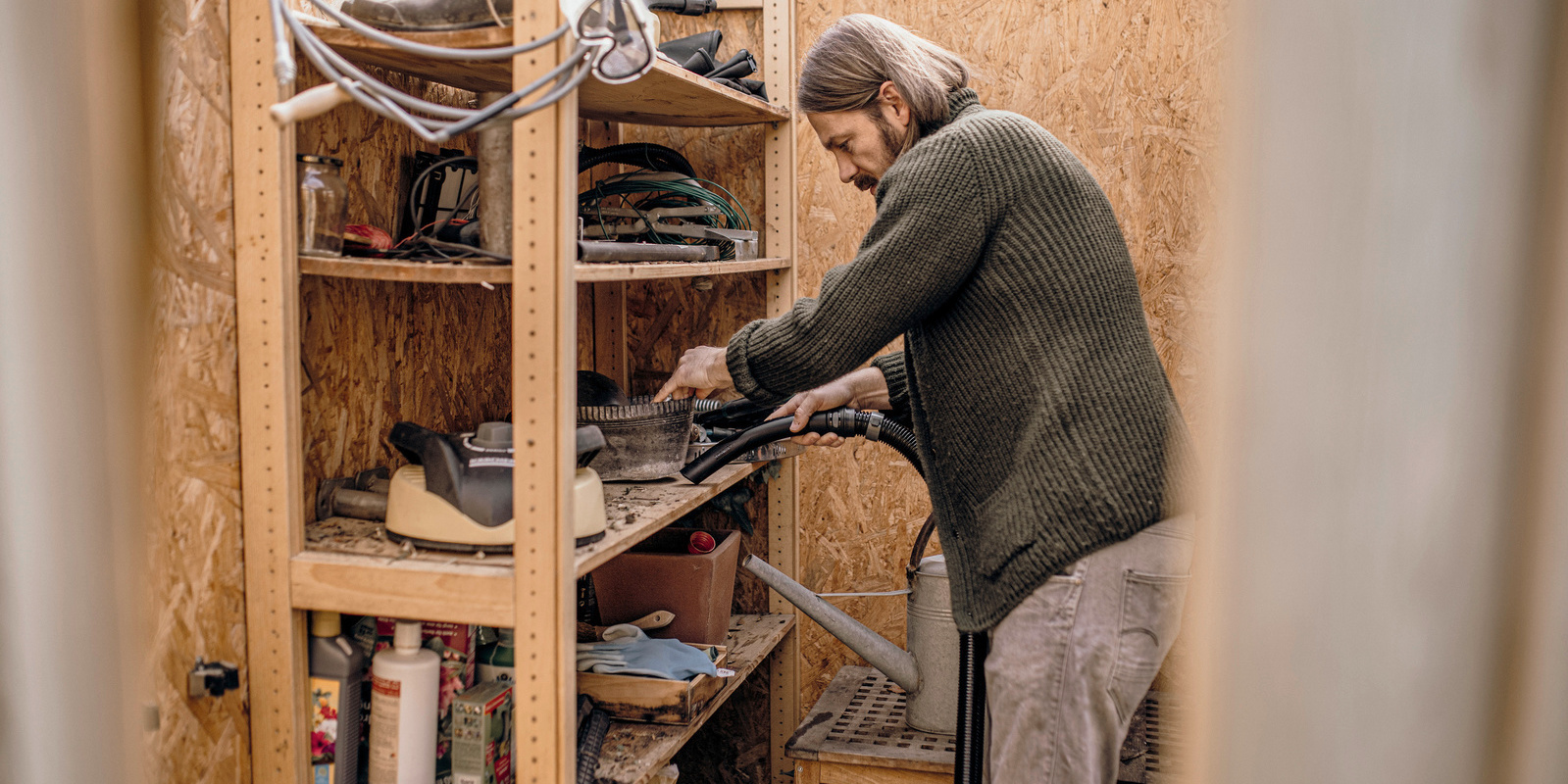 Suitable products for DIY
This might also interest you: