Mowing the lawn: All you need to know plus tips and tricks 
Once the gardening season gets going, it's that time again – a spring clean of the garden lies ahead of you. And there's lots to do! This is when bushes and hedges need to be supported and trees cut back. You should pay particular attention to the lawn, as it requires a lot of maintenance in spring and in the following months in order to remain green over the entire season. What are the typical questions and focal issues when it comes to mowing the lawn? A guide to the perfect lawn.
Five frequently asked questions on mowing the lawn
Every amateur gardener knows that you've barely left the garden for a few days before the lawn starts sprouting like wildfire. But simply mowing straight off without taking note of any tips and regulations would not be smart. Many circulate half truths when chatting with a neighbour or at a regular group meet-up, but what is really true?
Mowing the lawn in summer: Should you mow the lawn when it's hot?
That is not advisable. The lawn should not be mown too intensively during hot and dry periods in the summer. The reason is that longer blades of grass protect the ground and grass roots from drying out too much and thus ensure healthy plant growth.
Mowing the lawn and seasons: From when and how often to mow the lawn
The lawn should be mown for the first time when the gardening season starts in spring. From then on, ideally mow the lawn once or twice a week until the autumn. Grasses grow especially quickly between May and June; in this period, you should definitely mow the lawn once a week. In winter, the lawn does not grow due to the cold temperatures, so nor is there any need to mow it.
Is it advisable to mow a wet lawn?
No, you should not mow a damp lawn. This is because the blades of grass are not cut off cleanly when they are damp and consequently stick together. This leads to an uneven cutting result. More effort is required as the cutting material clumps instead of spreading or flying completely into the grass catcher bag.
How do you mow a lawn correctly?
For a uniform, streak-free cutting pattern, the lawn mower should protrude the width of approximately one wheel into the mown area. You should also always mow slopes horizontally across the incline. Then there is no risk of injury from the lawn mower if you slip. The edges of the lawn can be left and then trimmed to perfection with manual shears or with a battery lawn trimmer.
Should the mown grass stay there?
A much-discussed issue. There are advantages and disadvantages both when mulching (with Kärcher, a mulching kit is included in the scope of delivery of battery lawn mowers) and when mowing the lawn in the traditional way. The advantages of mulch mowing are less lawn thatch, no disposal of cutting material and less use of fertiliser. But you must mow more frequently, and can also only do so if it is dry. The advantages of mowing the lawn in a traditional manner are a clean lawn area, less frequent mowing and that the lawn cuttings can be used as a fertiliser for flowers. The disadvantages of this method are that more nutrients are lost, a mown lawn must be fertilised and additional work arises when it comes to disposing of cutting material.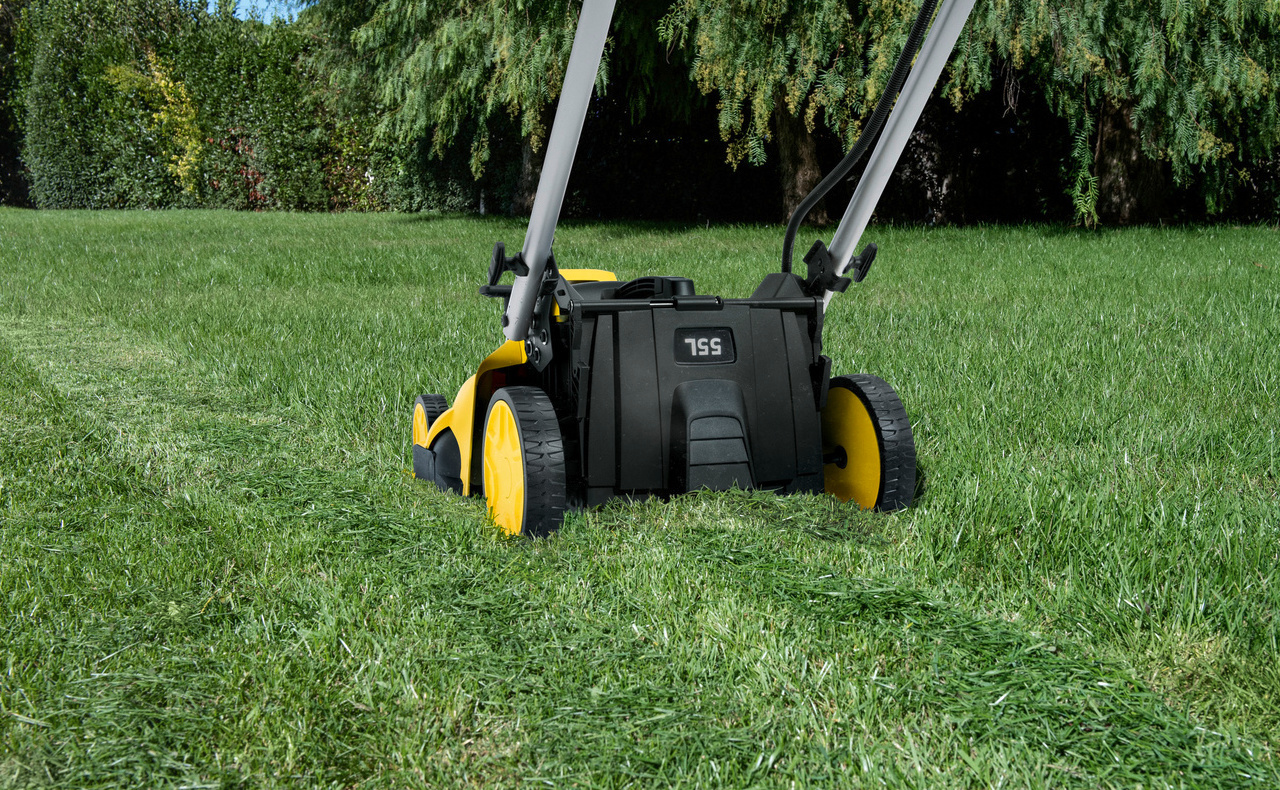 Mowing the lawn: The right cutting height for the lawn
The principle for the cutting height of the lawn is not too short but also not too long. That sounds vague, but how short or long the lawn should be mown does indeed depend on a few factors. Cutting it too short damages the lawn and even the grass roots – especially at dry and hot times of the year. The consequence is then brown patches. Or in other words: (Too much) direct sunlight is toxic! If the lawn is too short, it is hit hard by sunlight and loses strength. This can lead to weeds spreading and taking over the lawn little by little. This can in turn also happen if the grass is too long. For the lawn to be at optimal cutting height, lawn mowers can be manually adjusted to various cutting heights.
The one-third rule and what is known as the vegetation point are of significance in this context. This can be found at roughly mid-height of a blade of grass. If you mow down more, it takes quite a long time until the sprouts have recovered from this – healthy grass growth is hardly possible, particularly as the increased sunlight also bothers the mown lawn. What does that mean in concrete terms? A lawn should only ever be shortened to a third of the height to which it has currently grown. This means that two thirds remains, which is perfectly in line with the respectively recommended cutting height. Supposing that you go on holiday and the lawn grows 15 centimetres in this time, then you should trim it by only approximately five centimetres, i.e. not shorter than 10–11 centimetres. The expert tip is as follows: For a healthy lawn, it is better to mow a little less per use, to do so regularly and to take into account the weather and the condition of the blades of grass.
A trick for an even lawn cutting height is not to enter the unmown lawn areas, as otherwise the blades of grass fold over and do not stand up again immediately. 
Mower, trimmer, robot? Mowing the lawn depending on requirements
Many amateur gardeners ask themselves which garden tool will make the lawn perfect. Do you use a classic lawn mower with a collection basket, a lawn mower for mulching or a 2-in-1 solution with a mulching kit (with Kärcher, included in the scope of supply)? Or rather a trimmer – and if yes, should this be battery-powered or not? Moreover, there are robotic lawn mowers that take over mowing work completely, while you can sit back in your garden lounger. The old lawn mower with a power cord may still be in the arbour, but mowing the lawn with it isn't really much fun – too bulky, too heavy and too little power! Many questions and options that can quickly confuse you.
The selection of a device depends on a few quality features in addition to the profile of requirements for your own garden and personal taste. First and foremost, the new device for mowing the lawn should work reliably. If you decide on battery-powered devices, you should be able to work with the battery for as long as possible. So what is known as the area performance (m² per battery charge for lawn mowers; m per battery charge for lawn trimmers as well as grass & shrub shears) specifies the runtime of the device. The area performance can vary depending on the quality and profile of the lawn. You should also have the cutting width and height at the back of your mind. Especially when it comes to the cutting height, it depends on what the conditions in the garden are like. Is the lawn flat or are there undulations?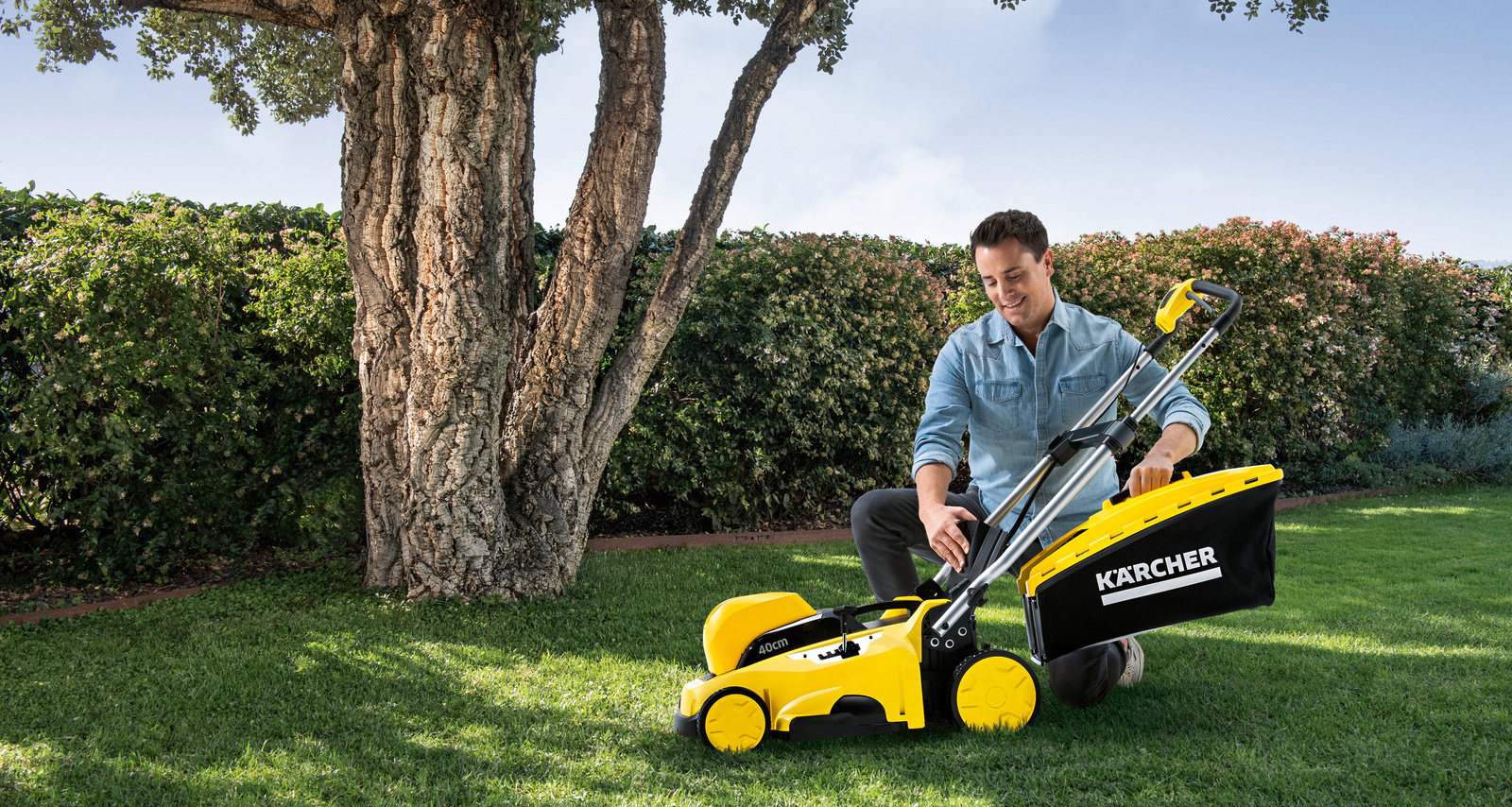 The classic for mowing the lawn: The lawn mower 
You essentially have the choice between lawn mowers with a cord, as a petrol-powered model or with a battery. Which is better? Modern battery lawn mowers are in no way inferior to petrol-powered lawn mowers. On the contrary! With regard to volume, setup time and maintenance, more and more amateur gardeners are choosing battery-powered lawn mowers. The fact that these have the advantage over older lawn mower generations with power cords can be quickly explained as follows. They are both lighter and quieter – and are not a tripping hazard due to their lack of cord.
When it comes to the issue of handling, in particular, you should consider precisely which properties you do not want to do without. Should the lawn mower be as light as possible, so that it is easy to push and easy to stow? Should it also be foldable, as well as having a handle for carrying and for convenient cutting height adjustment? Compact 18-volt lawn mowers with cutting widths of up to 36 centimetres are suitable for small lawn areas. If larger areas of lawn need to be mown, 36-volt devices with cutting widths of up to 46 centimetres can be of advantage in order to save time.
Isolated and uneven patches of lawn? A battery lawn trimmer helps.
The secret to perfect lawn edges: For inaccessible areas of the lawn, you can't get around with a battery lawn trimmer. Equipped with a quickly rotating plastic trimmer line or plastic blade, it reliably trims grass and weeds.
Due to their battery operation, trimmers are very quiet, and the operating noise can be reduced even further through the use of plastic blades. When it comes to handling, a shoulder strap included in the scope of supply as well as rotatable trimmer knobs and height-adjustable handles make work considerably easier.
As the trimmer lines rotate at high speed and parts of the lawn or pebble stones could skid around where possible, it is essential for you to wear safety goggles and strong footwear. Likewise, you should keep a distance from trees and ornamental plants as well as wooden patios in order to avoid damage.
Very practical: You can obtain trimmer lines available by the metre in a DIY store if they become worn, and wind into the trimmer line spool quite easily by yourself in this way.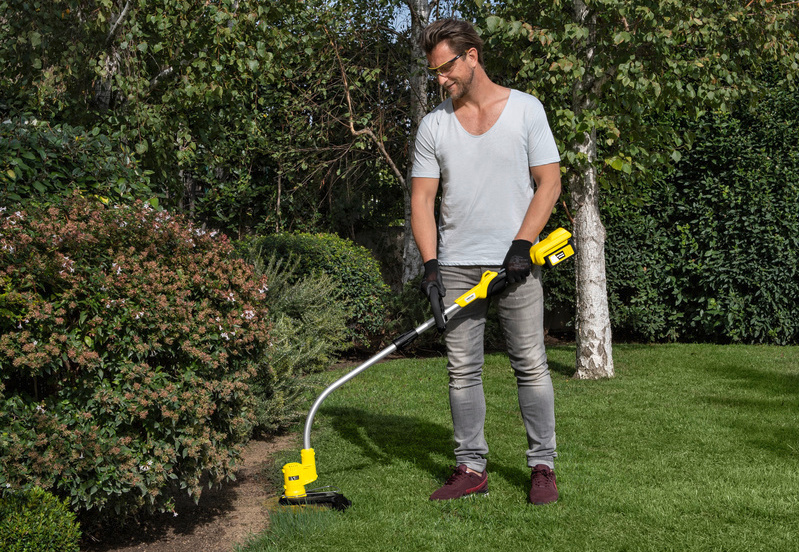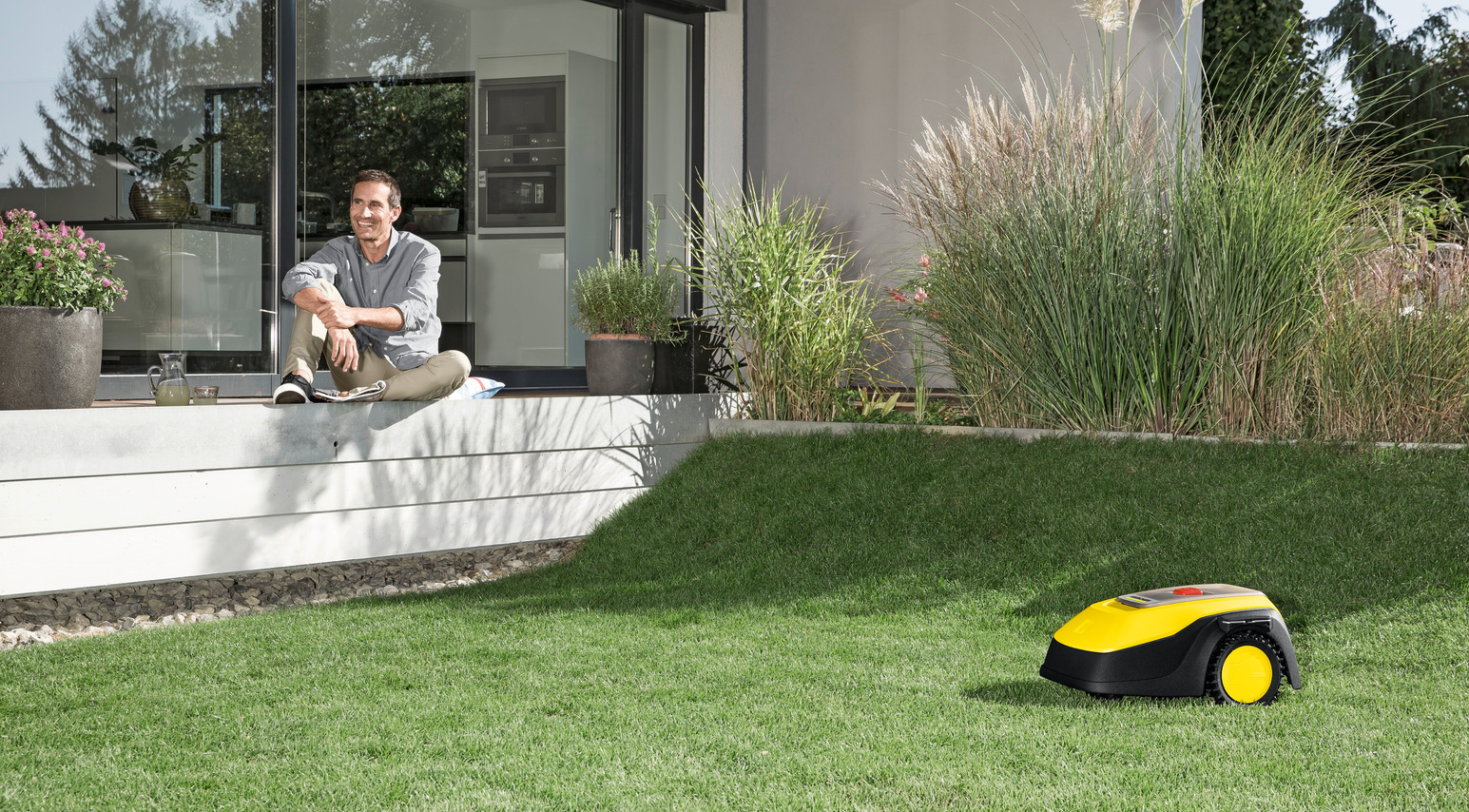 Small but powerful! Robotic lawn mowers are on trend.
In recent years, robotic lawn mowers have become more and more popular. The motto is clear: The robot does the work, you sit back and enjoy a break. But what does automatic lawn maintenance depend on?
Depending on how large your own lawn area is, it may be worth looking at the precise size and battery runtime of the respective model. If the garden is rather narrow and winding, the ideal selection is a small robotic lawn mower. When it comes to cutting work, a distinction is made between rotary mowers and sickle bar mowers. The latter have larger blades, and are therefore suitable for thick grass, on which fallen fruit or limbs may sometimes lie.
The principle can be quickly explained. There is a charging station from which the robotic lawn mower starts (and where it is automatically charged). Most models mow at random. It's true that there are also devices that mow along set paths, but sometimes that works well and other times it works less well. One way or another, the grass is mown after a few days – without any effort on your part.
Suitable products for the lawn
This might also interest you: