Workshop cleaning
Whether on floors, surfaces or vehicles, there is a wide range of cleaning tasks to be performed at workshops. To ensure that the entire workshop is immaculately clean, cleaning machines and methods should always be used according to the cleaning requirements. Ultimately, this not only increases value preservation – having a clean workshop also leads to colleague and customer satisfaction, as well as a rise in productivity within the company.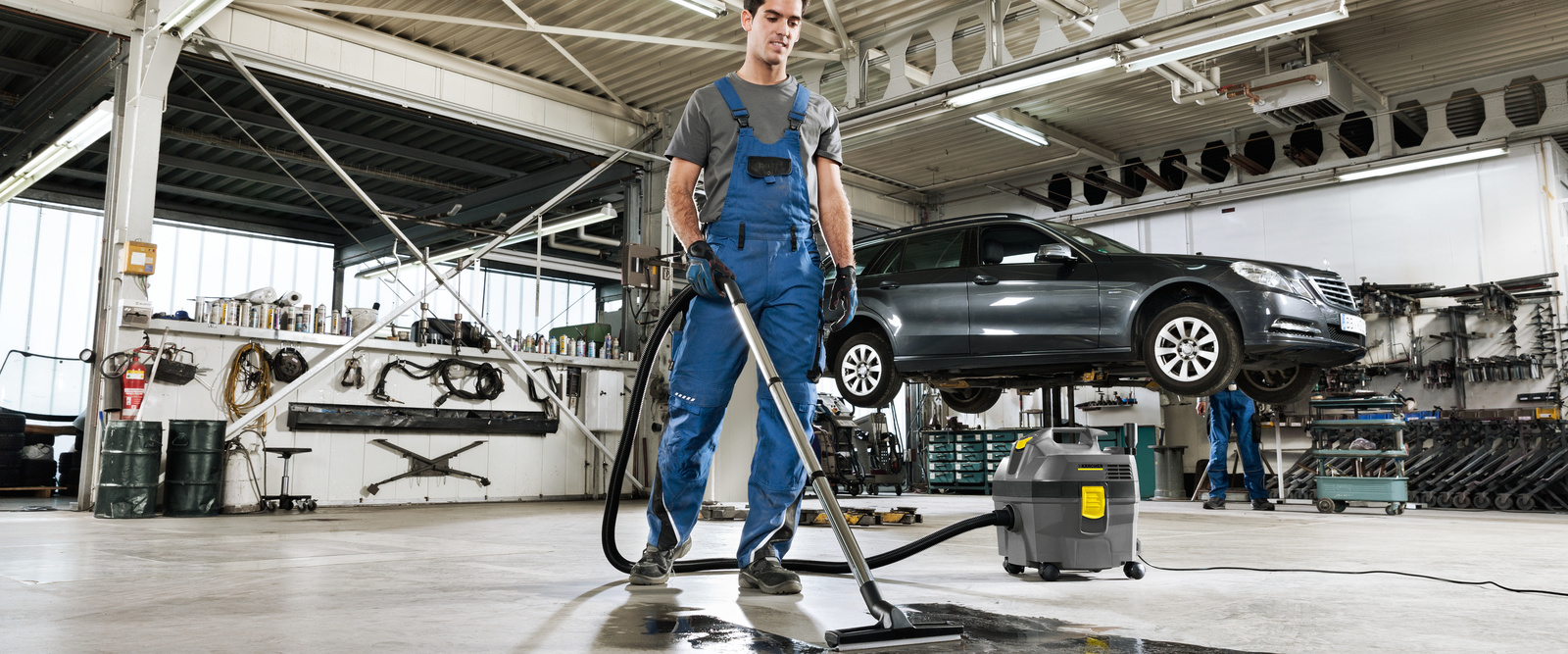 The importance of cleanliness and order
Having a clean and ordered workshop is very important on multiple levels. On the one hand, these factors leave customers with a positive overall impression of the company and reassure them that their vehicle is in professional hands and will be handled with care.
On the other, having a clean and tidy environment is a vital component for making work processes efficient and safe. If every step must be interrupted to first find the suitable tool or if dirt impedes the next action, even the easiest of activities will take much longer than necessary and productivity will be lower.
Cleanliness and safety go hand in hand
Moreover, workshop cleaning is more than just a necessary evil when it comes to safety: Having clean floors – for instance, without puddles of oil – means that there is little risk of slipping, as is required, and work accidents including falls can be prevented. Removing loose dirt with a sweeper or vacuum cleaner minimises the risk of injury due to sharp objects, for example. Regularly sweeping yards prevents loose dirt from even entering the workshop, meaning that it cannot settle in the first place. Cleverly incorporating cleaning machines into work processes can save additional cleaning work. For example, when carrying out sanding work, having suitable wet and dry vacuum cleaners ensures that dust does not escape into the surrounding area but is immediately vacuumed away at the source. 
Creating a cleaning schedule
Drawing up a sophisticated plan for regular workshop cleaning may at first sound like extra work which will tie down staff. However, in the long run, having consistent workshop cleaning will be worthwhile and even save costs. This is because maintained utensils, such as tools, floor coverings and furnishings, will preserve their value for longer and means that they will be replaced less frequently.
Extensive deep cleaning
In any case, deeper cleaning should still be performed at regular intervals. For instance, the floor should undergo thorough wet cleaning, windows should be cleaned, old tools should be discarded, rarely-used areas should be cleaned, filters should be cleaned or replaced, stains should be removed and special waste should be properly disposed of, etc.
Deep workshop cleaning should be scheduled at fixed, regular intervals – if possible, based on previous experience of when the company is less busy and the areas to be cleaned are predominantly empty.
Floor cleaning in workshops: Strict requirements for floor coverings
Requirements for floor coverings vary greatly between workshops and, for example, customer areas or offices: Besides the necessary robust and firm qualities, resistance to alkalis and acids is also very important. For instance, heavy tools can be repeatedly dropped on the floor and this should not cause immediate visible chipping. Oils, grease and moisture make surfaces smooth. This is why anti-slip protection is required to prevent accidents. Surface dust which is already present can considerably reduce the traction of hard floors. Around 30 per cent of all reported work accidents are caused by running and walking, i.e. they are often the result of workers tripping, slipping or falling. Not least, regular maintenance and deep cleaning serve to ensure the value retention of the floor covering. This is because sand, dust and other dirt particles may damage the surface by roughening it. This not only provides a better grip for dirt, but also leads to greater levels of wear and tear on the floor surface.
To ensure that the requirements for cleanliness, value preservation and anti-slip protection are met, the floor must be regularly cleaned using machine technology. The method required depends on the floor covering:
Cleaning tasks at workshops
Suitable products for your area of application