Municipal equipment
Get more out of your machines – all year round. With 26 HP to 84 HP, Kärcher municipal machines offer outstanding power for every purpose. They also impress with their perfect cleaning results, robustness and almost unlimited areas of applications. Special attachments are available to utilise the full potential of these implement carriers. Optimal solutions for a wide variety of applications. Specially developed for Kärcher implement carriers in conjunction with reputable attachment manufacturers. Leading expertise in technology and application combine for exemplary efficiency through optimal utilisation of the machines.
Perfect for all surfaces.
Kärcher municipal sweepers deliver exceptional performance everywhere: on large areas, difficult surfaces, roads, paths, car parks, grassed surfaces and in winter service. Each of these robust machines forms, together with attachments, an application-optimised solution in terms of power, operability and efficiency. And with it an investment that maintains its efficiency and value over years.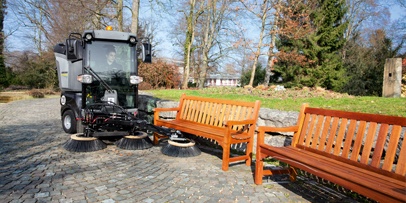 Sweep better with a third brush
With the third side brush, the actual sweeping width is extended from 1,400 to 2,000 mm. Sweeping under obstacles such as park benches is also made significantly easier, as is the sweeping of kerbs.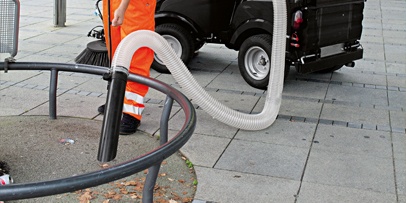 Suction power in your hands
The 4.5-m-long manual suction hose (ø 100 mm) aids in the vacuuming of light waste and is extremely flexible to use.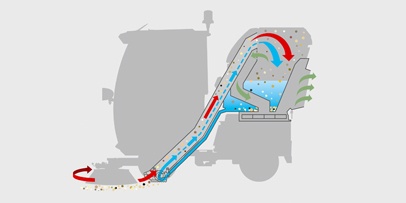 Unique suction system
A straight suction hose with 150 mm diameter in conjunction with a water circulation system and 500-litre container are combined in this unique system. The suction mouth is protected in the wheel contour. The suction hose can be quickly removed if blockages occur.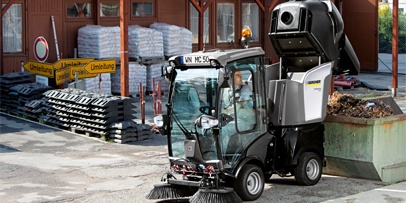 Everything up and out
With the hydraulic container lift over 145 cm, the contents of the container (500 l) can be quickly and fully emptied directly into a container or onto a composting area.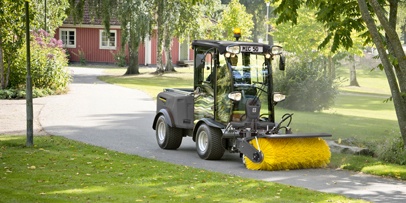 Clean on a wide front
The front roller brush with 1,600 mm working width for sweeping of, for example, sand and dirt, but also for clearing snow up to a height of 100 mm. Can be pivoted left and right hydraulically.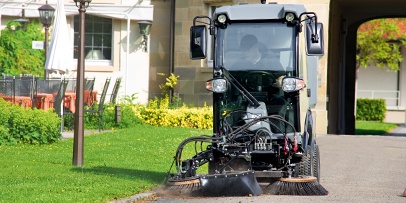 Weed brush with intake
For removing weeds at the roadside and vacuuming in one go. With two different hard bristles.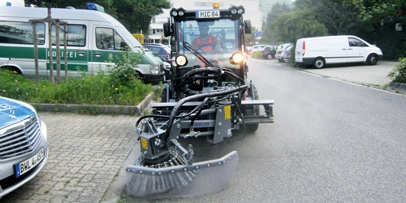 Weed brush
The consistent solution against particularly stubborn weeds. Can be pivoted to both sides. The brush arm can be moved on the rail as required.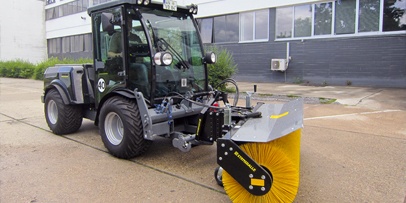 Even more useful sweeping width
Ultimate front roller brush with 2,000 mm working width, can be pivoted hydraulically on both sides. Also suitable for snow up to 100 mm in height.
Specialists for working with liquids.
Kärcher specialises in the area of wet cleaning. Here, the whole experience of the market leader comes to the fore, as does the close cooperation with professional suppliers. The result is a complete range with attachments for use with water: for cleaning surfaces such as sports grounds and roads, for spot cleaning with high pressure and watering trees and green areas.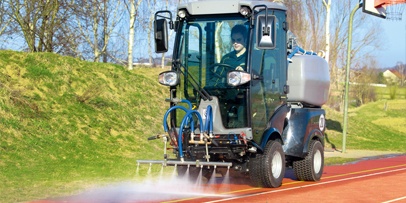 Compact washing system
Designed for cleaning sports grounds and small parks. Optionally also suitable for spraying brine in winter service.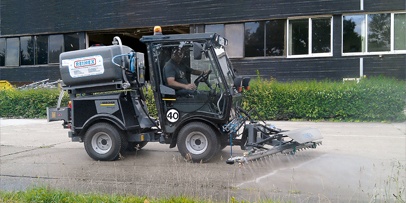 Medium washing system
With the spray bar adjustable up to 2.20 m, it is designed for cleaning roads and larger surfaces.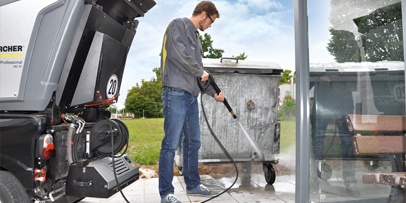 High-pressure cleaner and sweeper
Innovative machine combination for cleaning machines and sweeping containers as well as for spot cleaning of corners and in small areas.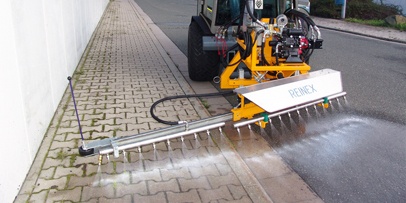 High power, maximum volume
The ultimate solution for washing roads and large surfaces.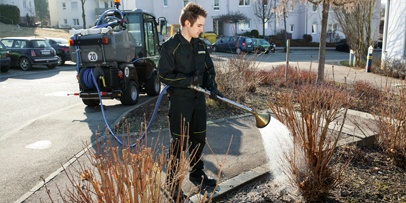 Watering system with manual lance
Manual lance for individual watering of flowerbeds and borders in hard-to-reach areas.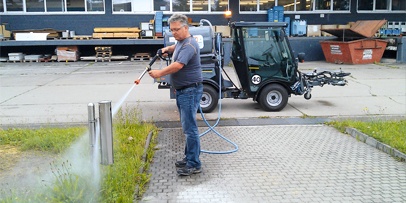 High-pressure cleaner with hose
Ideal for spot cleaning, for example of bus stops, bins, etc. Particularly effective in combination with the washing or watering system.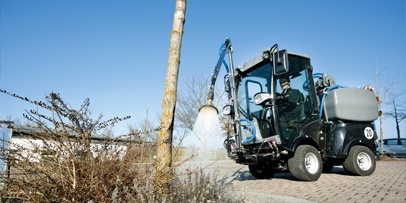 MIC 34 C with hydraulic watering arm
Ideal system for green spaces in urban areas. The spray lance is available with different attachments: the sprinkler and point jet.
Sweeping, mowing, clearing. The whole year round.
Kärcher municipal machines can sweep more than just professionally. These implement carriers for year-round use are developed in close cooperation with drivers. This is an important basis for the extraordinary power and efficiency of these machines in various sweeping conditions: from sweeping work to green care and winter service.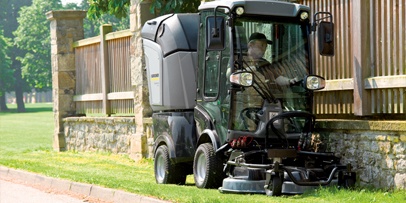 Mowing with container – unique system
Convert from sweeping to mowing in no time. Simply exchange the sweeping system for the mower. The cuttings are vacuumed in by the suction mouth and transported to the sweeping container. The sweeping container is used as a grass container.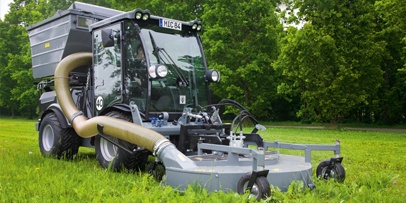 Mowing with large container
Even greater mowing width for faster work progress on large areas.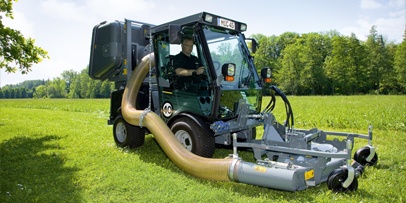 Mowing with medium container
For large areas such as parks, also with side discharge.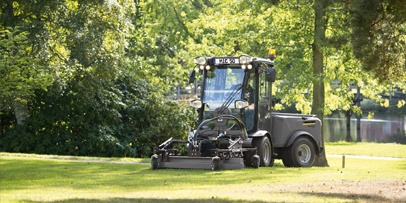 Combined rotary-mulching mower
Rotary mower with three-blade system, rear discharge and hydraulic cutting height adjustment.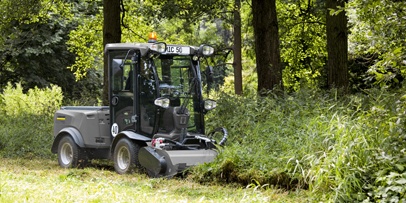 Large flail mower
High power thanks to an axial-piston hydraulic motor. As standard with cup blade for particularly clean cutting action. Also for high grass and uncontrolled growth.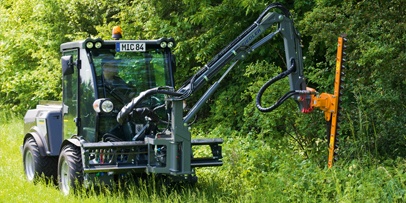 Hedge shears – implement carrier on implement carrier
Different attachments can be mounted on the extension arm, including hedge shears, flail mower and pruning shears.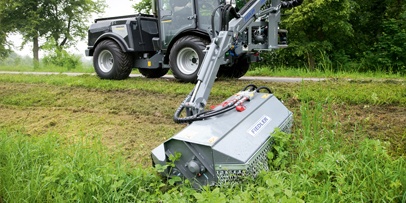 Extended flail mower
For the removal of roadside greenery, the extended flail mower can be used on both sides up to 3.5 m.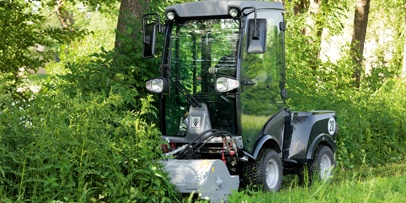 Compact flail mower
High power thanks to an axial-piston hydraulic motor. Also for high grass and uncontrolled growth.
Ice-cold experts in combating snow and ice.
All of our municipal implement carriers have four-wheel drive. Specially for winter service and better traction on snow and ice, the MIC 45 and MIC 84 have automatic traction control. This allows them to utilise their full power safely. Together with the coordinated Kärcher attachment kits, it is an unbeatable combination.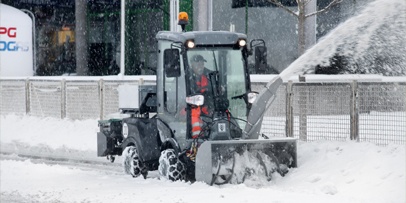 Snow thrower – in combination with rear spreader
the snow thrower with a width of 100 cm, a hydraulically pivotable ejection chute and hydraulically adjustable throw distance.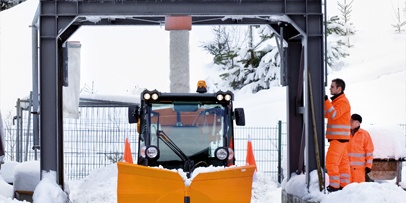 Silo filling
Semi-mounted spreader with the possibility of filling from a grit silo. This type of filling increases the fast operational capability.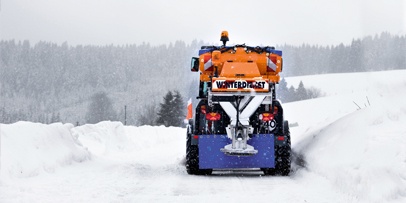 Semi-mounted spreader
Spreader with 600 l capacity, path-dependent control for amounts and spreading width and start/stop function. Stainless steel container. Two-chamber system for, for example, salt and grit, can be mixed and connected as required.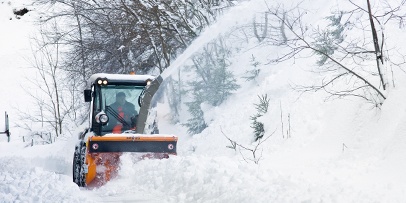 Snow thrower – heavy version
Snow thrower with 1,600 mm working width for high and hard snow. Power is adjustable from 0-120 l/min. Chute can be pivoted on both sides. Throw distance adjustable up to 25 metres.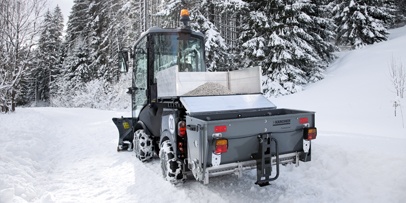 Spreading systems
Either a disc spreader or a roller spreader can be operated on the MIC 34 C. The grit can be loaded onto the hydraulically activated loading platform and tipped into the roller spreader.
Disc-spreader: for larger areas
Roller distributor: for pathways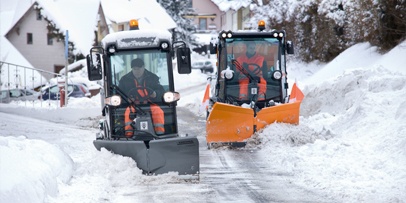 Chassis-mounted spreaders and trailer-mounted spreaders
Various spreaders, from simple trailer-mounted spreaders to chassis-mounted spreaders with path dependence, complete the range of accessory equipment for winter service.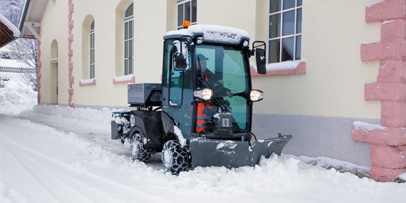 Snow chains for optimal grip
Snow chains ensure better traction with narrow tyres. Here on an MIC 34 C with Vario shield (1.35 m), hydraulically tiltable loading platform and roller spreader with hydraulic drive and 1 m spreading width.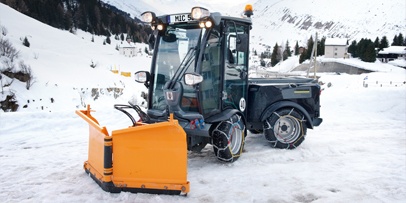 Snow plough
Whether clearing footpaths or removing snow from a car park – with the Vario snow plough, the driver can react individually and flexibly to snow volumes and the locality.
Solutions for every task.
Special tasks require special equipment. Together with specialised partners, Kärcher can provide the right attachment for almost every application. And if no solution is available from the large variety of standard machines, special developments are possible at any time.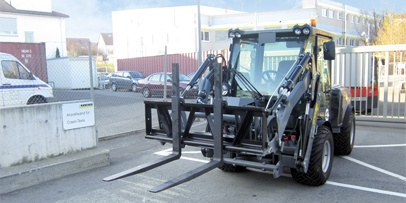 Pallet handler – MIC 84
A shovel can be attached to the front loader instead of a pallet handler (load capacity max. 1,000 kg). Up to 1,000 kg per shovel load.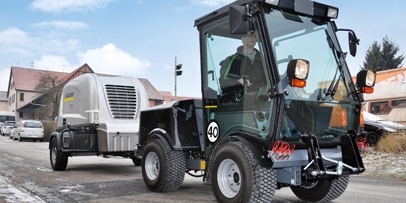 Trailer coupling
A trailer coupling makes the MIC 45 a versatile towing vehicle.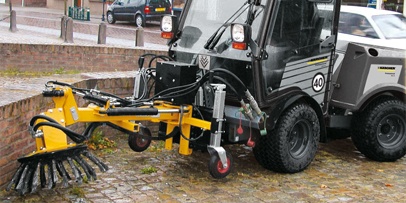 Weed brush
Very robust brush for intense use in combating weeds on the roadside.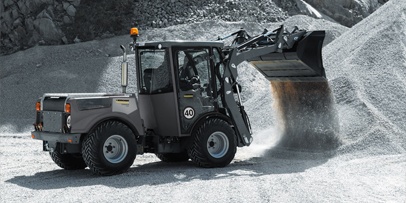 Front loader with shovel
The transport shovel is ideal for moving material such as stone, sand, bark mulch, etc. It can be easily mounted onto or dismounted from the carrier vehicle in less than 10 minutes. Up to 650 kg per shovel load is possible.