BIKE CLEANING: TIPS FOR HOME AND TRAVEL
Riding a bike is fun, environmentally friendly and good for your health. If you want to enjoy your mountain bike, city bike or e-bike for as long as possible, you should maintain and wash your bike regularly. With the right device and the right accessories, it's quick and easy - whether in front of the garage, in the garden or on the road.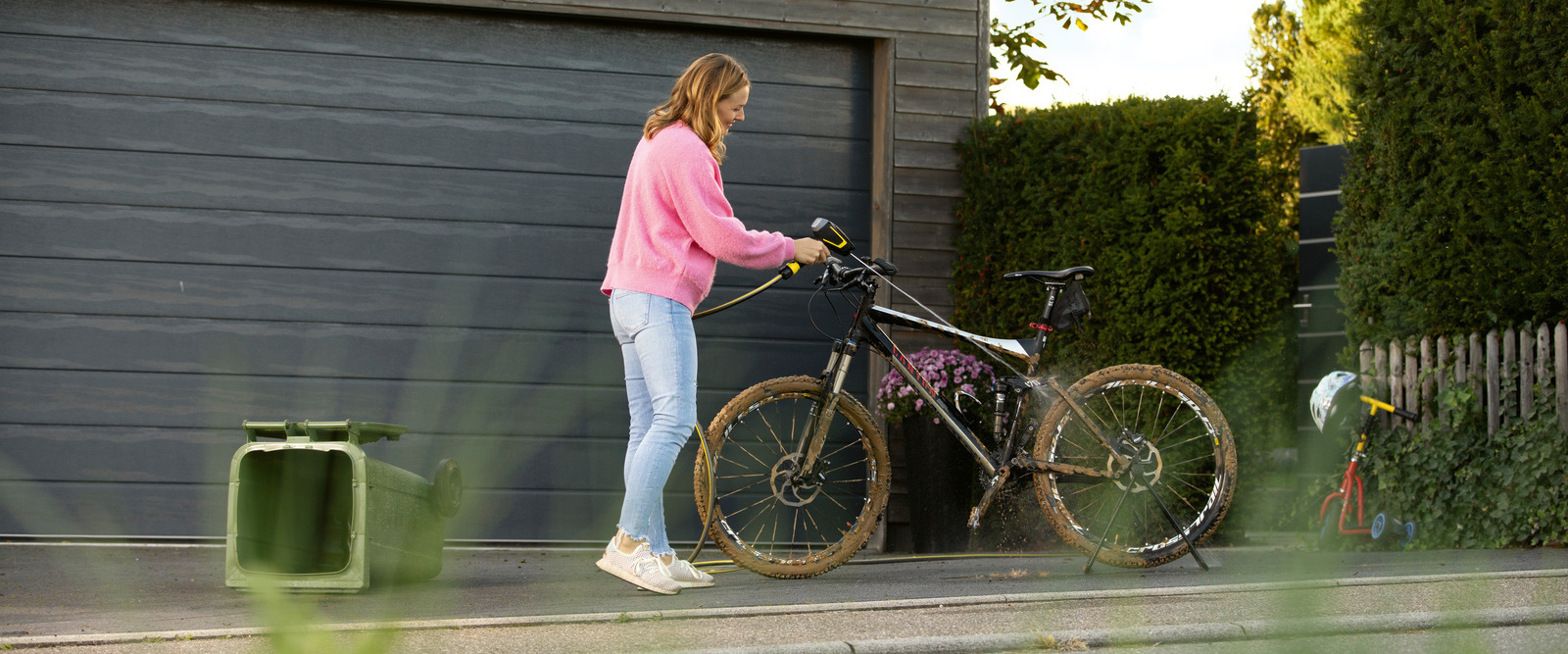 Bike cleaning at home
After each ride through forests, meadows, dirt roads or dusty streets, cleaning the bike is a good idea. You should remove coarse dirt and dust from the frame, the chain and sensitive components such as the gearshift and bearings. This is because dirt acts as abrasive particles on moving parts and rapidly accelerates their wear. This way, rust develops over time, which settles on the components and reduces their functionality. Anyone who rides a bike in the winter should clean and maintain it regularly, as road salt can damage the paint on the bike's frame as well as other parts of the bike. A freshly cleaned bike therefore not only provides more riding pleasure, but also maintains its functionality and value. By the way, this also applies to bicycle trailers, which can be cleaned at the same time.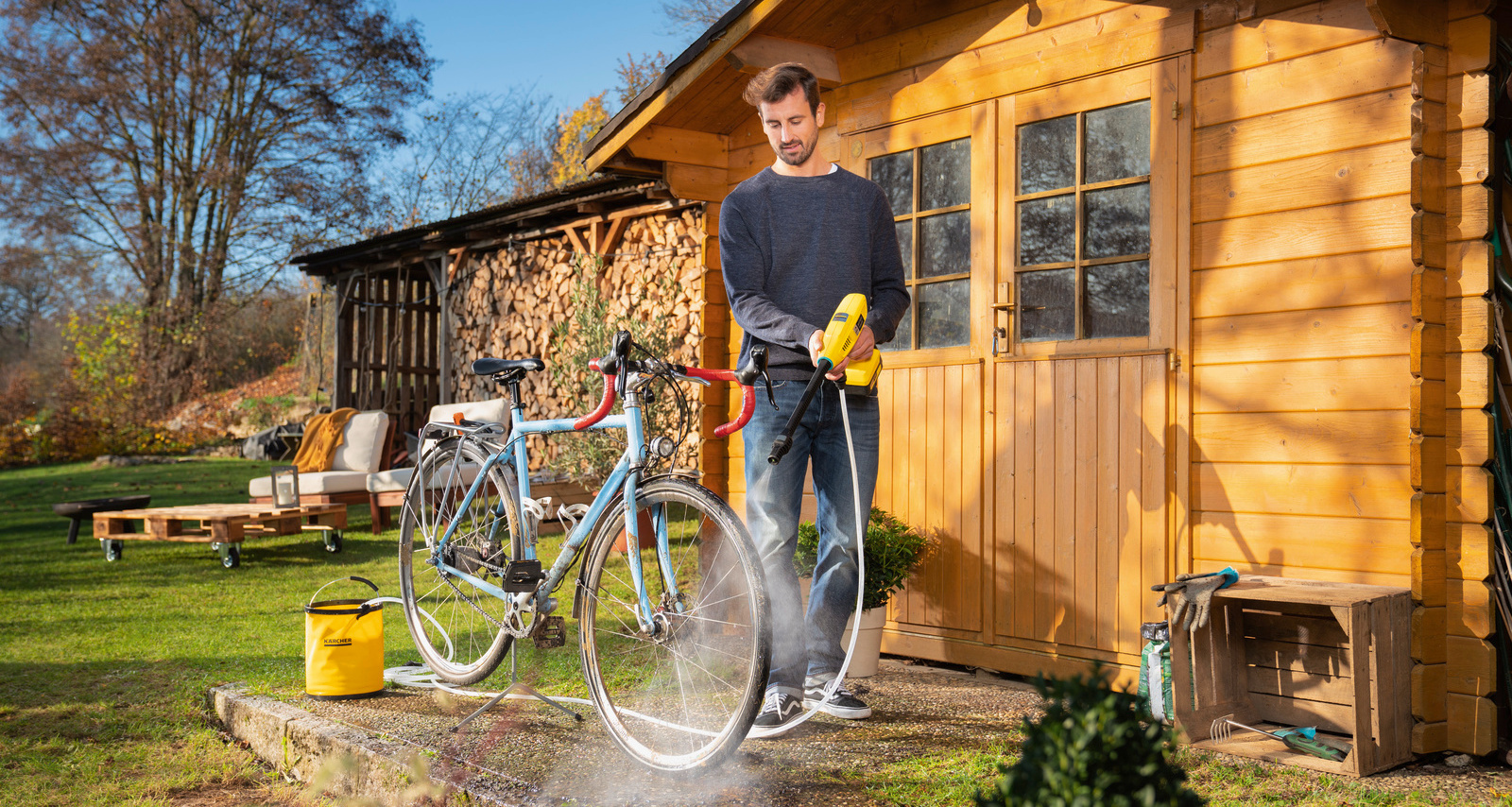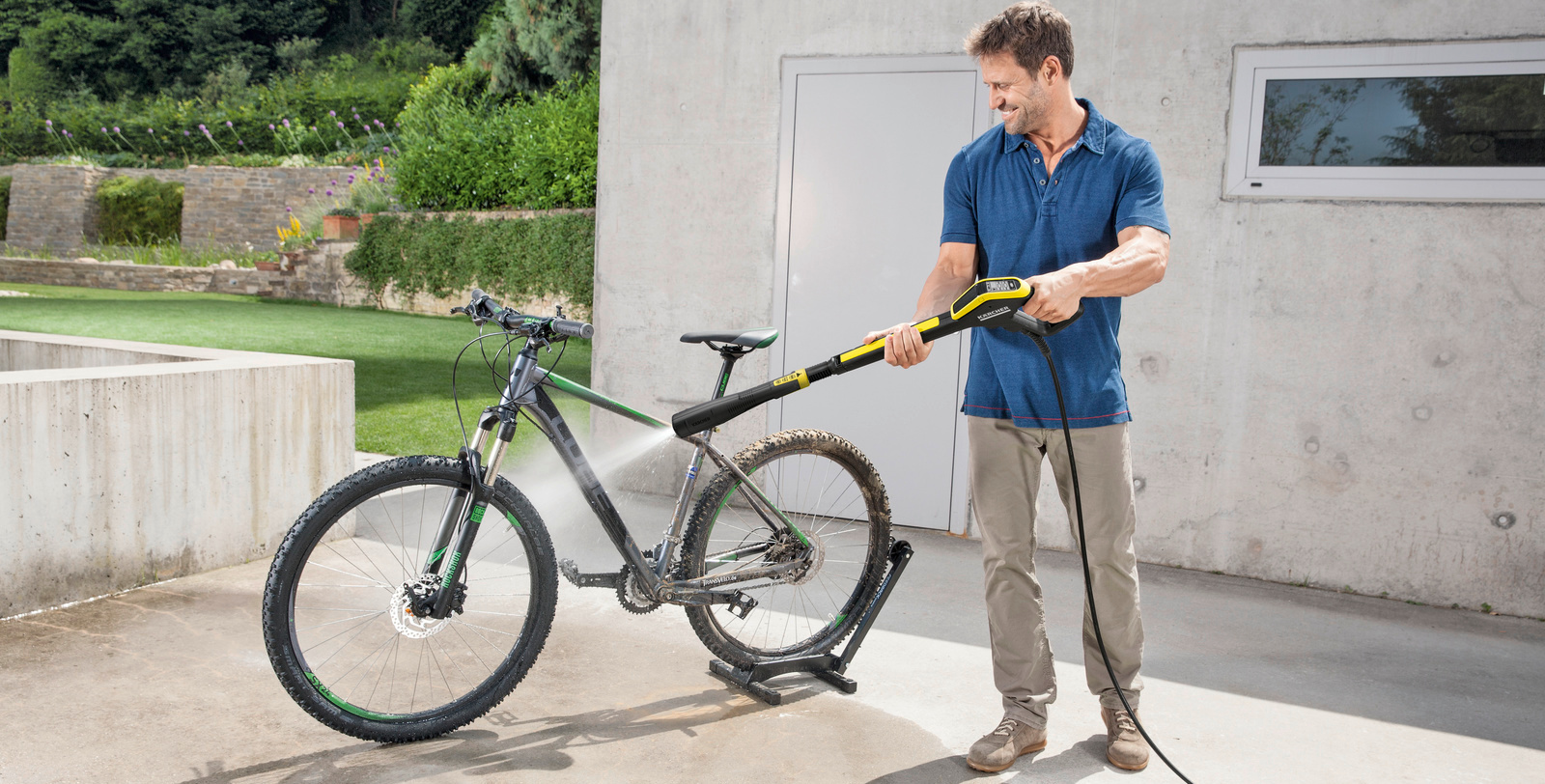 If you want to clean and maintain your bike at home, you only need a few items:
a bike rack or wall
a cleaning device of your choice
a suitable cleaning product
a soft brush
a soft cloth (e.g. microfibre)
oil for chain and bearings
A pressure washer or a medium pressure cleaner are suitable devices to clean a bike. While the pressure washer usually needs to be connected to electricity and water, the handheld cleaner is battery-powered and thus only needs the water connection. That's why it is suitable to use, just like a battery-powered pressure washer, for quick bike cleaning in the garden and wherever there is no power connection. With high and medium pressure, even stubborn dirt can be removed quickly and easily. To loosen lighter dirt from the bike, a garden hose with a spray gun is also sufficient.
Tip
Where there is no water connection available, Kärcher pressure washers K 4 to K 7 as well as the Handheld Cleaner can alternatively draw water from a drum or canister. All that is required is a suitable suction hose or a handheld suction hose.
When cleaning a bicycle with a pressure washer, it is important to maintain a distance of at least 30 cm from sensitive components. Any closer and the strong jet of water could push seals, allowing water to enter and flushing out the lubricating grease. Worst case scenario, moisture may get trapped, which could result in long-term damage due to rust. However, if you keep to this distance and reduce the pressure on the device to pressure range 1 or "soft", you can clean the bike safely with the pressure washer. However, special care applies to e-bikes: the electronics are sensitive to water and should not be cleaned directly with a pressure washer. It is better to wipe the battery component with a damp cloth or a soft brush.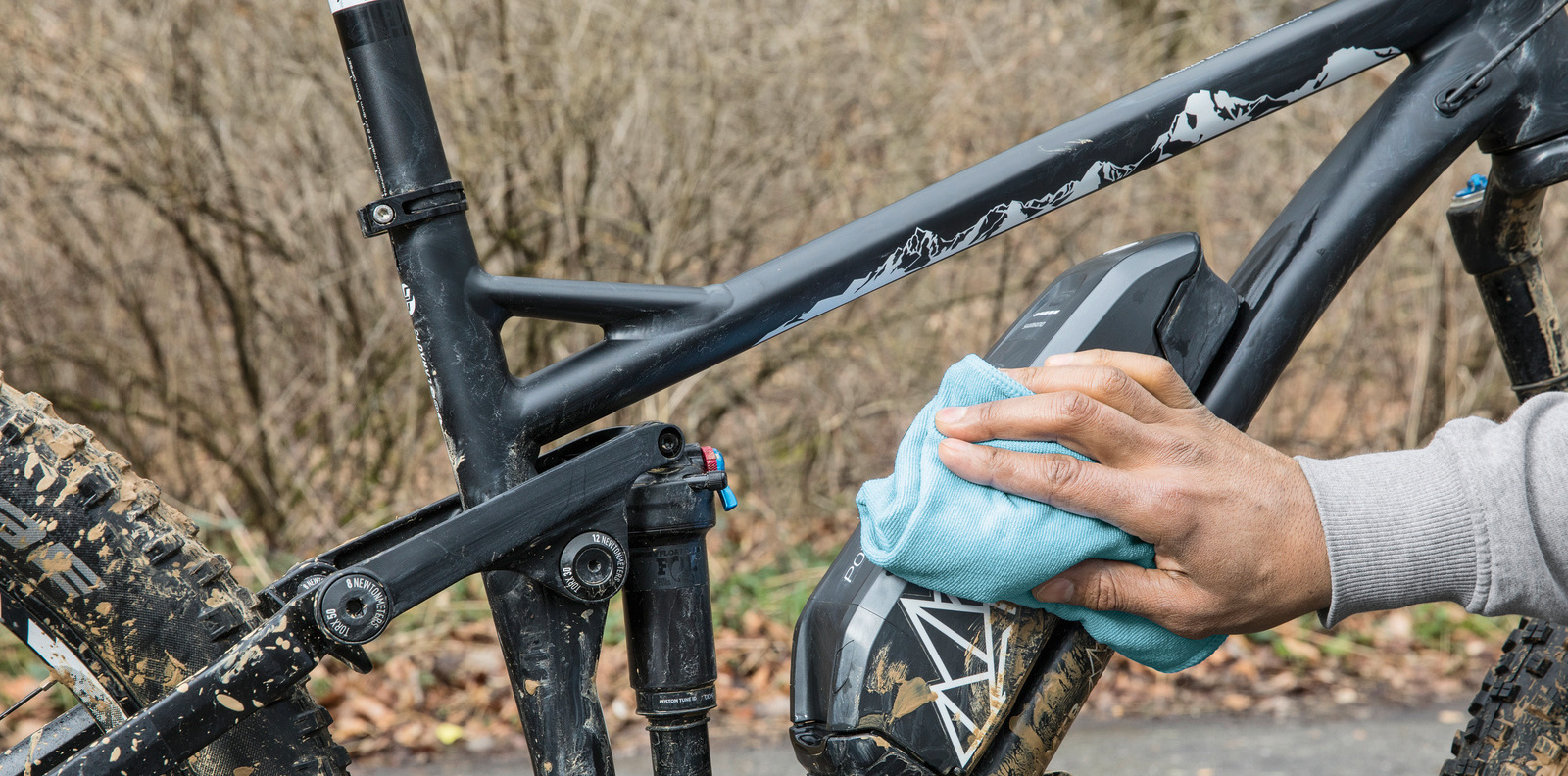 Bicycle cleaning on the go
To clean the mountain bike from dust and dirt when out and about, for example, so that the boot of the car or the bike rack does not get dirty, a Mobile Outdoor Cleaner is an excellent option. Its compact dimensions mean it even fits in a bicycle basket, and the spray gun and 2.8 m spiral hose are stowed away to save space under the removable 4 litre or 7 litre tank
To clean with the pressure washer, simply remove the tank and fill it with clear water, remove the spray gun from the device and reattach the tank properly. Then point the spray gun at the bike and pull the trigger. The entire bike can be cleaned with the water jet. The built-in lithium-ion battery has a 15 min run time. However, with the car adapter, the device can also be operated with the car battery or, if the battery empty once on the road, recharged with the car adapter. In the optional Adventure Accessory Box a universal brush, a special cleaner and a soft microfibre cloth is included - so everything that is necessary for quick cleaning. With the added suction hose, water can optionally also be pumped from a barrel of water.

Step-by-step guide to a clean bike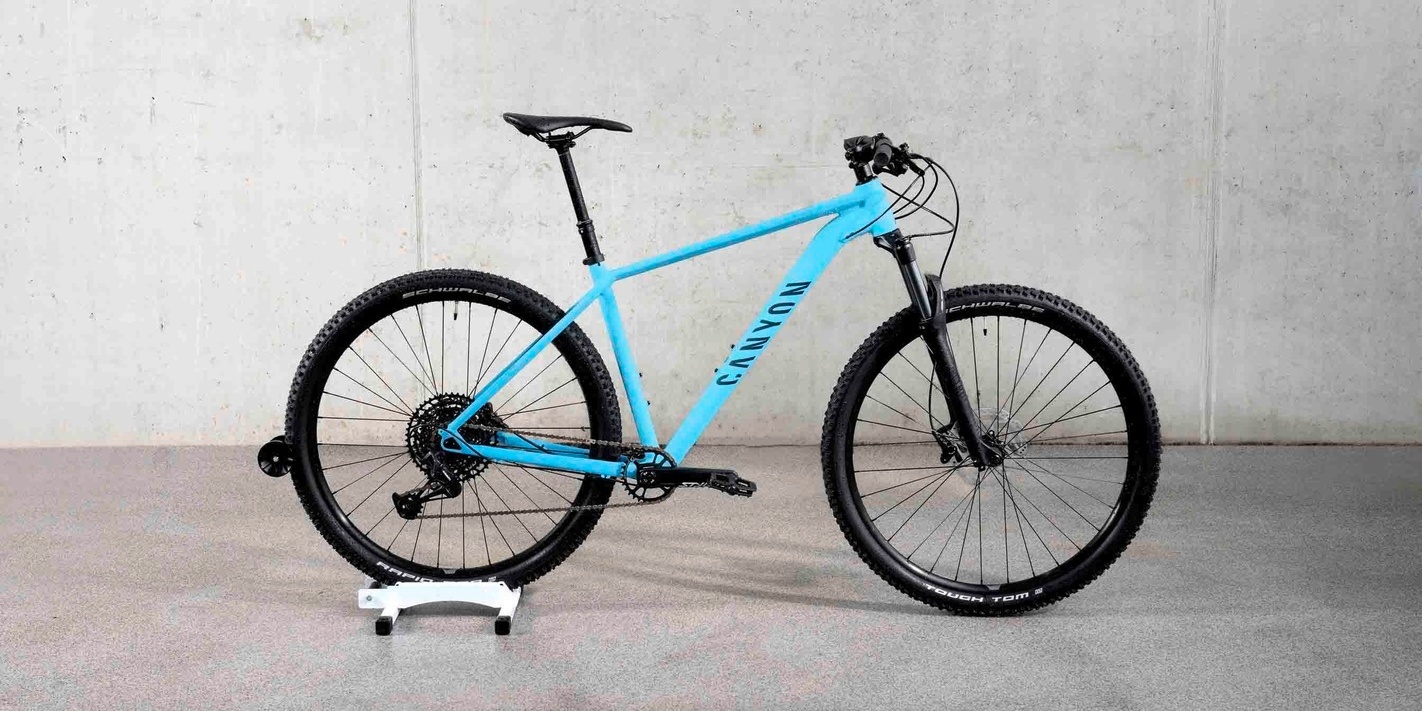 1. Situate the bike and prepare equipment
Whoever wants to clean their bike should first securely place it on a bike stand or lean it against a wall or large tree. For cleaning on the road: remove the tank of the Mobile Outdoor Cleaner, remove the spray gun, reattach the tank and switch on the device. For cleaning at home: connect the pressure washer or medium-pressure cleaner to the water supply and, if necessary, electricity and switch on the device. For bike cleaning, the flat spray nozzle should be used with all devices.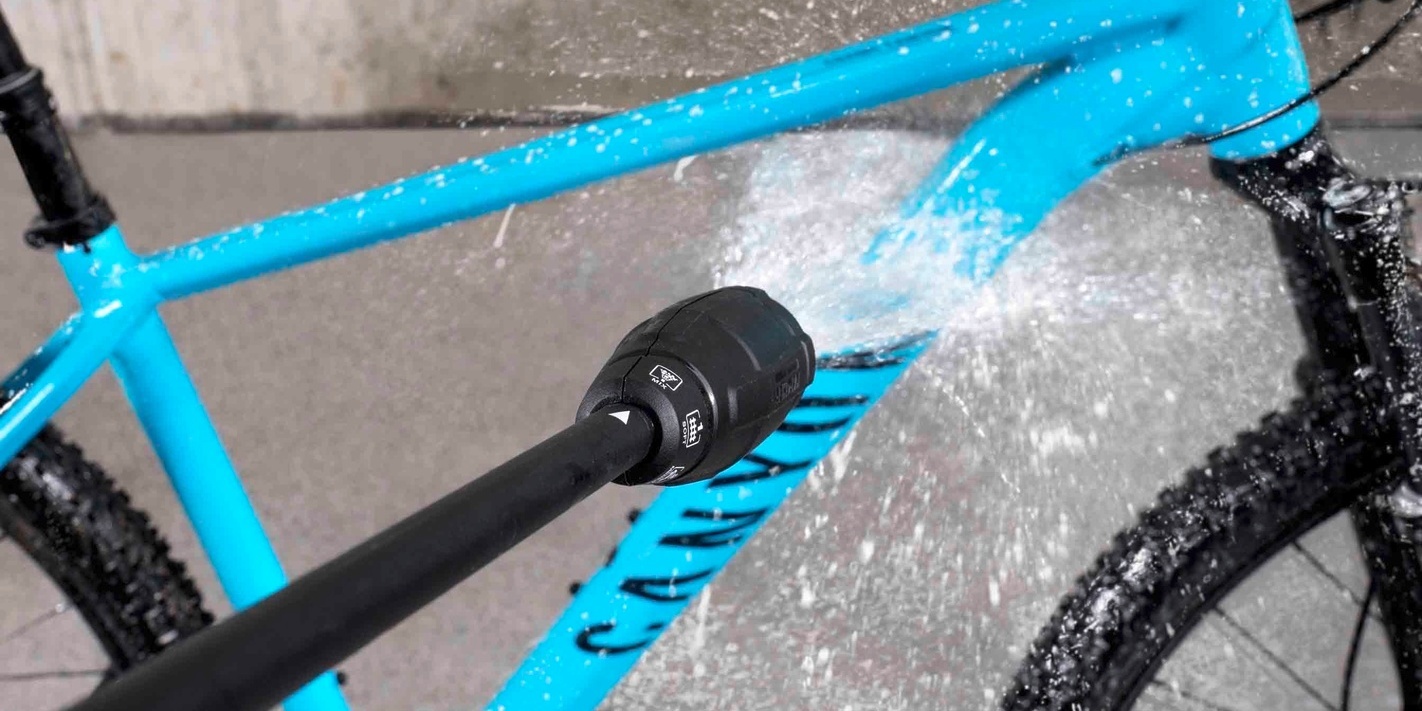 2. Spray bike with water
Now spray the bike evenly with the water jet. Do not direct the water jet directly at bearings, shock absorbers or electrical connections, e.g. on e-bikes. When cleaning with high pressure, only clean with low setting and ensure sufficient distance to tires, chain, bearings and small parts (approx. 30 cm).
Tip
It is best to clean from the bottom up. That way it's easier to see where the bike has already been clean.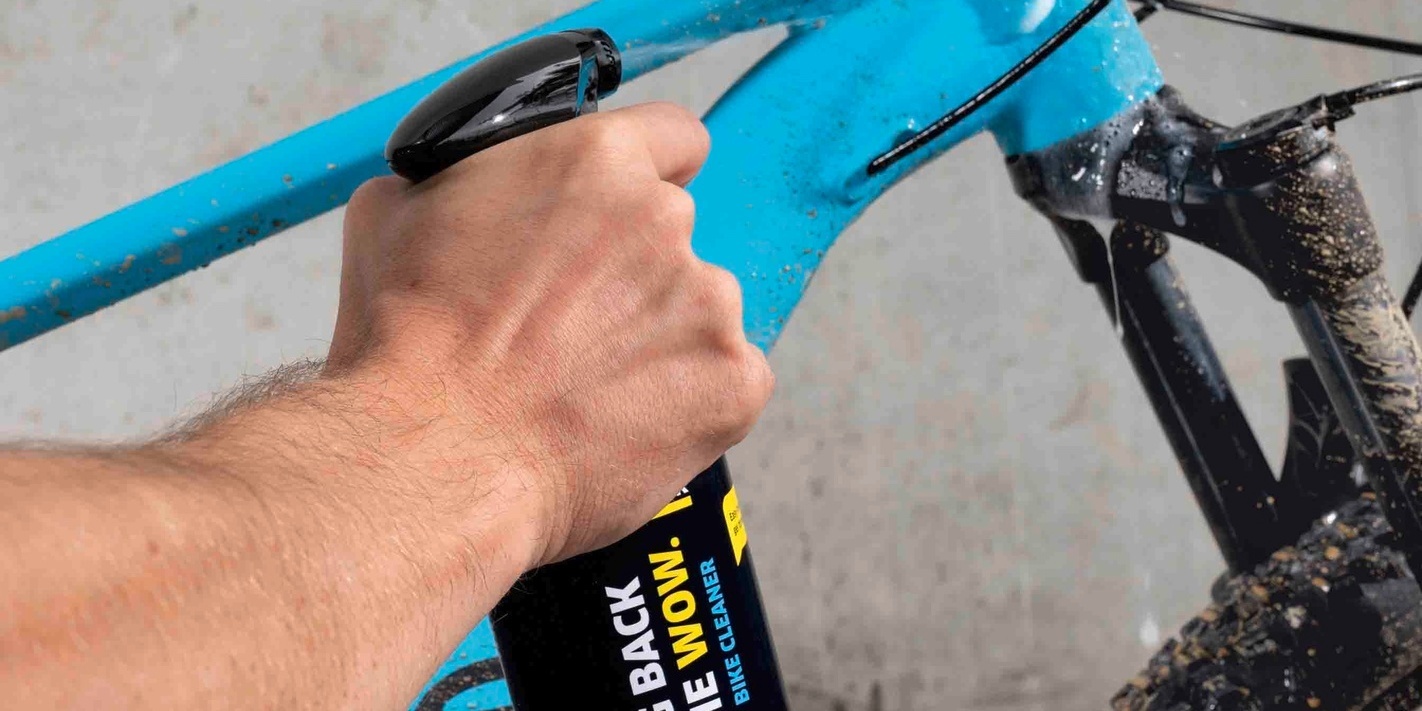 3. Apply cleaning product
For stubborn stains, it makes sense to use a cleaning product. A universal cleaner or, even better, a special bike cleaner is a good idea. Apply evenly to heavily soiled areas before cleaning, let sit for 3-5 minutes, then rinse with clean water. The bike should ideally be dry when the cleaner is used, for better results.
Important note: to protect the environment, cleaning products should only be used on sealed ground (e.g. asphalt) close to drains.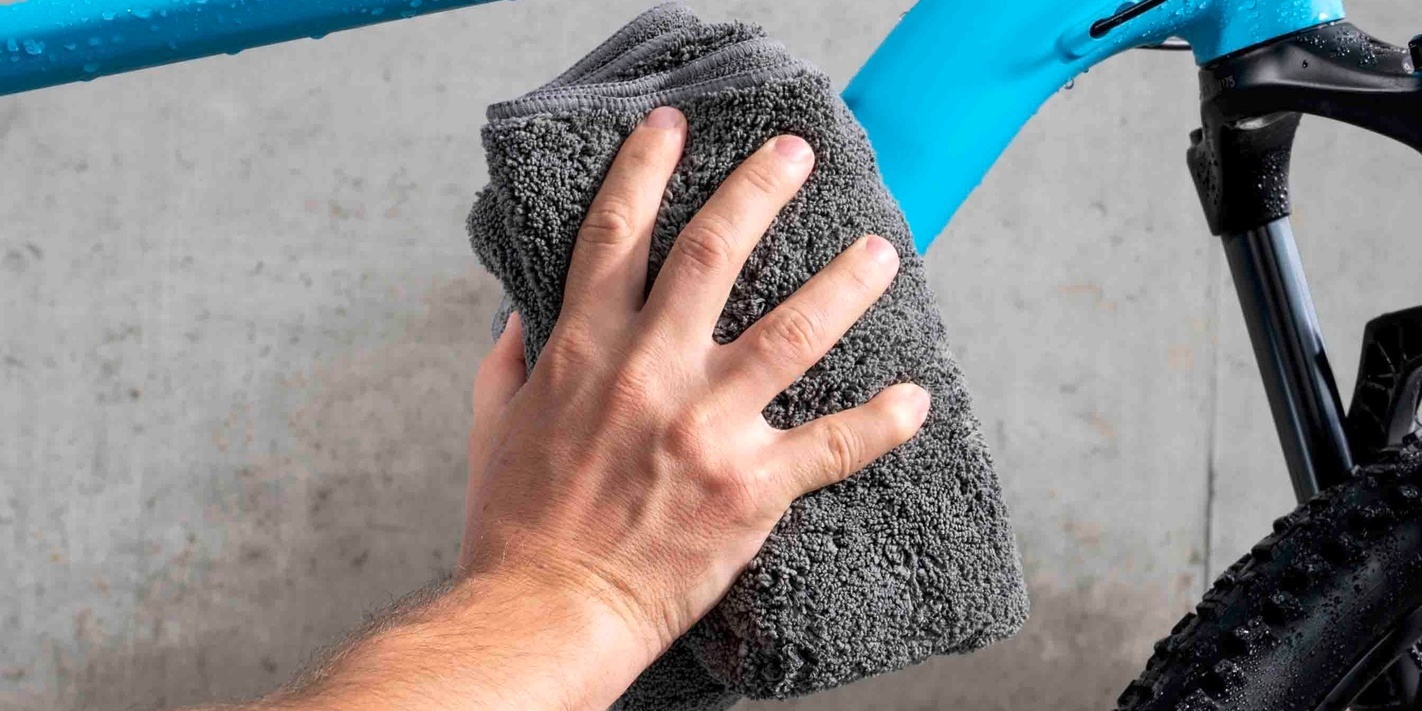 4. Remove deposits
If a deposits are still left on the frame, they can be quickly removed with a brush or sponge. Then rub the frame dry in the cleaned areas with a soft cloth (e.g. microfibre). To save water when cleaning with the Mobile Outdoor Cleaner, briefly moisten the universal brush and scrub the bike with it. Then spray off the loose dirt and dry bike with a soft cloth.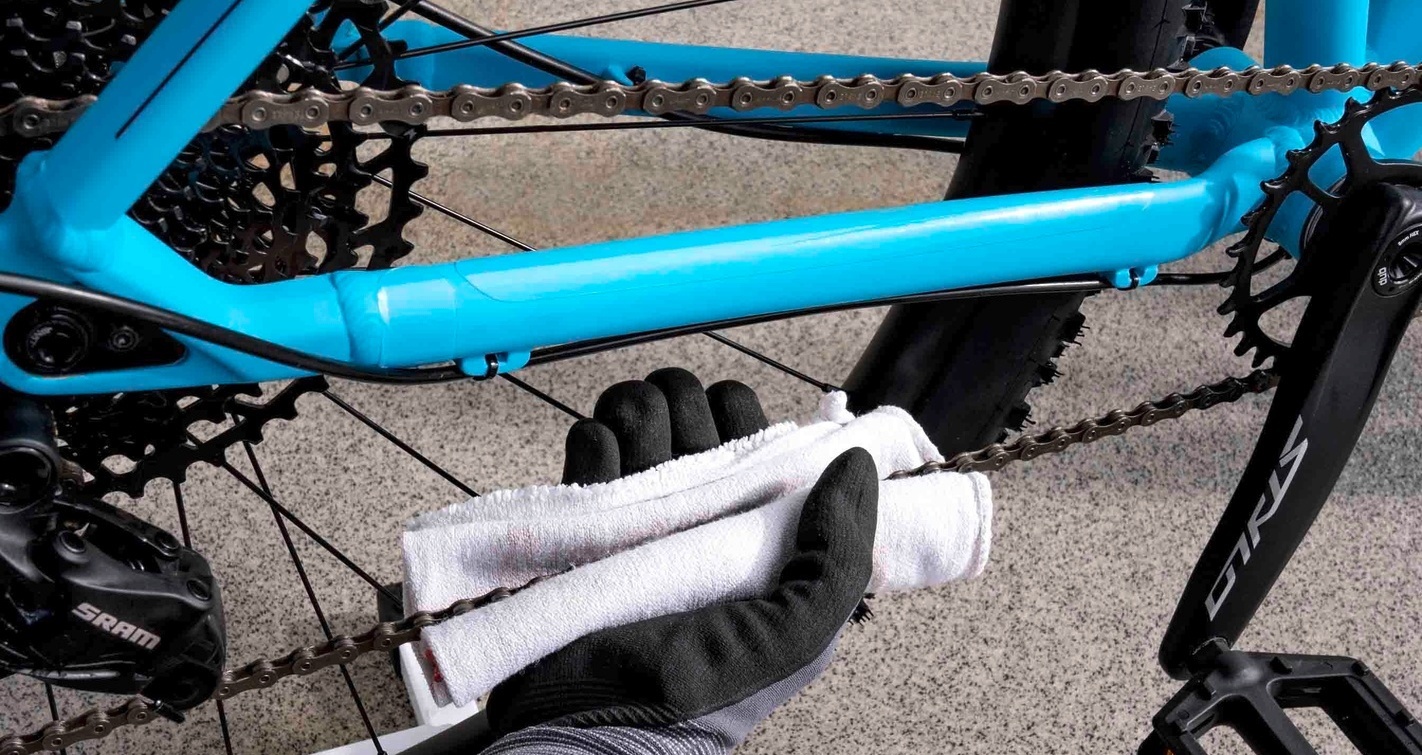 Tip: clean chain thoroughly
The chain is usually a little more difficult to clean than the rest of the bike, because oil, dirt and dust mix over time to form a sticky film. Before cleaning, a piece of cardboard or an old rag should be placed under the wheels. Then, using a rough brush, first remove the coarse dirt, then spray on the two-wheel cleaner or a special chain cleaner and let it soak in. To loosen the dirt, this trick helps: enclose the chain with a cloth or rag and run it along the chain several times. The dirt particles are loosened and absorbed directly by the cloth.
Comparison: devices for bicycle cleaning
Model names
Pressure washer
OC 3
Medium pressure washer
KHB 6 / KHB 4-18
Pressure washer
K 2 - K 7
---
Application
Pressure washer
On the go
Medium pressure washer
At home
Pressure washer
At home
---
Prep time
Pressure washer
Low, as only the water tank needs to be filled
Medium pressure washer
Low, as only one water connection is needed
Pressure washer
Medium, as water connection and electricity are needed
---
Cleaning power
Pressure washer
Low, as low pressure (flow rate max. 2 l / min)
Medium pressure washer
Medium, as medium pressure (max. 24 bar, flow rate max. 200 l / h)
Pressure washer
high, since variable pressure range between 20 and 110 (K2) to 180 (K 7) bar
---
suitability for bicycle cleaning
Pressure washer
For quick cleaning on the go.
Very gentle cleaning due to the low pressure.
The battery and tank volume are not sufficient for thorough cleaning.
Medium pressure washer
For thorough cleaning at home.
The medium pressure is sufficient for bicycle cleaning and gentle at the same time.
The only limitation is the battery charge.
Pressure washer
For thorough cleaning at home.
No restrictions, as power and water are connected.
Distance to sensitive components should be maintained to avoid damage.
Pressure should be set to minimum.
---
Care after bike cleaning
When it comes to bike's, care after thorough cleaning also matters. The first step is to always dry the bike thoroughly, because water can quickly cause rust. In addition, care products can be distributed better on a dry wheels.
When the bicycle chain has been cleaned, it should first be dried off with a cloth and then oiled. It is practical to have a bike stand at this stage to keep the bike in position. Ensure that oil does not get onto the brake pads or brake plate during this process, as this impairs the braking effect. Afterwards remove excess oil from the chain with a rag.
Generally, all moving parts such as cables, brake joints, brake and shift levers should be oiled regularly. In the case of suspension forks, the immersion tubes should be regularly cleaned and also oiled.
Last but not least, it is advisable to also check the tire pressure at regular intervals, especially if you want to ride your bike again after a long time. The side of the tires usually indicate how much pressure may be inflated, minimum and maximum. The more pressure, the easier the tire rolls.
Suitable products for the bike
This might also interest you: