CAR CARE: TIPS FOR THE OUTSIDE AND INSIDE
If you want to enjoy your car for many years to come, you have to take care of it. Good car care does not only mean washing the car regularly, but also caring for the paint and bodywork, as well as keeping the interior clean. All it takes is a little time, suitable cleaning equipment and good care products. The best car care tips for an all-around well-cared-for car are here.
Car care is value preservation
aring for your car not only ensures that it looks good for a long time to come, it also helps to ensure that the car retains its value. Regular sealing of the paintwork, for example, protects against weather-related damage, salt and dirt in winter or pollen and insects in summer. It also prevents rust, which makes surfaces porous and damages the car in the long run.
Caring for your car
Before you start caring for the paint, seats made of fabric or leather, plastic, glass and metal surfaces, you should clean the car thoroughly. To maintain the car's value the exterior and interior are equally important. Clean the exterior regularly not just when the car is particularly dirty. Washing the car frequently, is always good for the vehicle, whether in a car wash, in a self-service car wash or at home with the pressure washer and the appropriate accessories. You should also clean the interior at regular intervals, preferably with a wet and dry vacuum cleaner, a soft cloth and a suitable surface cleaner. You should also clean the wheels regularly, for example with a pressure washer and a rim cleaner. How often you clean the car depends not only on the degree of soiling, but also on your personal demand for cleanliness. In winter however, car care is essential due to the dirt, ice and salt which can obstruct the windows as well as damage the bodywork and paint if not removed regularly.
With the right equipment, cleaning products and the best car care tips, caring for your car is easy all year round. Furthermore, polishing and taking care of the paintwork is much easier to do on a well maintained and clean car:
Car interior care
Once the interior has been vacuumed and the dashboards are dust free, it's time to work on the various surfaces inside the car. With a special interior cleaner, plastic, rubber or textiles can be freed from dried coffee stains, greasy food residue or sun cream. Unpleasant odours are eliminated at the same time, and the colour and fibres of the upholstery are refreshed. Another benefit of interior cleaners is that they help to keep the surface cleaner for longer, which makes future cleaning easier.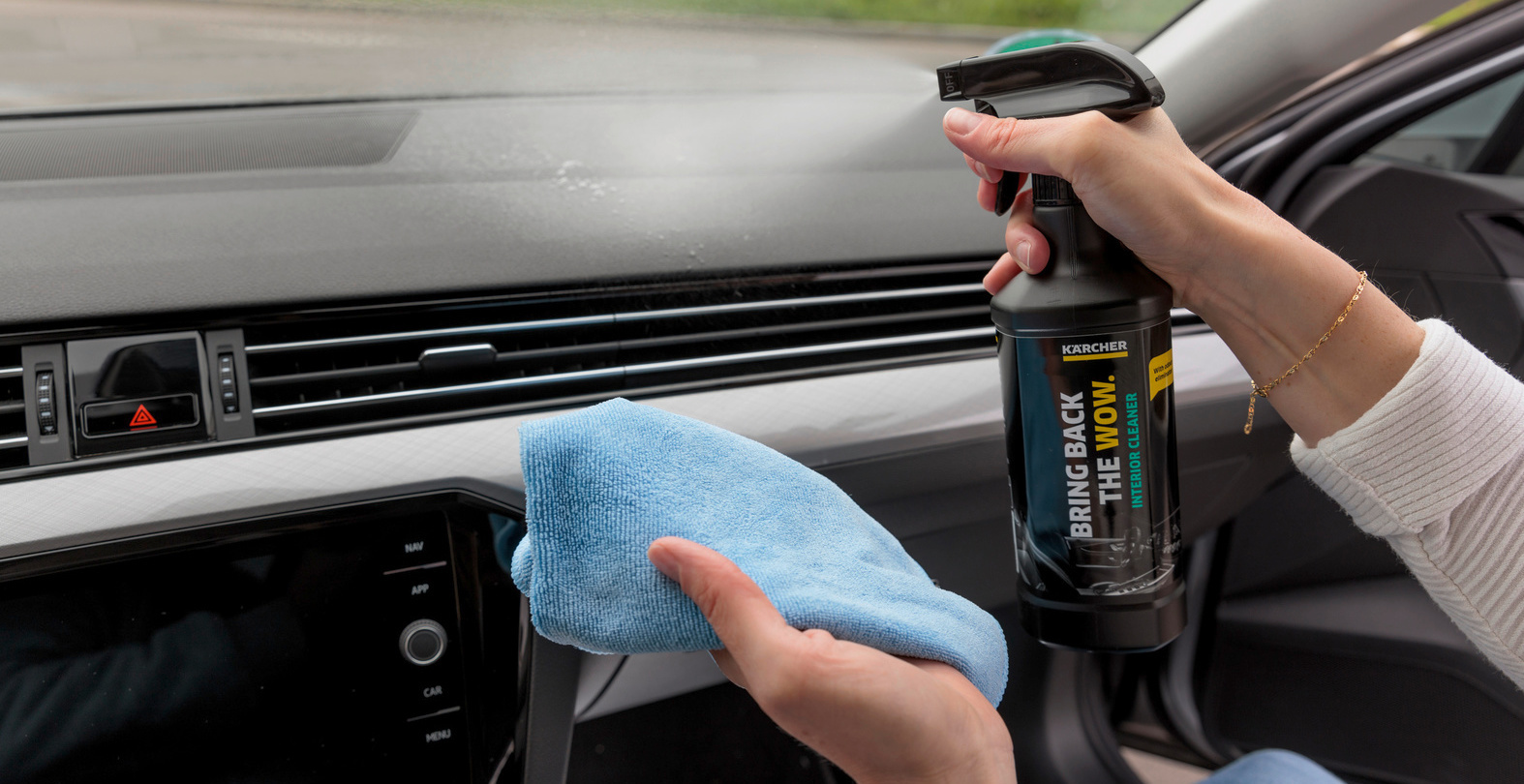 Tip
When buying an interior cleaner, pay attention to the surfaces it can be used on. One product may often clean the entire interior, including upholstery. However, be aware that surfaces such as high-quality seats made of genuine leather will need a specialised product. Leather should only be cleaned once or twice a year and always treated with a special, re-greasing leather care product to preserve its appearance.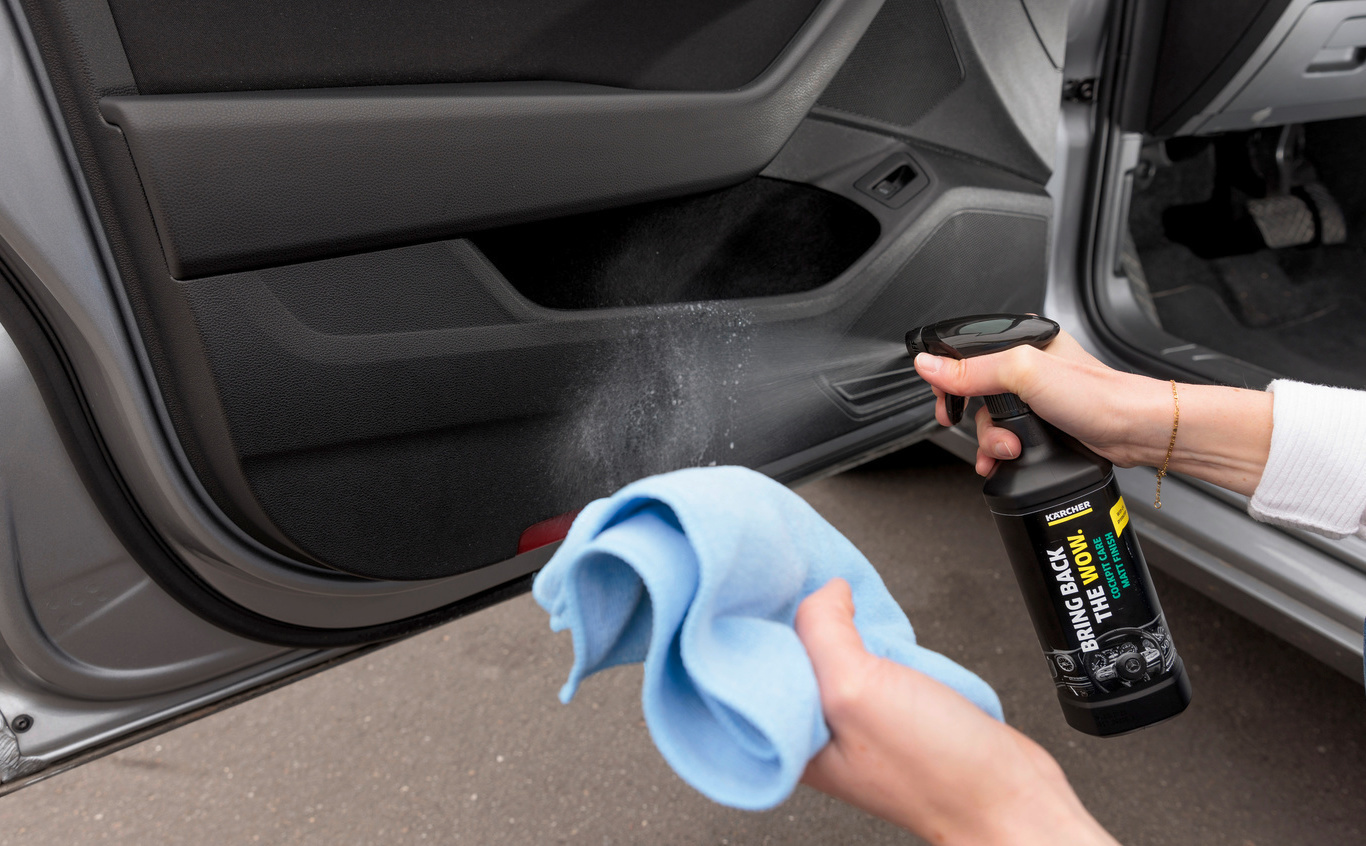 If you don't have an interior cleaner handy, you can also use warm water with a squirt of washing up liquid to clean dashboards and trim. Simply wipe surfaces with a damp cloth and then dry with a cloth made of cotton or microfibre so that moisture does not penetrate the electronic components. However, this method cannot achieve an anti-static effect or reduce the time it takes for the surface to become smudged again compared to a specific car interior cleaning product.
Over time, light scratches may become visible on the dashboard or door panels. Smooth, water- and dirt-repellent materials should therefore ideally still be treated after cleaning with a cockpit care product. Simply spray on, allow it to work briefly and then polish the surface once more if necessary. This removes superficial damage while renewing colour and shine - for a cockpit that looks like new again.
To neutralise bad odours inside the car, this trick helps: simply place a container of coffee beans in the footwell. The coffee binds moisture and absorbs odours. The same effect is achieved with rice or flour.
Caring for the view
On sunny days, fingerprints and smears on windows and mirrors are especially noticeable. They not only look unsightly, but also interfere with visibility when driving. So when it comes to car care, the windows should not be forgotten. If you are in the process of cleaning the car interior, the windows should also be cleaned from the inside. To do this, spray the windows generously with a car glass cleaner and remove all stains and streaks with a lint-free, soft cloth. Then apply the cleaner to windows and mirrors from the outside as well, and use a soft microfibre cloth to loosen the dirt.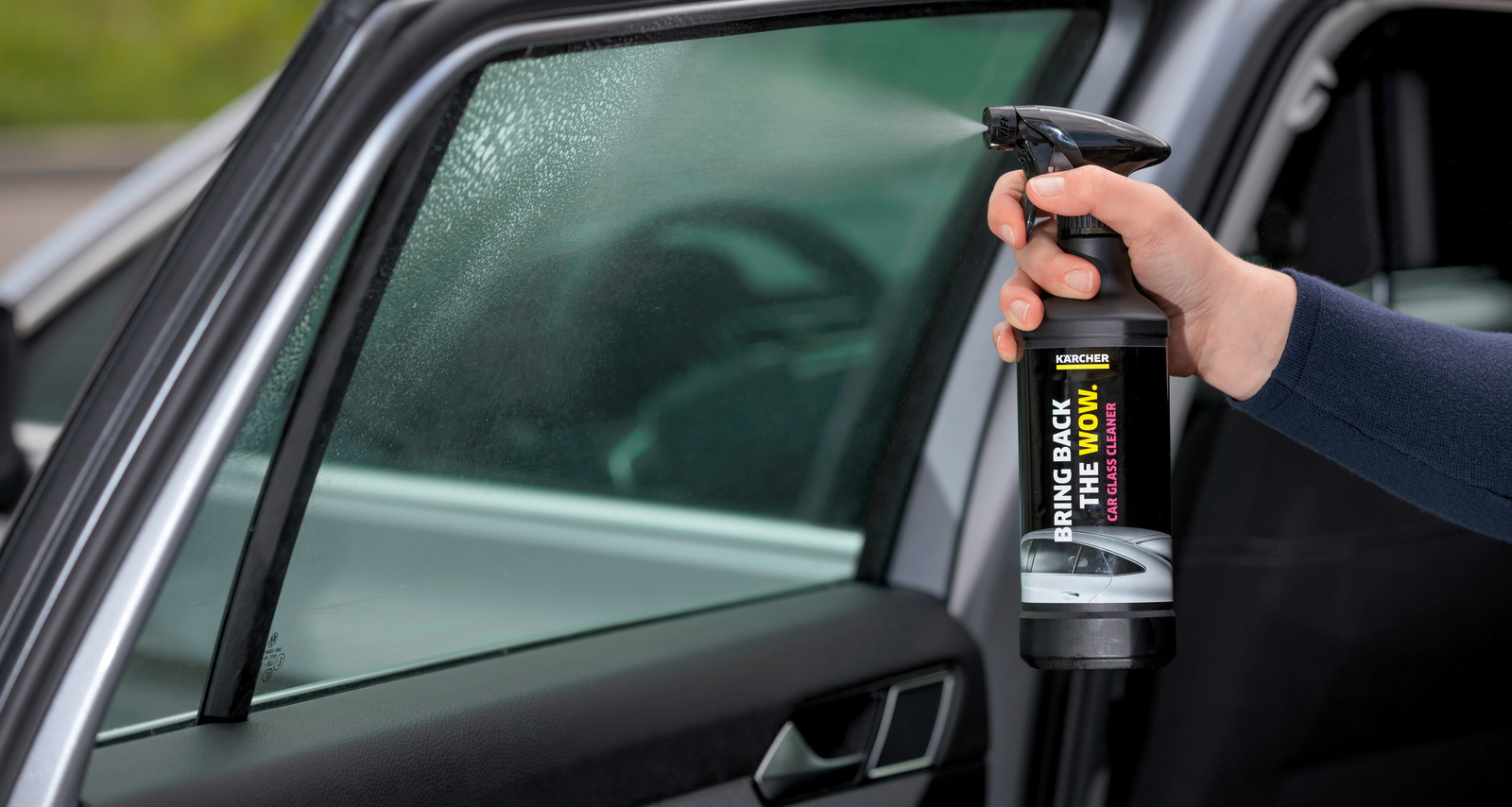 While driving, new dirt accumulates quickly on the windshield and back window. In the summer it's insects, on rainy days it's more than likely dirty splashes from the car in front, in winter salt and slush lands on the windows. To always maintain good visibility, you should regularly check the windshield wipers and top up water and windshield cleaner as needed. Windshield cleaner's that are specially formulated for summer or winter are best for this purpose. The summer screen wash concentrate works actively against insect residue and co, the winter screen wash concentrate is also an antifreeze that prevents the windshield and headlight cleaning system from freezing. Ensure to mix the agent with water in the ratio stated on the product's packaging.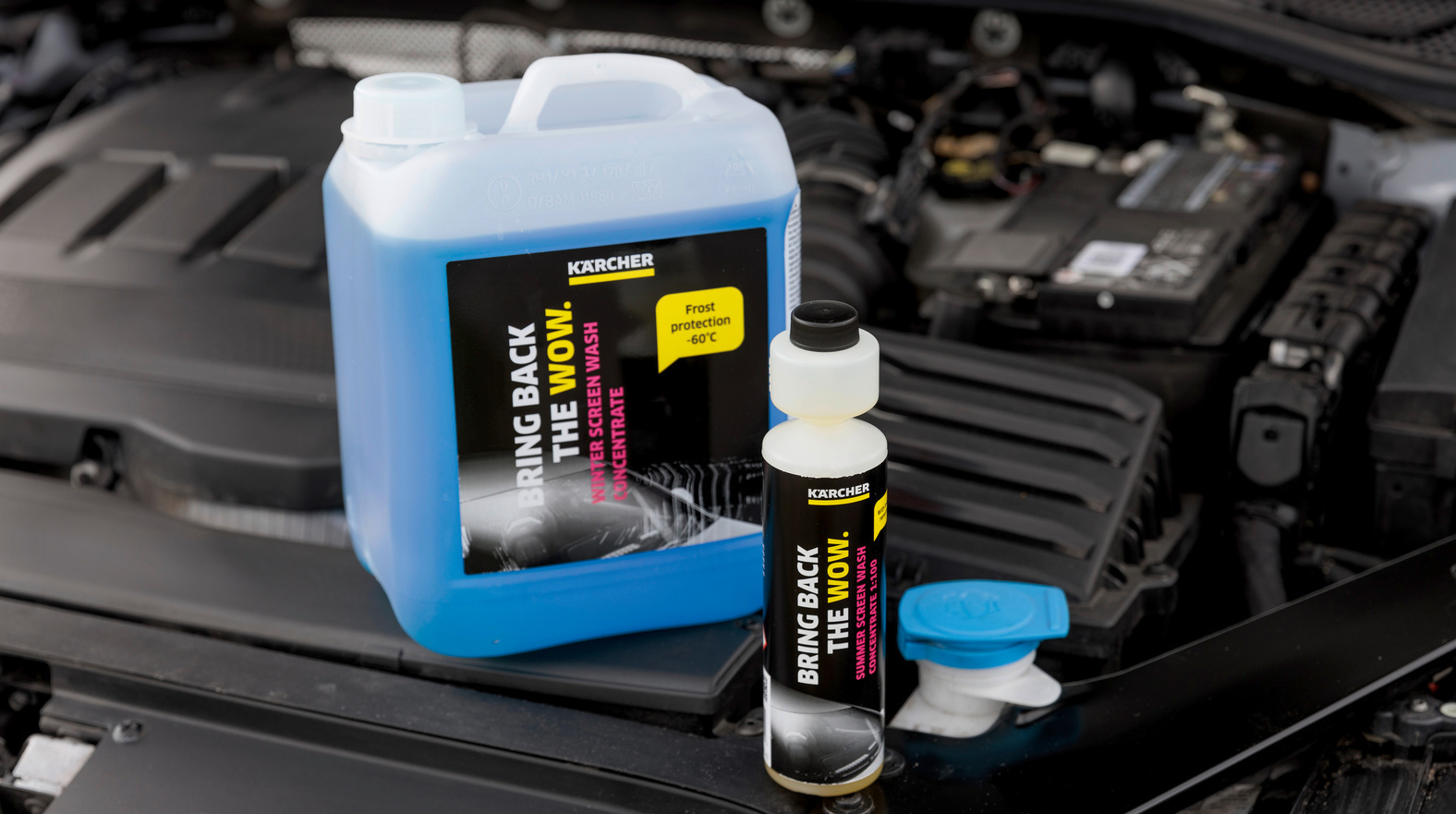 Rubber seals car care
Rubber seals in cars, such as those on doors or in the boot, are subjected to severe conditions, such as ice, snow and salt, especially in winter. To prevent them from becoming brittle and leaking, you should keep the seals supple with a rubber care product. This also prevents the doors from sticking in the summer when it is very hot. However, care should be taken when using the product to ensure that it does not get onto the paintwork, as it can leave stubborn stains behind. You can also use commercially available Vaseline, if you haven't got a specialised product at the ready.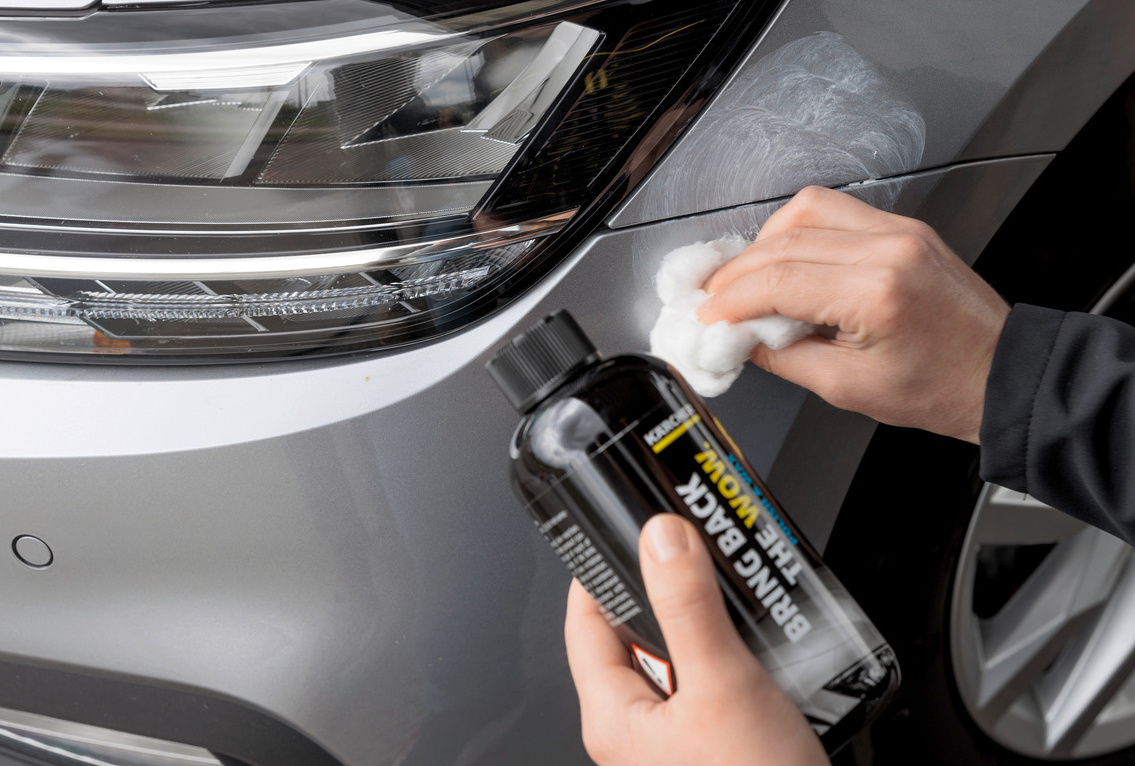 Touch up and polish paint
Caring for your car should also be extended to the paint work. Superficial scratches and so-called holograms are annoying and stand out in the sunshine, especially on dark paint colours. The fine lines are often created during cleaning when brushes or sponges are used to remove small particles of dirt. With a wax polish, they can be easily removed. The polish cleans the paint and polishes at the same time. The best result is achieved by applying the product with a soft cloth or a piece of absorbent cotton in circular motions and, after a short drying phase, lightly polishing with a clean cloth. Not only will the paintwork shine once again but the polish and wax will also help protect against weather influences, UV rays, road dirt and salt.
Deep scratches that can no longer be removed with a wax polish can be touched up with a touch-up paint pen and then sealed with clear lacquer. As a rule, any paint colour and finish, i.e. metallic, solid or matt paint, can be ordered from the vehicle manufacturer. However, major damage to the bodywork should always be repaired by professionals, for example in workshops that offer SMART (small to medium area repair technology) repair. This spot repair method is usually cheaper and quicker than conventional repairs in which entire parts of a car are replaced. This allows the vehicle to be upgraded again, which is also worthwhile before selling the vehicle or returning a leased car, for example.
Suitable products for car care
This might also interest you: