A PRACTICAL GUIDE TO CLEANING PAVERS
To ensure that your garden remains the oasis of your dreams some work is required. Not only when getting the garden ready for spring, but also during the gardening season. Inevitably, the patio, walkway and driveway become soiled by accumulating twigs and leaves. The change in weather can also have a negative effect on paving stones. Moss, weeds, or lichen may start to grow on the pavers. Follow these tips to clean pavers again.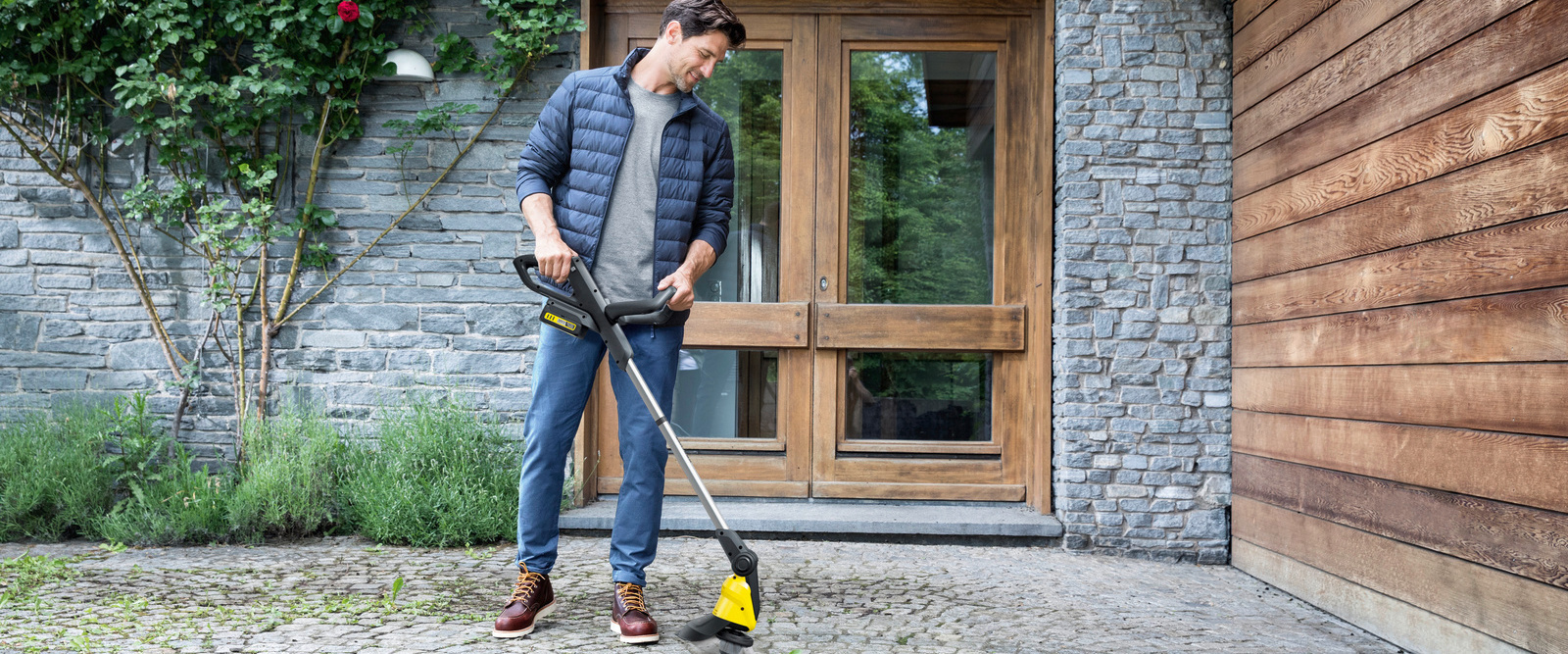 What to consider when cleaning pavers?
It's quite normal for a paved driveway or patio to look less than new over time due to the weather and heavy use. In some cases, it may even become discoloured, for example after trimming fruit trees or after a garden party. There are useful tools for cleaning paving stones, such as joint scrapers, sweepers, and pressure washers. In addition, pavers can be cleaned with a small pickaxe, broom, and garden hose. In addition to special paving stone cleaners, there are home remedies such as soda, vinegar, and washing up liquid that can be used to clean pavers.
However, what actually works? And what should you best avoid when cleaning paving stones? Just like there many roads that lead to Rome, there are several ways to clean pavers or get rid of weeds. First and foremost, it requires various tools and cleaning products. The best way to clean pavers depends on what material pathways and driveways are made of, natural stone, concrete, or clay. The weather the pavers are exposed to also plays a role.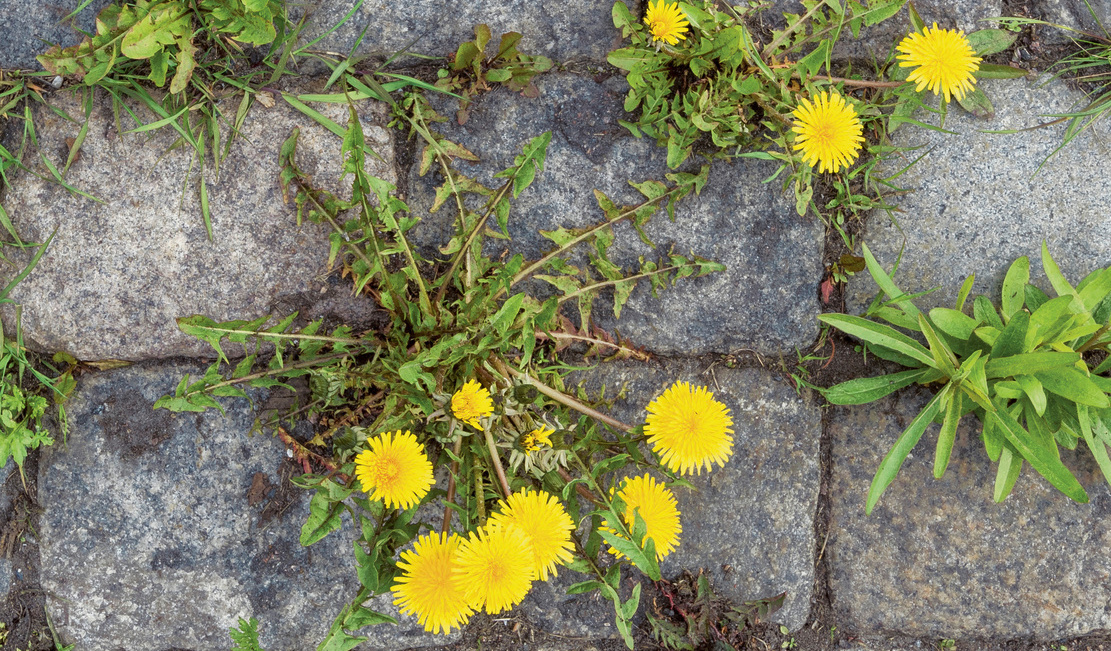 How to clean paving stones: remove coarse dirt first
Before cleaning between the pavers, first remove coarse dirt from the paving stones' surface. This will prevent unnecessary dirt from spreading and staining the patio area or house walls when thoroughly cleaning the paving stones.
To gather leaves and loose twigs, a conventional broom or garden rake can be used. However, it is best to use a plastic model to avoid any scratches on the paved surfaces. Those who have to clean particularly large areas can also use a sweeper. There are some great advantages of this practical helper. You don't have to bend down, and you save a lot of time, because leaves & co. are collected straight away. All you have to do is tip the greenery into the organic bin.
In general coarse dirt should be removed regularly from paving stones. This helps to prevent the formation of moss, weeds and stubborn fungal lichens, as these grow especially in shady and damp places.

Tip
Regular cleaning of your paving stones is essential, especially if a splash of sauce or wine has gone astray at the barbecue or garden party. Especially if fat and oil has landed on the paving stone, unsightly and stubborn stains can quickly form. Special patio and deck cleaner concentrate help against this and can be applied to the soiled surface either with a pressure washer or a spray bottle. If you have not got a special cleaner handy, oil stains can also be removed with an absorbent material such as cat litter or sawdust, which can then simply be swept away.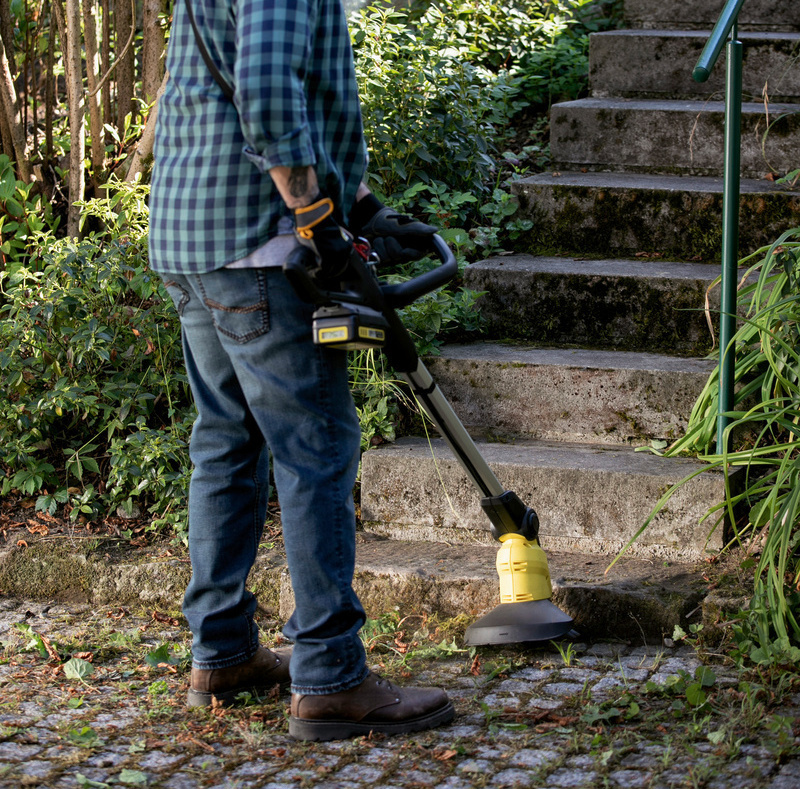 Clean gaps between pavers
Once the coarse dirt is removed, it's time to concentrate on cleaning the joints between the pavers. This step should never be missed, as weeds often grow in the gaps and you would otherwise spread them all over the pavers surface when rinsing them off afterwards.
To remove unwanted greenery from the gaps, a special joint scraper is best suited. Alternatively, you can use a conventional garden hoe or a garden spatula. This method is inexpensive and environmentally friendly but requires a lot of time and patience. In addition, if done incorrectly, the frequent bending down can quickly lead to back and knee pain. Dandelions as well as other weeds can be removed particularly effectively and without inducing back pain using a cordless weed remover. Whether it's the stone patio in the backyard or the paved courtyard driveway, this makes cleaning paving stones safe and effortless:
During use, always wear appropriate protective clothing, this includes sturdy footwear, gloves, as well as safety glasses and ear defenders, if necessary.


First, adjust the length of the telescopic handle, the brush is then inserted and the swiveling head is adjusted. Then the battery is pushed into the holder until it audibly clicks into place. The weed remover is switched on by pressing both the release button and the device switch simultaneously. The device can now be guided with slow movements and slightly tilted over the surface. This ensures that the rotating brush on the cleaning head removes all weeds on the surface of the paving stone. Repeat this step if the growth is very stubborn. Then sweep up the weeds and dispose of them.
How to clean paving stones, with a garden hose or a pressure washer?
Once you've swept away the dirt and removed all weeds from the joints, it's time to start cleaning the surface of the paving stones. If you want to clean them precisely, you can rely on a pressure washer. Alternatively, a handheld cleaner could be used for this purpose. Theoretically, you could also use the water from your home and rinse off the paved areas with a garden hose and a spray gun. This cleans the paving stones quite well, however, with the pressure washer, both joints and surfaces can be freed more thoroughly from dirt.
The pressure washer in combination with a dirt cutter is an excellent option. This removes not only weeds and moss from the surface, but also from indentations. Keeping up with this type of cleaning means that there is less time for weeds to grow. It also helps to maintain the beauty of the paving stones' surface.
Cleaning pavers with a pressure washer and dirt cutter is done in three simple steps:
Attach the dirt cutter to the pressure washer or adjust the rotating nozzle on the spray gun, depending on the model.


Hold the rotating water jet almost vertically above the floor and slowly move it over the surface, keep a 15 cm distance from the ground. If you do aim for the gaps, be aware that any material used in those gaps will be removed. So might have to refill the joint with sand afterwards.


When finished sweep up loosened weeds and dispose of them.

It's important to always work with the slope, so that the dirty water can run off and doesn't spread over the already cleaned surface. In short, pressure washers are an effective way to clean paved paths and stone patios. Especially on flat surfaces, the use of a surface cleaner with rinsing function is also excellent. It can be used to thoroughly remove green deposits and dirt even in hard-to-reach corners and on edges. Thanks to the rinsing nozzle, the dirty water is rinsed away at the same time. Other advantages: You are protected while working and cleaning is faster than with a cleaning nozzle.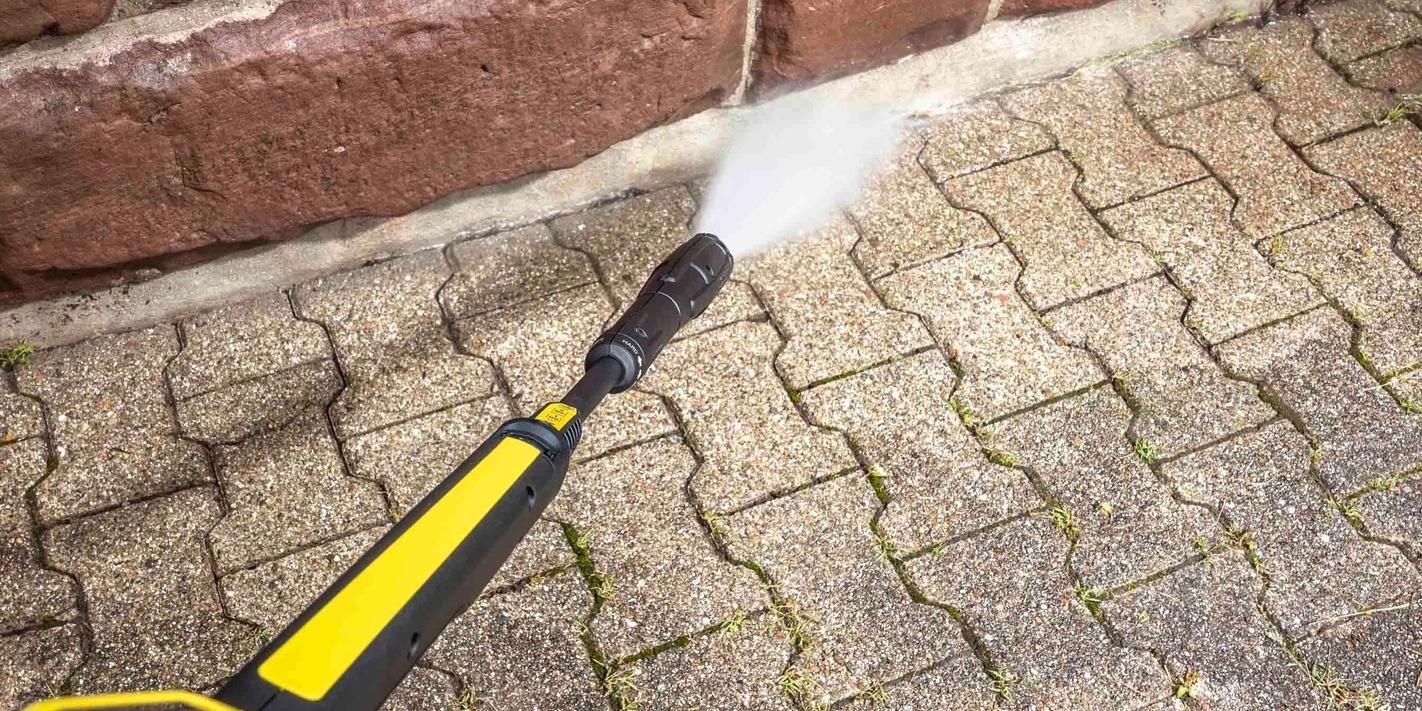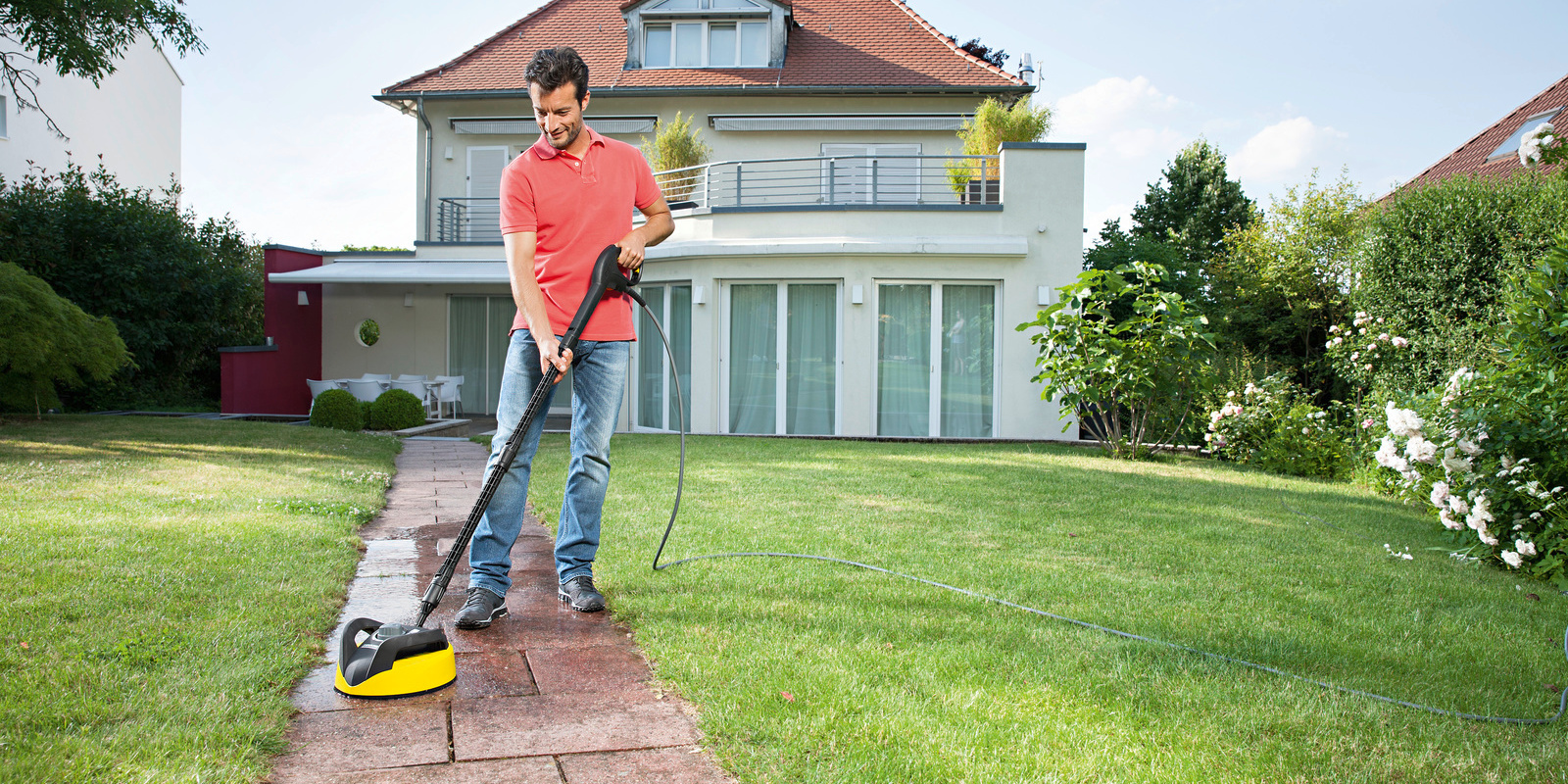 Should you clean any type of pavers with a pressure washer?
Paths made of natural stone like granite or basalt are sturdy and tough enough to be cleaned with a pressure washer. The situation is different for paving stones made of concrete or terracotta. The water jet can quickly damage the surface. Likewise, if the paving stones have very wide joints, care should be taken not to work them too hard with the water jet, as the stone slabs could possibly become loose. It is best to ask at a specialist garden centre which type of stone is suitable to clean with a pressure washer.
For those who already know that a pressure washer is out of the question for their stone patio, but still want to clean it efficiently and save time, opt for the mobile medium-pressure variant. A handheld cleaner allows gentle, yet successful cleaning. Cleaning becomes particularly effective with a matching scrubber attachment. Alternatively, you can work with the rotor nozzle, which removes even heavier dirt effortlessly.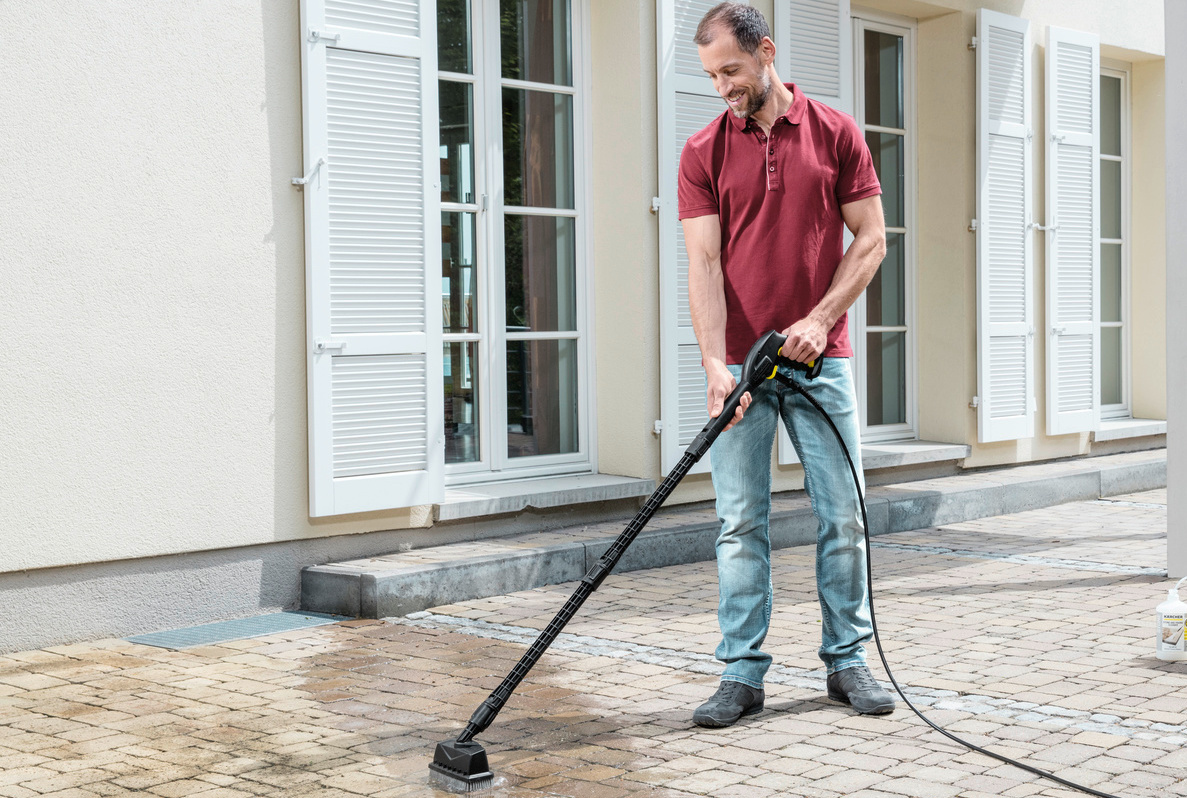 Do home remedies help when cleaning paving stones?
To get rid of moss and weeds, there are several home remedies you can use instead of cleaning concentrates. For example, if you do not use a special stone cleaner for cleaning pavers, you can use washing up liquid or baking soda. Those who choose to use home remedies should always make sure that they are biodegradable. In addition, protective clothing and goggles should be worn when using them, especially to protect the eye area and hands.
Suitable products for cleaning paving stones
This might also interest you: