Mobile, environmentally friendly, effective: weed removal with hot water
With Kärcher weed removers and a hot water high-pressure cleaner, you can get rid of unwanted growth without using herbicides. Just with hot water. And therefore without harming the environment and surfaces.
Because you want to eliminate weeds permanently
What are weeds?
Unlike cultivated and ornamental plants, weeds are plants that grow naturally without any human intervention.
Why are weeds removed?
There are lots of good reasons to remove weeds. In farming, you remove weeds to protect crops. In towns and cities, to keep public spaces clean and tidy and to prevent damage to roads, open spaces and buildings. Many weeds can spread extremely quickly and/or cause severe damage with their roots. They also have a negative impact on the desired aesthetics.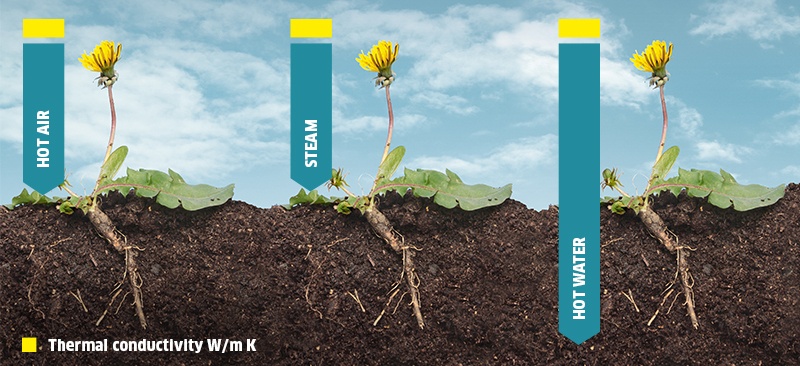 Inundated with weeds? Not with hot water.
The principle of thermal weed control is based on a fundamental biochemical rule: most proteins denature from a temperature of roughly 42°C.
This means that the proteins change, break up and can no longer full their functions. The necessary heat can be generated and applied in a number of ways: directly as a •ame or indirectly via thermal radiation, as hot water or steam. Hot water is the only chemical-free method that also reaches the roots.
Even if the roots are not completely destroyed straightaway, the weed is further weakened with each hot water application. If you apply hot water regularly from the beginning, regrowth is hampered and the required application frequency will decrease considerably even in the second year. As a rule of thumb, three to four treatments are suffcient in a year.
It can also be done without herbicides
To protect people and the environment, the use of herbicides for weed control is strictly regulated or prohibited, particularly in public areas. With our hot water method, you have an environmentally friendly and extremely effective alternative. The hot water destroys the weeds by penetrating right to the root and denaturing the plant proteins with the abrupt increase in temperature, whereby the weed is permanently damaged and killed off.
The hotter, the better
Hot water achieves optimal penetration right down to the roots of the plant. The water temperature is decisive here: just below the steam threshold is ideal. Kärcher HDS machines provide hot water at consistently high temperatures of up to 98°C – ideal for weed removal with hot water. And they are extremely energy-effcient thanks to a highly effective burner.
No danger, no damage
In contrast to mechanical methods, with hot water there is no risk of damaging or destroying surfaces. The low working pressure (below 1 bar) guarantees gentle treatment and is therefore suitable for any surface. There is also no risk of fire as with •aming.
Universal system solution
With the Kärcher system, you benefit from the solution expertise of the world leader in cleaning technology, so you will enjoy the very best quality – not only in hot water weed removal, but in all areas of professional cleaning, both inside and outside. All from a single source.
More flexible than any weed
With a hot water high-pressure cleaner and WR 10, WR 20, WR 50 or WR 100 weed removers, you can eliminate weeds practically everywhere, including in hard-to-reach places where other methods cannot be used. And with the HDS trailers, you can eliminate weeds using hot water totally independently of a power supply and water connection.
We are always happy to help
With our extensive global Kärcher sales and service network, we are never far away and are always on hand to provide you with prompt assistance. We are also happy to advise you on site.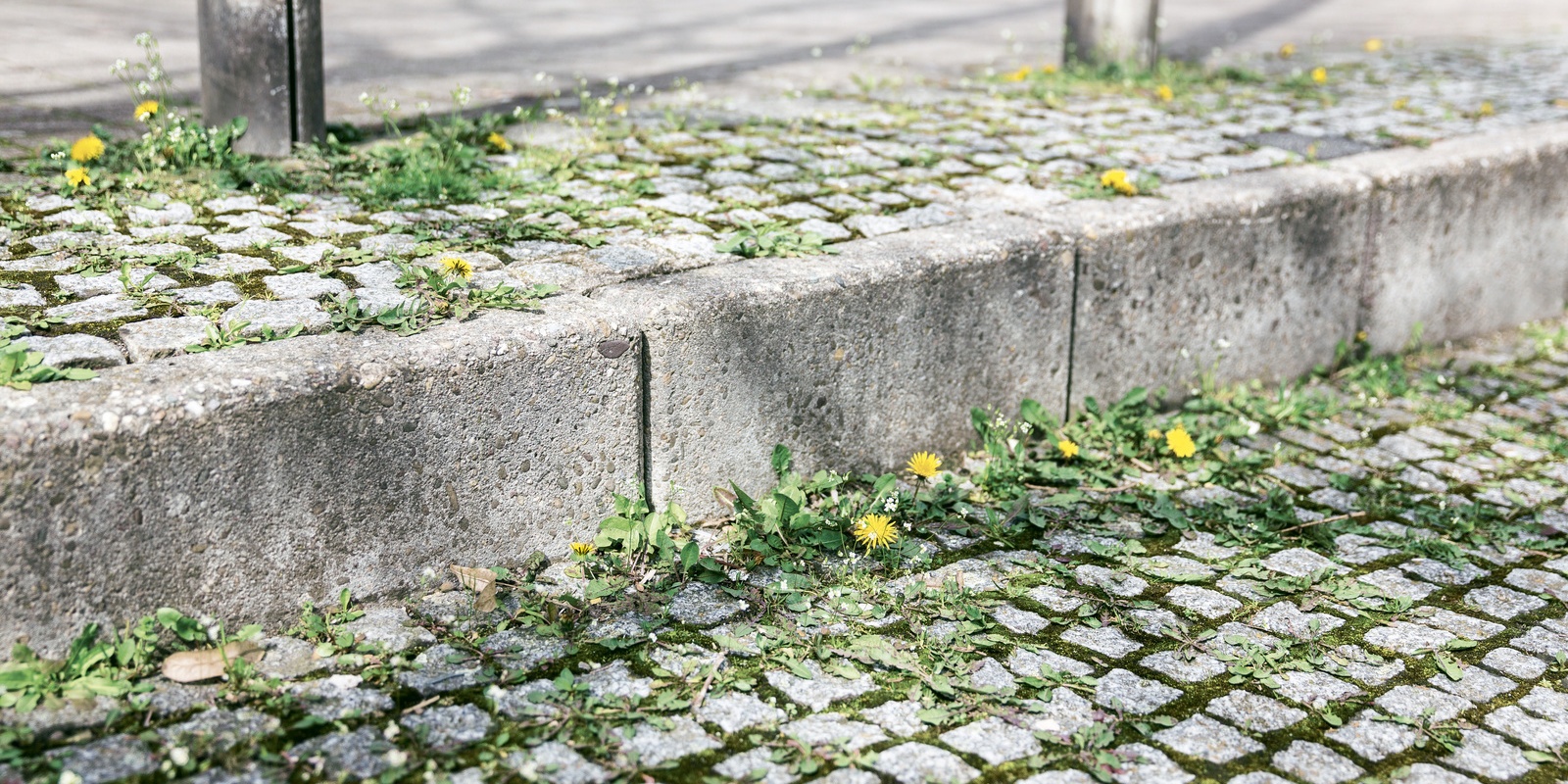 Before application of hot water
Strong growth with grass, moss and dandelions between the cobblestones.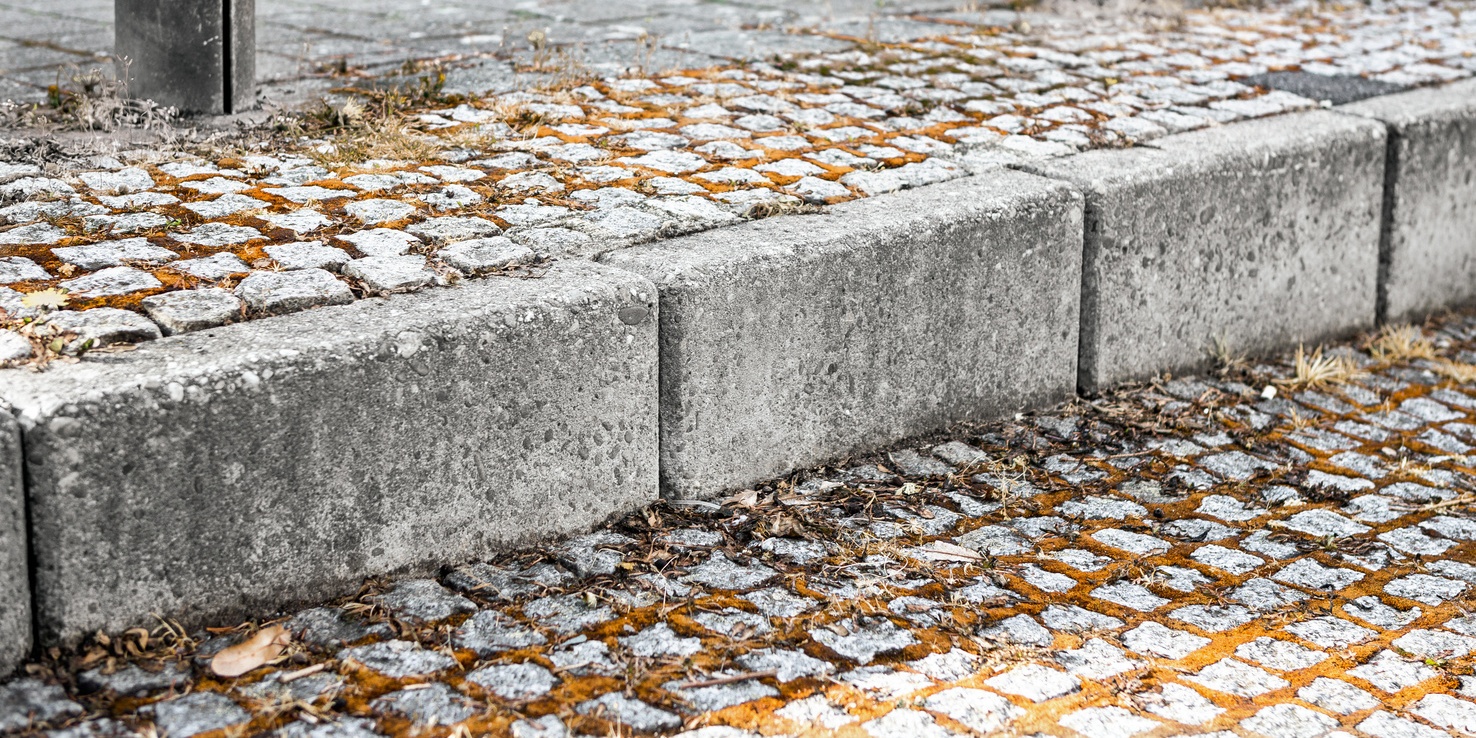 After application of hot water
One week after being treated with hot water, the weeds have died and the grass has already largely been worn away by the weather.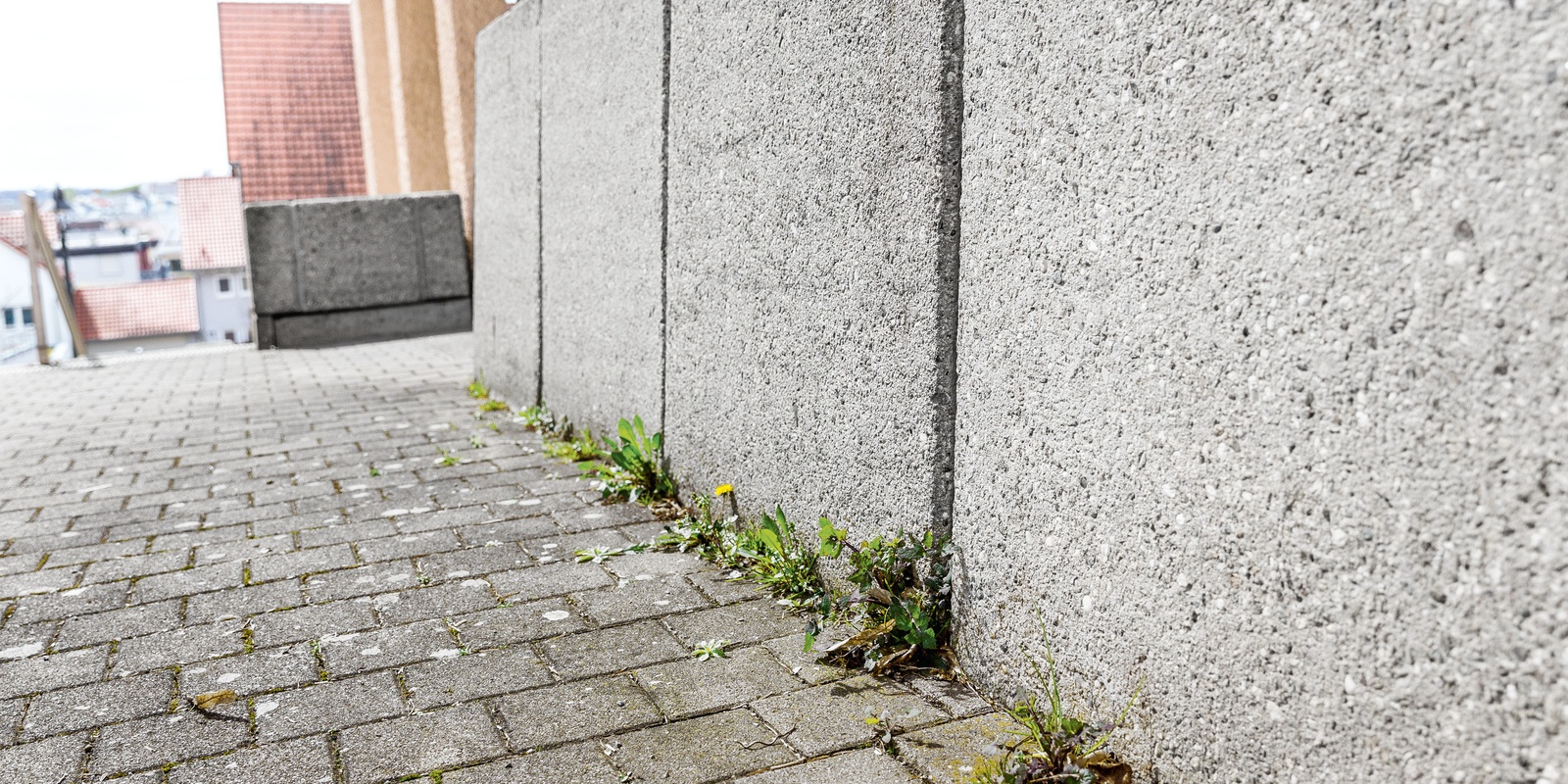 Before application of hot water
Dandelions growing at the base of a concrete wall.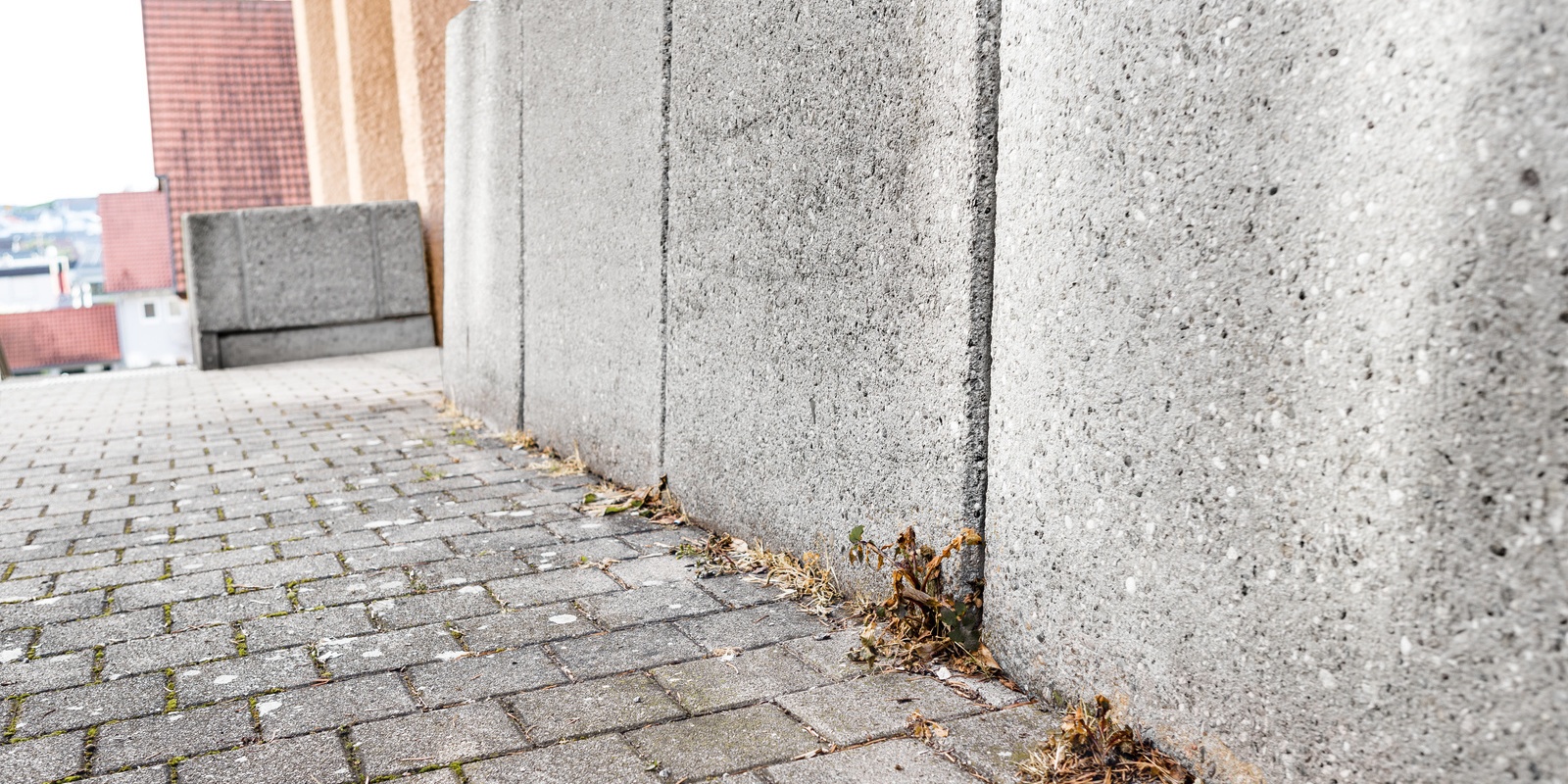 After application of hot water
After one week, the dandelion heads are noticeably drooping.
No more weeds will grow here for the time being.
Tip: Apply at the right time
The best time to remove weeds is in the afternoon. The amount of water stored by plants varies depending on the time of day. It is also best to start with the fi'rst hot water application shortly after the weeds have sprouted in spring. As plants get older, they become more resistant to hot water.
Tip: Distance between nozzle bar and surface
The optimal distance between the nozzle bar of the Kärcher weed remover and the surface is between 5 and 15 centimetres. You can work comfortably within this range without the weed remover touching the ground. It also means that the loss of water temperature as the water travels to the surface is minimal.
Effective and efficient, safe and convenient
Our decades of experience and expertise in the development and production of high-pressure technology with high-quality, durable components are now available to you in our systems for mobile hot water weed removal.
Eliminate weeds systematically
Weed removal using hot water is effective and environmentally friendly. When using this method, it is important to make sure that all the components used are fully compatible with each other. For weed removal using our new weed removers, you can use many of the Kärcher HDS machines. The Kärcher system guarantees optimal effectiveness and effciency – always.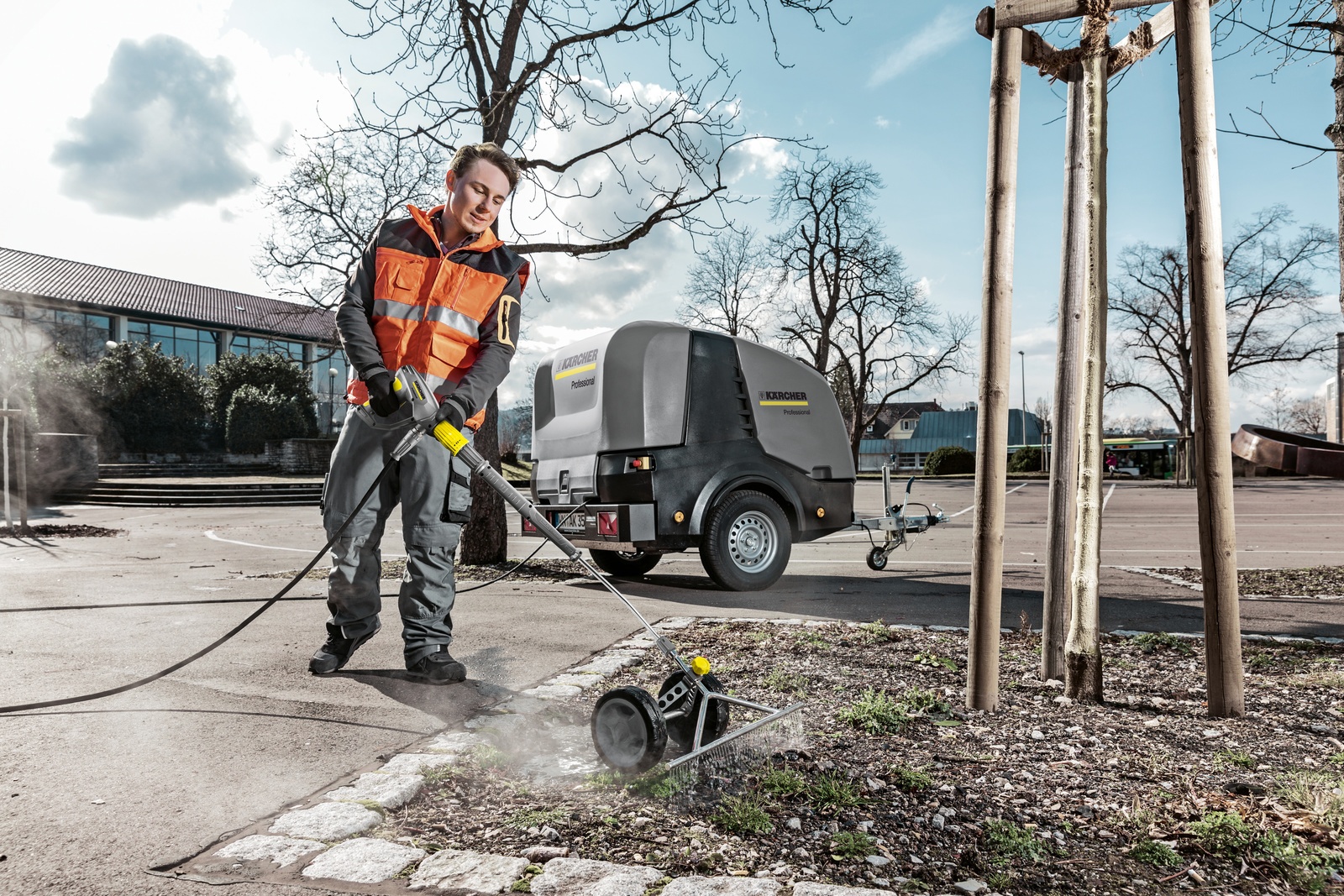 The benefits for you: the Kärcher System
Kärcher HDS hot water high-pressure cleaners can generate the water temperatures required for weed removal close to the steam threshold.
Our patented burner technology guarantees consistently stable temperatures of up to 98°C.
The optimised water fl•ow of the weed removers ensures optimal penetration.
The compact design and flow weight of the weed removers makes your work easier. You can work for longer without needing a break.
You have a powerful, professional system that you can use for other tasks, such as cleaning and watering.
Equipped for every application
For weed removal using the new weed removers, you can use many of the Kärcher HDS machines. Depending on the machine version, different nozzle inserts are required in order to guarantee optimal water volume •flow and therefore consistently high temperatures.
Outstanding mobility and reliability on the road
Our HDS trailers are ideal for weed removal. One reason for this is the large water tank that allows their independent use. Simply configure the "weed option" attachment kit, which minimises temperature fl•uctuations, and you are ready to go.
Benefits at a glance
Can be used independently, without a power or water supply.
Also available in a stationary skid or cab version.
Effective weed removal and powerful hot water high-pressure cleaning in a single machine.
Durable industry technology for daily, heavy-duty use.
Tried-and-tested Kärcher burner technology with integrated heat exchanger for maximum effciency.
The optional two-spray lance operation delivers maximum effciency and enables full use of the performance capability.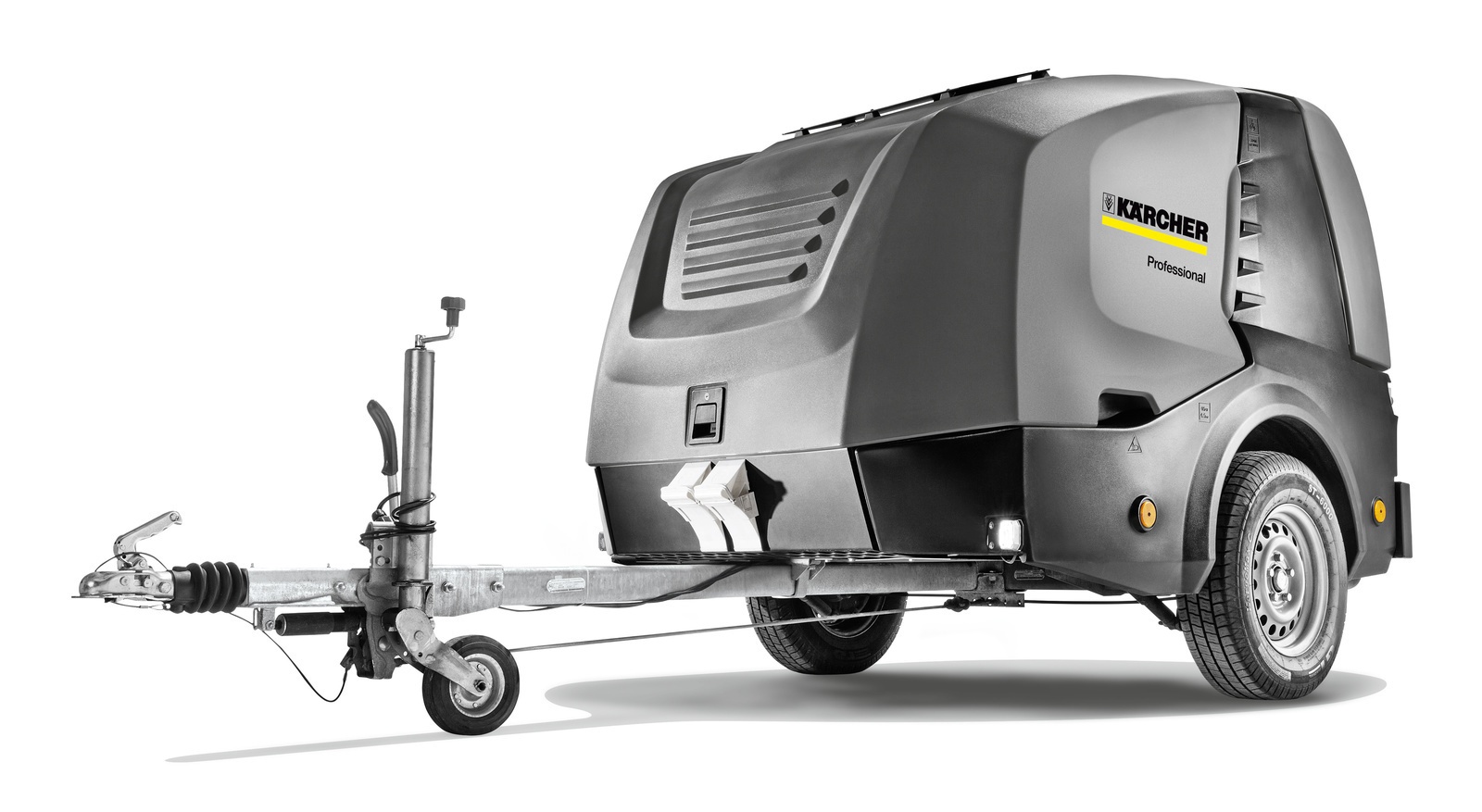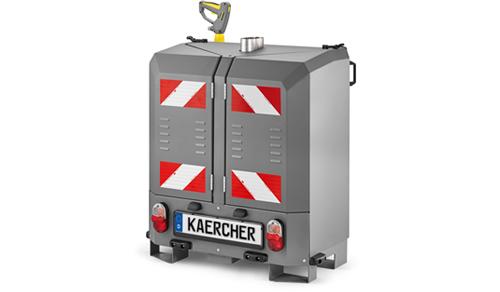 Versatility is always in season
Weed removal is a seasonal business, so it is good to know that you can use your equipment for lots of other activities, too. The WRS 200 mounted on a Kärcher implement carrier does not need any external power or water supply. This means that you can also use it in remote areas.
Operation: simple. Logical. Safe.
A perfect operating concept must be as simple as possible and so logical that operating errors and risks to the operator can be ruled out from the outset. That is why we have separated the operating and maintenance elements on the WRS. On the left-hand side of the machine, you will 'find everything you need for maintenance and servicing. On the right-hand side, you will fi'nd the control elements for the temperature setting and pressure control and the switch for the burner. The operator can always control these functions safely from the roadside or the pavement. In the cab, our sophisticated EASY Operation system eliminates the need for a separate display, so all the necessary information is in the driver's direct fi'eld of vision.