CLEANING PATIO SLABS: A STEP-BY-STEP-GUIDE
Particularly in the warmer months, a patio is often used as an extra living and dining area. After all, it offers plenty of space to sit together comfortably, eat or sunbathe. In order for the outdoor area to really look its best, the patio slabs need to be cleaned thoroughly at least twice a year. With these tips and tricks, patios will gleam once again.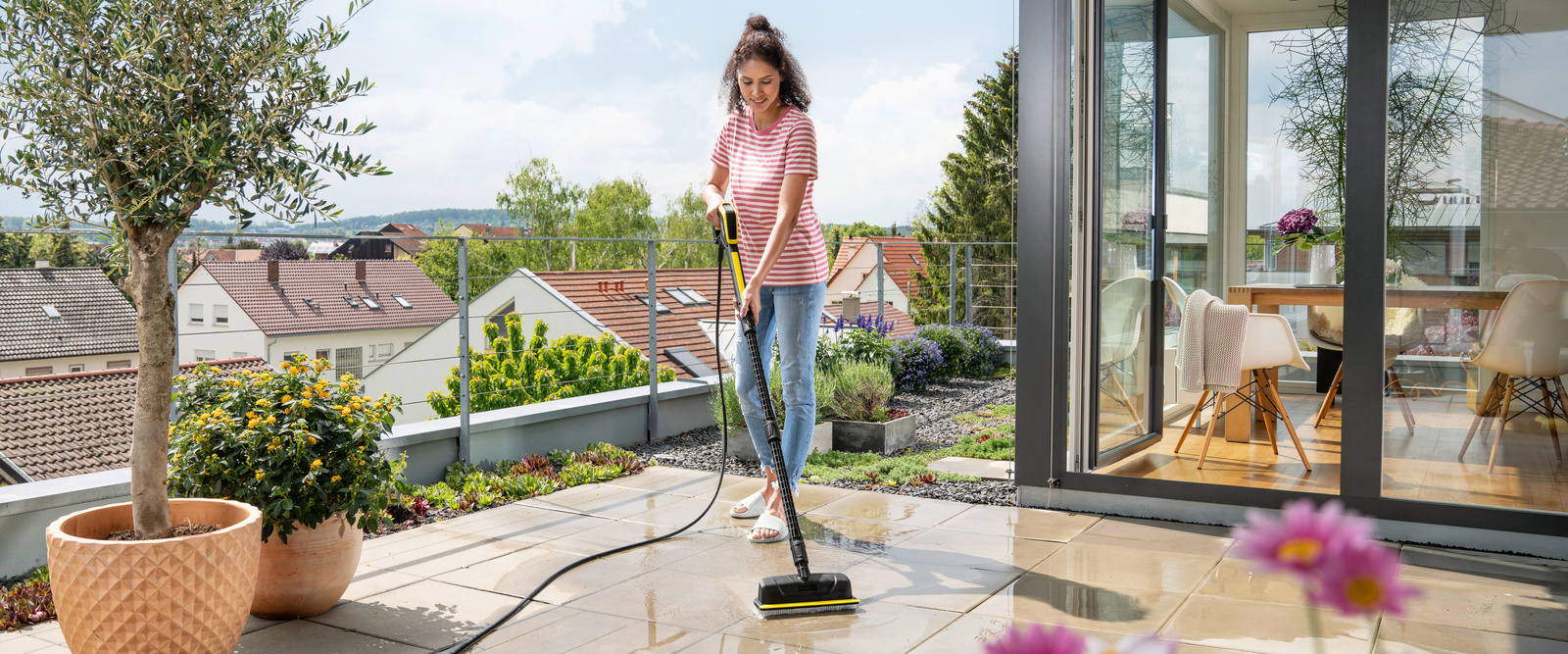 What to look out for when cleaning patio slabs?
Patios made of concrete or natural stone not only impress with their modern look, but also with their uncomplicated maintenance. Because compared to wood patios, patio slabs with smooth surfaces are easier to clean. However, it is quite normal to see signs of use on these materials: after a while, not only stains accumulate on the stone slabs, but also algae, moss and weeds settle in the joints. As well as not looking very nice, it can be dangerous, moss and algae in particular quickly become slippery. But what is the best way to clean patio slabs?
To clean patio stones and concrete patio slabs, garden owners can use electric tools and chemical aids as well as environmentally friendly home remedies. The following applies: to protect the patio slabs from damage, the respective cleaning method should always be adapted to suit the material. Tools such as joint scrapers, pressure washers, surface cleaners or patio cleaners can be used just as well as tried and tested home remedies.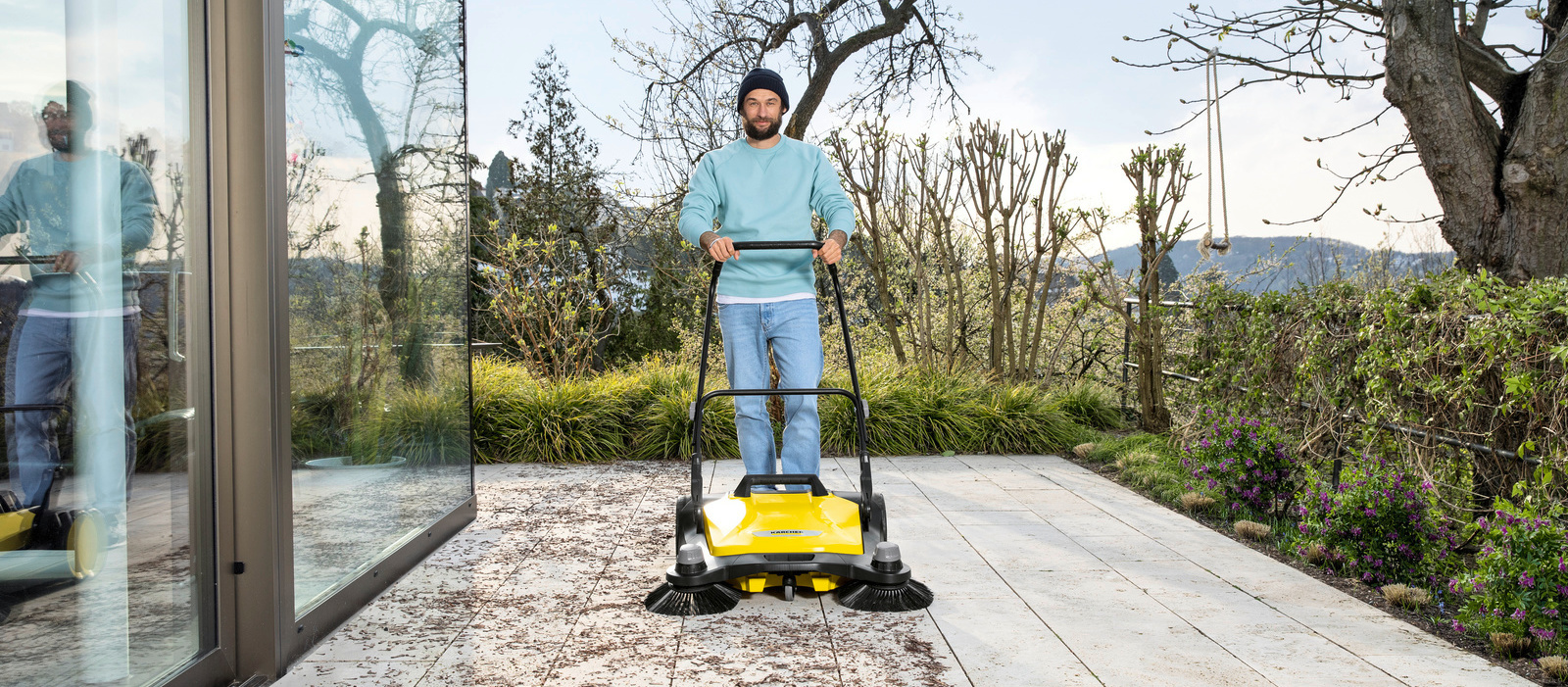 Remove coarse dirt from patio slabs
Before the patio can be thoroughly cleaned, coarse dirt should first be removed from the surface. This means extra work, but it prevents the dirt from spreading further while the patio slabs are being cleaned. Loose debris such as leaves, or twigs are best removed with a broom made of straw or plastic. Metal rakes are not only noisy, which could disturb neighbours, but can also damage the surface. Those with a particularly large outdoor patio should have a sweeper to do the work for them. This not only saves time, but also preserves energy.
Tip
To prevent the formation of moss and algae, patio slabs should be cleaned regularly, preferably several times a year.
Clean patio joints
Once the patio surface has been cleaned, it's time to clean the joints. To remove weeds, a joint scraper is suitable. Scratch along the joints and loosens stuck greenery, weeds or moss. This is very time-consuming and requires some patience, but the effort is worth it. If you don't have a joint scraper handy, a garden spatula will also suffice. A cordless weed remover is more efficient and easier on the back. Those who prefer a simple alternative can also turn to hot water. The advantage is that it is inexpensive and ecologically safe, it also literally fights weeds at the root, as it destroys the plant's cell structure, causing it to die over time. The disadvantage of this method is that the weeds initially remain and the application must be repeated several times until the it has an effect.
Once the patio joints have been cleaned and all loose debris has been removed from the patio, it is time to thoroughly clean the patio slabs.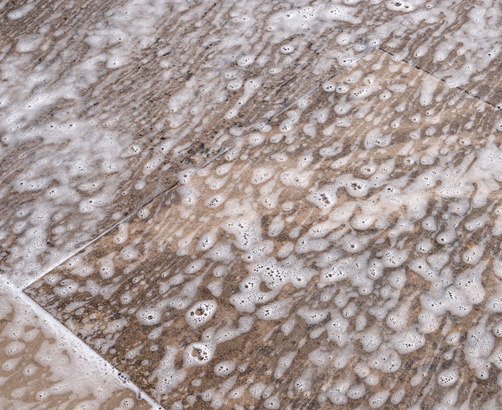 Cleaning patio slabs: removing stains and discolourations
Splashes of red wine, sauce stains around the table or grease splatters under the barbecue; if stains dirty the patio after boisterous summer nights, quick action is required. This is because, especially on patio slabs with porous surfaces, liquids soak in quickly and can lead to discolouration that is difficult to remove afterwards. In particular, grease and oil leave stubborn stains on concrete or stone floors. Cleaning products for stone surfaces or special concrete cleaners are a good way to remove these type of stains. A distinction is made between cleaning products that are applied directly and those that must be diluted. For the latter, it is important to maintain the correct ratio. The cleaning product is applied to the affected areas and should be left to act for about 2 to 5 minutes. After that, rinse the areas with clean water. Alternatively, the patio can be cleaned with home remedies. For example, you can use soap diluted in warm water or make your own cleaner. All you need is a little bicarbonate soda or vinegar. However, before you get to work, it is advisable to test the cleaner on an inconspicuous part of the patio. If the material discolours, it is best to rely on professional aids and cleaning products.
If home remedies are suitable, proceed as follows: First, dilute with water and generously distribute it over the patio's surface. Vinegar can be applied directly or in a 1:1 ratio with water. In the case of bicarbonate soda, dissolve 1 to 5 tablespoons in 10 litres of water, depending on the degree of soiling. The mixture must now soak in for 15 to 20 minutes. The patio is then cleaned with a scrubber and finally rinsed with clean water.
Clean patio slabs with pressure washer
To thoroughly remove dirt from the entire surface of the patio, a pressure washer is ideal. Due to the fact that the water hits the ground with a pressure of up to 180 bar, it cleans surfaces extremely reliably, a very convenient and time-saving way to clean the patio slabs. But be careful: depending on the type of material, the direct water jet can roughen or even damage the patio slabs. Hard types of stone can be cleaned with high pressure without hesitation, while only low pressure should be applied to softer natural stones. To still thoroughly clean patio slabs with little pressure, it is recommended to use the pressure washer in combination with a surface cleaner, where the distance of the nozzles to the surface can be increased and thus cleaned more gently. Alternatively, for smaller surfaces, a handheld cleaner with a matching power scrubber can be used.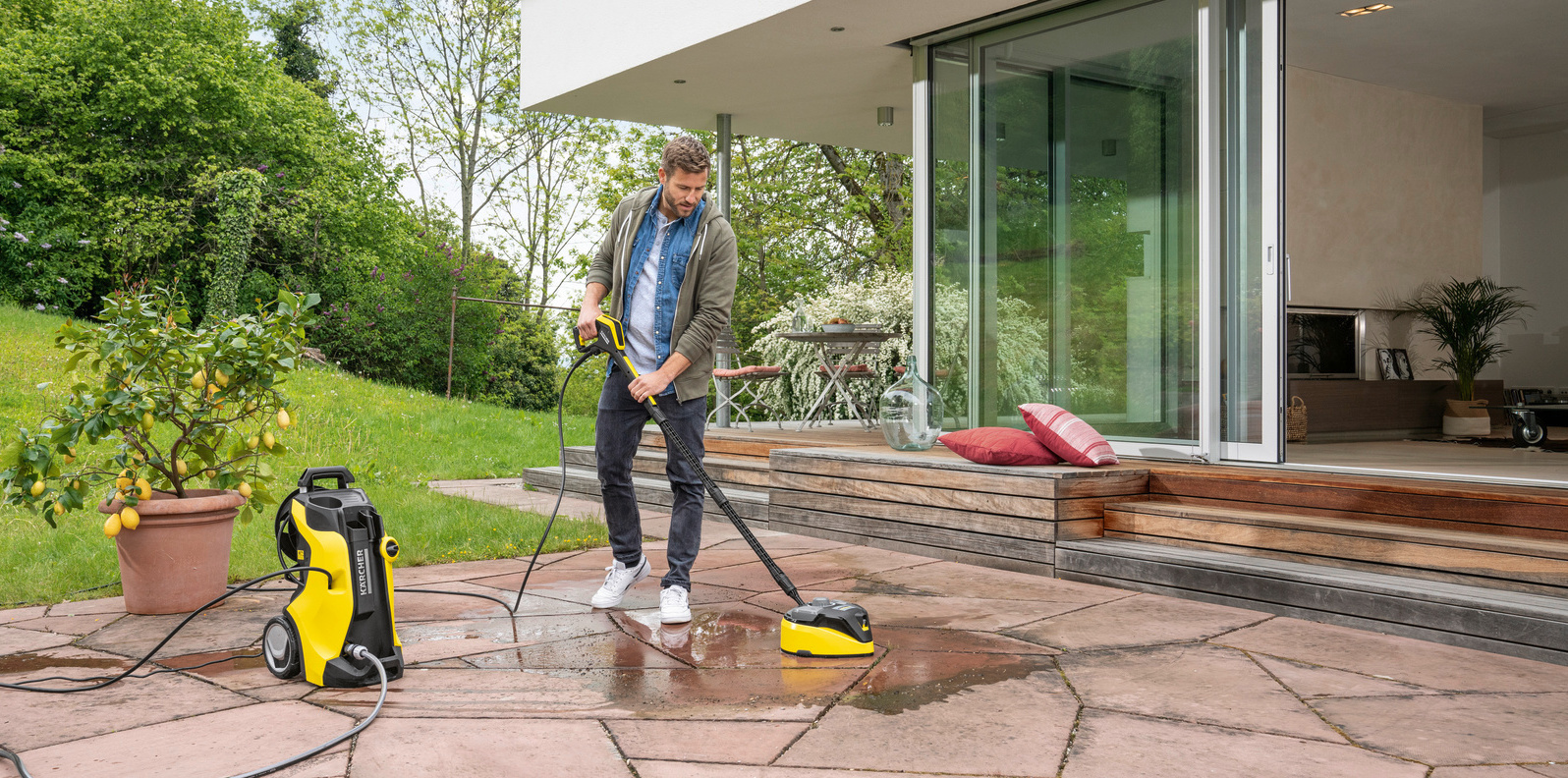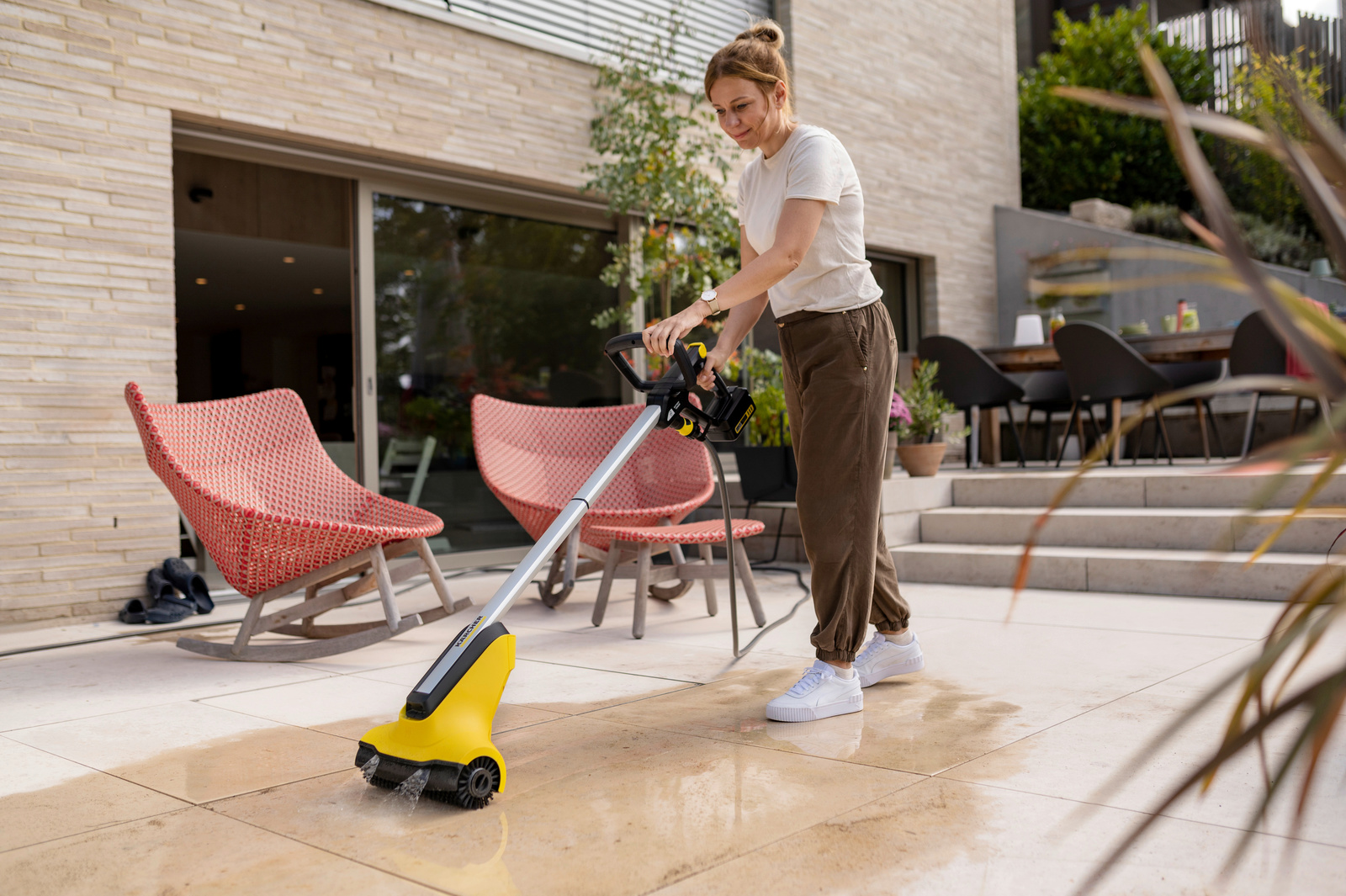 Cleaning with the patio cleaner
In addition to pressure washers, an electric patio cleaner is also suitable for cleaning patio slabs. Thanks to the combination of two rotating and interchangeable roller brushes for wood or stone surfaces as well as the integrated water supply, even stubborn dirt and green deposits can be loosened. You can adjust the amount of water used depending on the surface that needs to be cleaned. Only use as much water as required.
And this is how to clean the patio slabs in just a few steps:
Step 1: Before you get started, the patio cleaner must first be connected to a water supply. A conventional garden hose is perfectly sufficient for this.
Step 2: Once the hose is connected, open the water supply located on the handle. Here, the desired amount of water for patio cleaning can be adjusted. For materials such as concrete, you tend to need less, for wood or stone a little more water is required.
Step 3: To start, switch the device on. To clean the patio slabs optimally, the patio cleaner should be moved evenly back and forth over the surface. The dirt is loosened by the backward rotating rollers and washed away immediately by the integrated water jet.
Step 4: Just rinse the surface briefly with the garden hose and the patio slabs are cleaned.
How to clean patio stone slabs made of natural stone?
Patio's made of natural stone, such as granite, marble, sandstone or limestone, are robust, abrasion-resistant and retain their original colour. The disadvantage is that the natural material has little indentations in which dirt and green deposits accumulate. However, before reaching directly for the pressure washer or an electric patio cleaner, learn about the stone's hardiness first. The harder a stone is, the less sensitive it is to electric tools. Very hard materials such as granite or basalt can be cleaned with high pressure without any problems. With softer natural stones it is best to use low pressure or clean by hand. To clean smaller surfaces areas, pH-neutral soap, a little water, and a brush are suitable. If you want to clean larger areas of natural stone efficiently, you can reach for the electric patio cleaner or work with the pressure washer and a surface cleaner.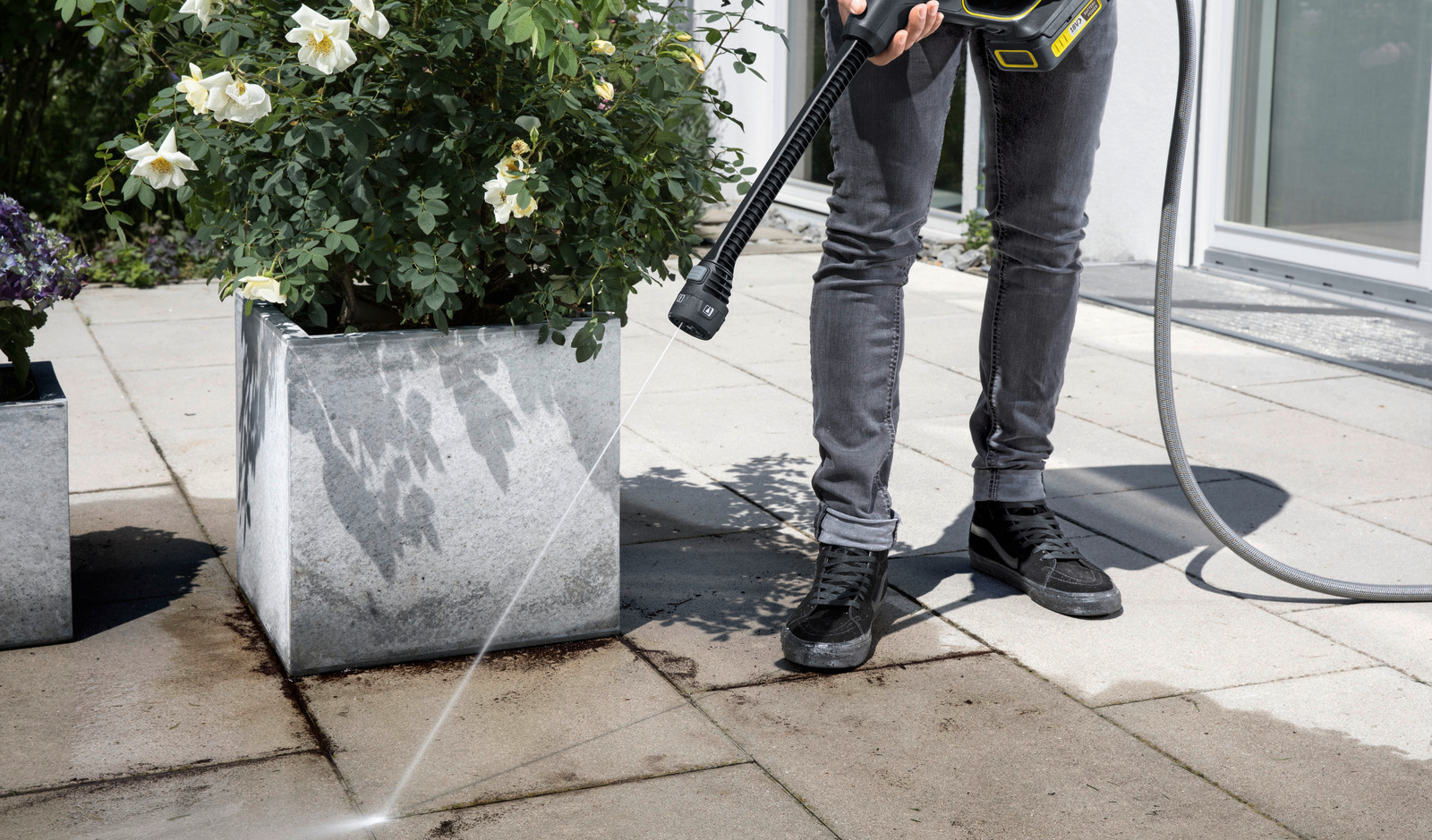 How to clean a concrete patio?
Concrete is durable and robust, but its high absorbency is a drawback. Liquids penetrate through the open pores more quickly than with natural stone. Therefore, it is recommended to clean concrete patio surfaces with a small amount of water. For smaller stains or soiling, scouring sand is helpful. This acts like sandpaper and dissolves dried dirt effectively.
Green deposits and algae is removed with warm water and a scrubber. For an environmentally friendly cleaning a biodegradable soap is best. To do this, first dissolve the soap in lukewarm water, then apply it to the surface and leave the mixture for 20 to 30 minutes. Then scrub the surface with a scrubbing brush or a hand brush. Afterwards, the patio should be rinsed thoroughly with clean water to remove all soapy residue.
Suitable products for patio slabs
This might also interest you: