Public services
Good prospects for success. Education is the most important raw material for the future. The quality of education and training increasingly determines the competitiveness and general prosperity of states and each individual. Consequently, substantial sums of money are invested in educational facilities and their operation. In order to secure these investments and a positive learning environment, these facilities require continuous maintenance using professional cleaning technology. The Kärcher system offers convincing solutions for any cleaning task in public educational facilities: perfectly-tailored machines, accessories and cleaning agents. They are powerful, efficient and cost-effective thanks to innovative technology, low consumption and durability.

The talent of achieving a lot with a little.
Achieving as much as possible with as little effort as possible is part of human nature. It is simply a matter of striving for greater efficiency. The Kärcher Professional machines in anthracite demonstrate how much efficiency is possible in cleaning technology today. The attractive machine colour is a symbol for a generation of cleaning machines with special talents. For cleanliness on public surfaces, hallways and rooms in just one run. For easy transport – even on stairs. And for surfaces that can be used immediately after cleaning.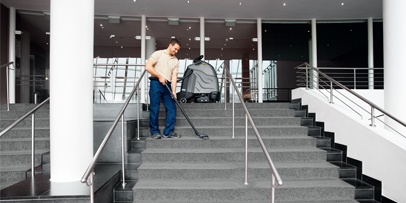 Carpets quickly cleaned
When there is not enough time for drying or deep cleaning of carpets: the Kärcher system, consisting of BRC 45/45 C carpet cleaning machine and iCapsol RM 768 detergent, for gentle deep cleaning with fast drying.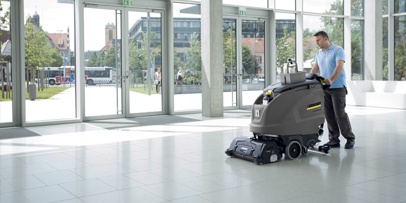 Ideal for entrances
Effective on road dirt, easy handling, fast drying, reduced water consumption. The Kärcher B 60 W family with Intelligent Key system and the EASY Operation advanced operating concept offers an unprecedented level of safety and protection for the operator, the machine and the work area. For optimal use of energy, the contact pressure of the brush head can easily be set to five different modes to suit individual requirements.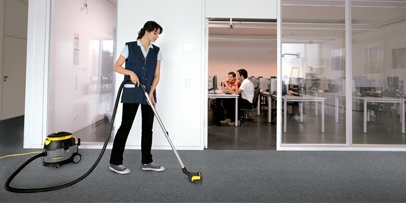 Quiet is clever
At only 59 dB (A), the T 15/1 is the quietest vacuum cleaner in its class and is ideal for noise-sensitive areas. The T 15/1 is also very efficient and cleans thoroughly and deeply.
Space for clear thoughts.
A positive learning environment is important for teachers, as well as students. Because new ideas don't grow on dust or road dirt. And talents develop better in a pleasant atmosphere. To ensure classrooms, offices, lecture theatres and other heavily frequented rooms are always clean and maintained, professional cleaners choose cleaning solutions from Kärcher, the world's market leader. Everything from a small machine to a tailored system solution, all from a single source, with professional advice, training and service.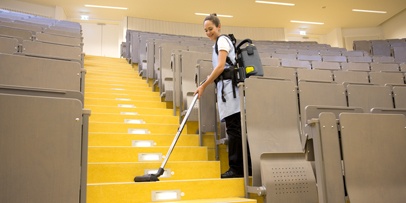 Cordless. Flexible. Fast
Thanks to battery operation, the powerful BV 5/1 backpack vacuum allows cable-free, unrestricted use in confined spaces - with shoulder strap and lumbar support.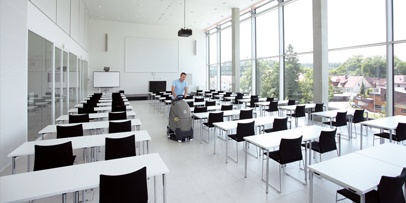 Powerful. Enduring. Versatile
The BD 50/40 RS enables a high sqm performance in a short time with a uniform cleaning result. One battery charge is sufficient for up to 2,500 sqm of surface with normal dirt levels. With a maximum width of 705 mm, the slim BD 50/40 RS fits even though narrow corridors.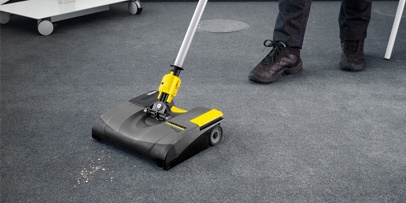 The quick machines for occasional use.
The cable-free EB 30/1 Li-Ion is a particularly quiet electric broom for quick intermediate cleaning. With Li-Ion technology and extra long battery run time: 60 minutes on carpet and up to 80 minutes on hard surfaces. Includes quick charger BC 1/1.8 and replacement battery for uninterrupted use.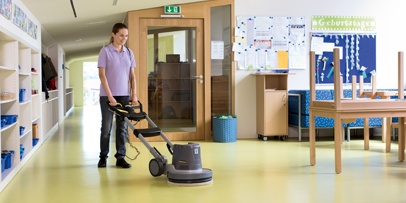 Central. Optimal
The BDS 43/180 C Adv single disc machine with (optional) tank mounted above the engine housing is impressive in daily use: with the centre of gravity located near the centre of the machine, this results in increased contact pressure and reduced guiding forces. The tank with filling level display can be accessed directly, can be removed in seconds with the handle and filled at the tap. Two robust, oval aluminium bars and the wide, ergonomic handle ensure optimal application of force, perfect balance and effortless operation.
Task: hygiene. Solution: efficient.
Hygiene is something you have, not something you talk about. Facilities such as sports halls, changing rooms and swimming pools encompass a vast array of critical areas with different levels of hygiene demands. Wet areas, crevices and large surfaces. Impressive cleaning solutions are required for every task: with fast work progress, high cleaning performance and low consumption. Thanks to professional tank volumes and economical use of water and cleaning agents, the machines can be used for longer before they need to be refilled.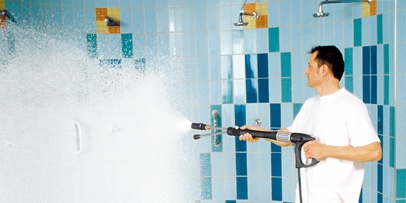 Advanced foam systems
Kärcher has developed special foam systems for economical cleaning and disinfection. Easy foam set: the standard solution for foam generation. Can be used with all Kärcher HD and HDS machines. Inno foam set: dual jet pipe with foam jet and changeover to high-pressure for producing very adherent cleaning and disinfection foams.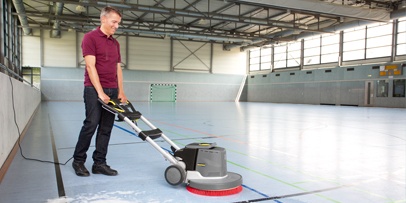 When the head decides
The BDP 51/180 C Adv and spray cleaner are a time-saving solution for removing marks and films. Particularly on large surfaces, the ergonomically perfect and user-friendly, 2-holm machine type enables fatigueless operation.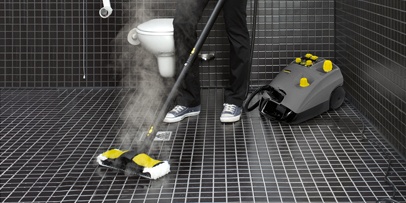 Full steam ahead
Time is money – particularly in commercial cleaning. The SG 4/4 features an ingenious filling system and is easy to operate, making it especially efficient. The SG 4/4 removes limescale and films of dirt especially quickly and effectively.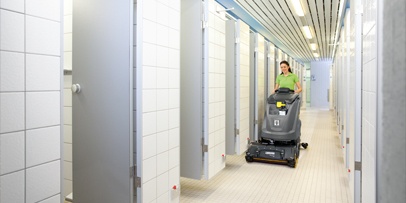 Swimming pools: uncompromising hygiene
A prerequisite for hygiene is regular, thorough cleaning. With rotating rollers, the B 40 C/W, B 60 W and B 80 W scrubber driers achieve the desired deep cleaning on tile flooring.
Top marks for hygiene.
With the exception of medicine, professional hygiene is surely more important in the food industry than anywhere else. The implementation of effective HACCP concepts for large kitchens and canteens places great demands on cleaning. And this is equally true for neighbouring rooms, such as laboratories, workshops and training workshops, in order to prevent the transfer of germs. The Kärcher system offers reliable and efficient solutions for every requirement. Many Kärcher cleaning machines can be fitted with hygiene filters or food-use approved running wheels.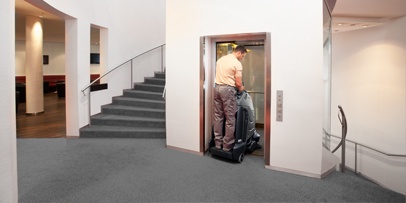 Critical: hygiene on carpets
The CV 60/2 dry vacuum cleaner is very versatile and fits into every elevator. The perfect solution for fast, thorough vacuuming in multi-storey buildings.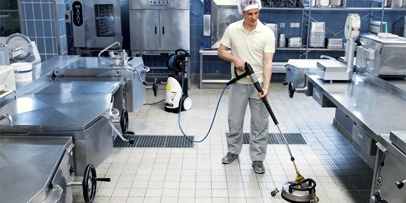 The specialist for food
The HD 7/10 CXF is an unheated high-pressure cleaner, specifically developed for general-purpose commercial use in sanitary and food areas. This top machine in the food compact class features continuous regulation of pressure and water volume, the perfect preconditions for meeting high hygiene requirements.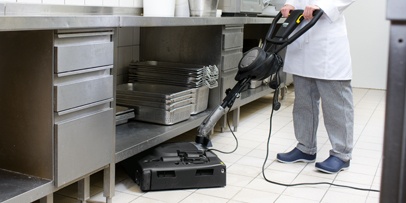 All-rounder, quick and efficient
The BRS 40/1000 C is a universal scrubber for basic and maintenance cleaning of hard surfaces as well as for stripping, crystallising, shampooing and polishing. Thanks to contra-rotating rollers, the machine runs straight without wandering and is easy to manoeuvre. With a clearance height of just 13.5 cm, the BRS 40/1000 C is the flattest machine in its class.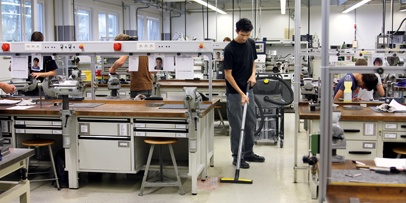 Constant suction power
The NT 55/2 Tact² Me I is ever popular as a specialist system and all-rounder thanks to its high level of mobility and power, solid construction and a wide range of practical equipment features. The tilting chassis makes the disposal of liquids and coarse dirt easy.
High performance in all areas.
Outside areas must not only give a good impression. all-year-round maintenance of the infrastructure is indispensable for ensuring that daily routines can be carried out smoothly and safely. Roads and paths, multi-storey car parks and green areas are the domains of the powerful and versatile sweepers from Kärcher: sweep, dry or wet. Mow grass. Collect leaves. And use for complete winter service. For innumerable other cleaning tasks, Kärcher high-pressure cleaners perform other invaluable services: from vehicle care to floor cleaning and the removal of graffiti.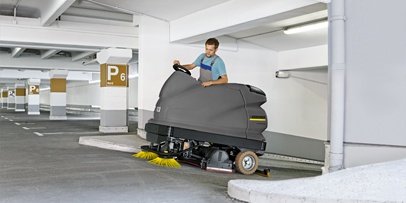 Right on track
Multistorey car parks often place high demands on scrubber driers: large areas, coarse and stubborn dirt and steep ramps. The Kärcher B 250 R is the right machine for this job: with robust steel frame for heavy-duty use on areas with inclines up to 15%. With large water tank and powerful battery for long work intervals.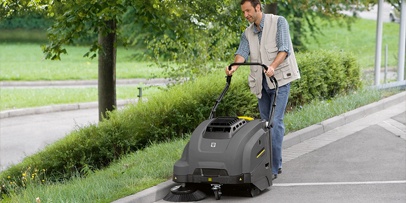 Could it get any easier?
The compact and extremely manoeuvrable KM 75/40 W thoroughly cleans small to medium-sized areas effortlessly. The traction drive replaces physical strength, while powerful dust suction ensures cleanliness without dust clouds. Available with a choice of powerful petrol engine or whisper-quiet battery version for indoor use – with optional antistatic carpet sweeping kit.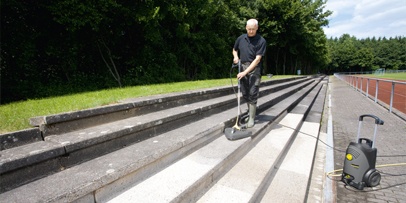 Innovative surface cleaning
The FRV 30 surface cleaner has a high area performance and cleans surfaces quickly without splashing, automatically vacuuming the dirty water. This obviates the need to rinse surfaces after cleaning.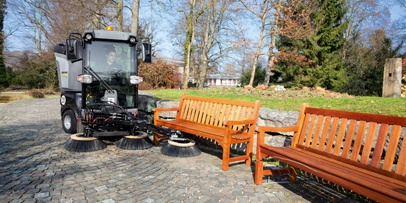 Performance across the whole spectrum
With its 34 HP Kubota diesel engine, a sweeping width of at least 1400 mm and 500-litre container capacity, the MIC 34 C is equipped for large tasks. The optional third side brush extends the sweeping width to a total of 2000 mm. An unbeatable combination for sweeping in corners and along kerbs.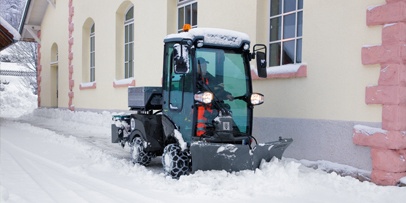 For year-round use.
The MIC 34 C rounds off the Kärcher range of municipal implement carriers. The quick changeover system enables attachments to be changed quickly without tools. The 34 HP turbo diesel engine has power reserves at the ready.