Hospital Cleaning Solutions
The successful day-to-day operations of a busy hospital are linked with cleanliness and efficiency. Maintaining hygiene and increasing patient satisfaction while keeping costs low can be difficult. Kärcher has the solution to help you work productively and effectively while reducing HAIs and increasing your HCAHPS scores. With innovative products, resourceful technologies, and complete system solutions, Kärcher provides increased efficiencies for your facility. Our industry expertise, inventive equipment, and professional service equals results.
Popular Models For Cleaning Hospitals
Cleaning Solutions For Every Area
Cleaning Hospitals Lobbies
Retain the clean look of carpeted floors and manage a constant level of hygiene with the Sensor S2 vacuum cleaner. This upright vacuum allows you to deep clean into the carpet and remove dirt that can cause long-term damage. The Kärcher PS 4/7 Bp Mister is specifically designed to reduce risks of HAIs by killing virus, bacteria, and mold. Mist VitalOxide on chairs, doors, handles, your front desk, or any high touch point in the lobby to quickly remove viruses and bacteria.
The compact BR 35/12 Bp floor scrubber is a lightweight battery-powered scrubber that prevents slipping and leaves the floor dry immediately after cleaning. Because it is battery-powered, it is ideal for scrubbing floors around your main entrance without causing hospital visitors to trip over unsightly cords. Use the Radiant floor machine with ORB technology to brighten stone floors, clean carpet, make tile & grout shine, remove finish from wood, VCT and vinyl floors, and clean indoor or outdoor concrete. This machine provides better ergonomics and performance with the least amount of vibration and is simple to use. The Radiant truly is the jack-of-all-trades.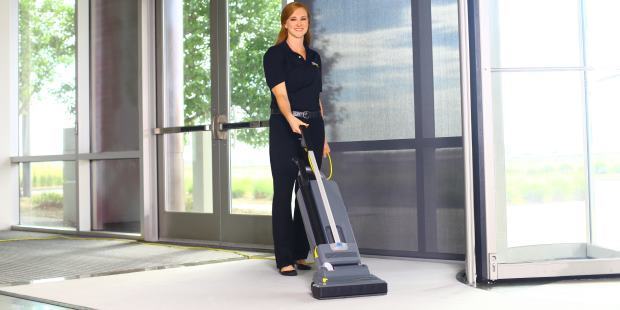 Hospital Administrative Offices & Restrooms
The Lightning 2000 burnisher creates a consistent high-gloss shine on floors. Its powerful dust control system captures dust in an easy to remove paper bag, providing a healthy hospital environment. A mechanical safety interlock also prevents accidental start-ups, protecting the operator and your hospital's assets. For productive vacuuming on carpet or hard floor surfaces, the Chariot 2 iVac 24 ATV stand-on vacuum cleaner allows maximum cleaning coverage in minimal time. This machine comes with a 10 foot hose and hand tools for convenient, off-aisle cleaning and HEPA filtration.
Productively clean and extract carpet surfaces with less effort with the iCapsol Mini Deluxe carpet extractor. The low moisture encapsulation process removes soil while improving the appearance of the carpet. Reducing water use and detergent consumption with the iCapsol decreases the potential for mold and odor in carpeted areas. Use the SG 4/4 steam cleaner to sanitize surfaces and eliminate foul odors with ease. Clean without chemicals in bathrooms, offices, and high touch points using the variable control for steam and hot water.
Kärcher's battery-operated BD 30/4 C Bp ultra-compact floor scrubber provides an impressive performance on small areas, like hospital restrooms. Since this machine is lightweight, you can easily move it from stall to stall in a restroom for quick and effective scrubbing. The BR 30/4 C floor scrubber allows you to ditch the mop. It's as easy to use as an upright vacuum and allows you to return the area to service with clean and dry floors.
The NT 68/1 wet/dry vacuum cleaner quickly picks up water from restroom floors, leaving floors dry, to reducie slips and falls. The 18 gallon capacity offers easy mobility from location to location, while the on-board tool storage allows the user to easily change out hand tools. The AP 100/50 M-CA specialty surface cleaning machine safely and accurately dispenses cleaning solution, then rinses at low or high pressure and vacuums the surface completely dry in less time than conventional cleaning methods.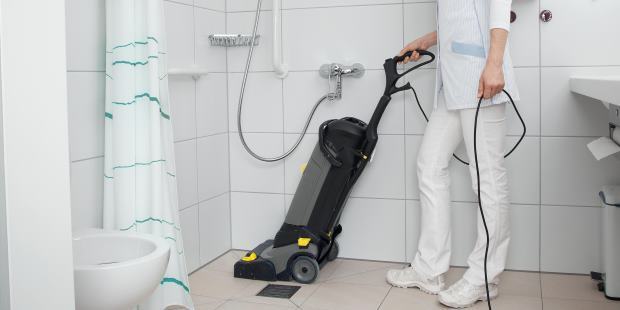 Cleaning Hospital Corridors & Waiting Areas
Accomplish a variety of cleaning jobs with the B 60 floor scrubber. It contains a tank rinsing system to ensure hygiene on your floors and within the machine. Use the Clipper DUO carpet extractor to keep your carpet consistently clean. The adjustable handle flips over to operate in walk-behind mode.
Maintaining your carpet with a low-chemical system provides consistency in the appearance of your carpets and your hospital. The low moisture Taz all surface cleaning machine leaves your floors with an impressive clean, helping increase your HCAHPS scores. The SG 6/5 steam cleaner can easily sanitize all surfaces, allowing high touch points to be kept free from germs and viruses.
The Chariot 2 iGloss 20 is a high performance stand-on commercial burnisher. With a low dBA of 60, this machine is perfect for daytime cleaning. Its filter and active dust control improves air quality and is designed with the operator in mind. The Commodore DUO allows you to change from deep extraction to low moisture cleaning at the turn of a knob. The counter-rotating brushes agitate the cleaning solution deep into the carpet for interim or deep cleaning. It has a low dBA of 59 during interim cleaning and gives your carpet a thorough clean while improving appearance.
Use the Presto spotter to quickly and easily remove spots and stains from carpet and upholstery in your waiting area. The clear view hand tool shows instant cleaning results. Quickly clean up crowded areas with the EB 30/1 floor sweeper. The rechargeable battery pack ensures safety by eliminating tripping hazards. The extremely quiet operation allows daytime cleaning – this machine was designed for noise sensitive areas, perfect for waiting areas.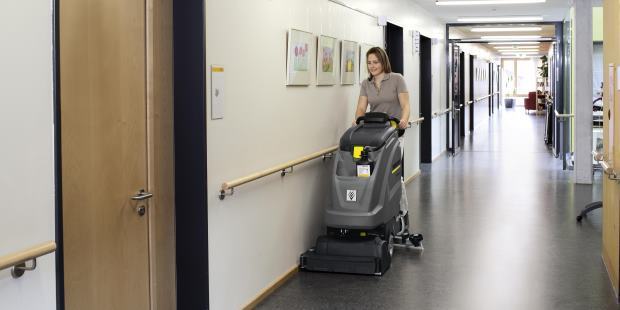 Cleaning Hospital Patient Rooms
Use the Priza carpet extractor for a powerful, compact spray extraction on small areas, staircases, and upholstery. Its adjustable handle and floor tool enables a quick cleaning and dries your carpet in less time than other products. The Taz all-surface cleaning machine cleans stone, tile & grout, wood, vinyl, concrete, epoxy, and other surfaces. Its chemical-free stripping pad removes floor finish with only water - no chemicals are needed. The Taz's unique orbital action makes it possible to strip floors in very little time.
The Saber Blade 16 auto-scrubber provides powerful scrubbing in congested areas. The two counter-rotation cylindrical brushes clean with variable pressure in both forward and reverse. Both solution and recovery tanks are easy to fill and clean for effective, hygienic cleaning in patient rooms. The intuitive, ergonomic controls of the Admiral 8 carpet extractor make quick work of soiled floors, allowing you to turn rooms faster than ever. It includes a robust design built for reliability and an easily adjustable handle with fingertip controls for operator comfort.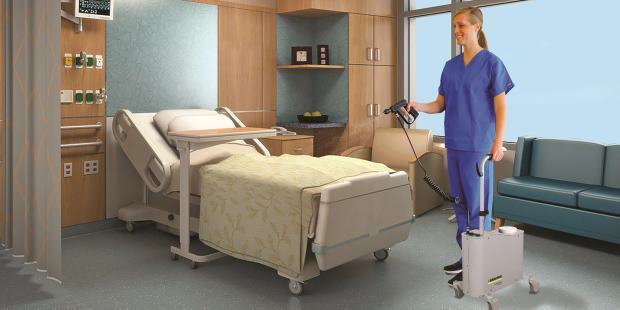 Keep Operating Rooms & Emergency Rooms Clean
The B 60/10 Eco AutoMop combines the best features of the mop & bucket and the autoscrubber, creating a solution for efficient and safe cleaning between regular scrubbing. The B 60/10 Eco is a hygienic machine – applying solution and picking it back up via a manual pump, leaving floors dry and reduces slip and fall hazards. Kärcher's NT 68/1 wet/dry vacuum cleaner includes a self-adjusting squeegee assembly and an on-board tool storage compartment with safety sign storage bracket for safety. With no-tip dumping, any user can be efficient and productive in your operating rooms.
The SG 4/4 steam cleaner sanitizes with a temperature up to 248° F, cleaning surfaces and eliminating foul odors with ease. Use the compact BR 35/12 C Bp floor scrubber to clean in any direction – right up to the edge. Kärcher's eco!efficiency mode increases operation productivity by 50% and reduces noise by 40%.
Spray high touch points with Vital Oxide and the Kärcher PS 4/7 Bp Mister to get rid of viruses and bacteria instantly. Simply let the Vital Oxide sit on the surface for approximately 10 minutes – no rinsing or wiping required. The easy-to-use SG 6/5 steam vacuum cleaner offers hygienic cleanliness wherever you need it. One switch controls all operation, so you can easily steam clean operating tables, chairs, countertops, door handles, and all other potentially contaminated items between patients.
Use the BR 30/4 C compact floor scrubber to quickly scrub and dry floors. Dirt and contaminants are captured and removed from the floor without worker contact. The Radiant floor machine is the jack-of-all-trades, allowing you to clean, scrub, strip, shine, restore everything from carpet to concrete with ease.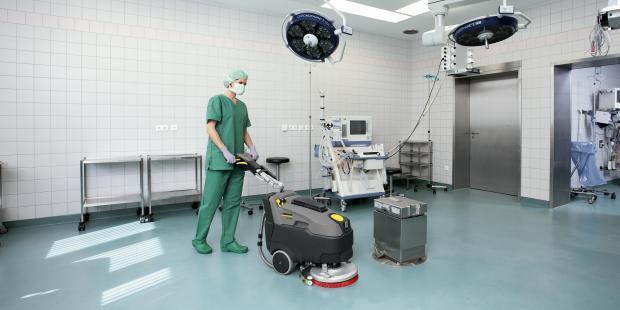 Clean Hospital Cafeteria and Kitchens More Efficiently
Use the HD 2.3/14 C Ed Food cold water pressure washer to remove grease and grime from your cafeteria or kitchen. It can also use the hospital's hot water source to run hot water up to 160 degrees F. It comes standard with food-grade hoses and abrasion-resistant wheels to help keep your hospital clean. Kärcher's BD 30/4 C Bp floor scrubber leaves your kitchen floors safe and dry with 100% pickup in the corners and includes an adjustable handle for optimal ergonomics for every user.
For tough everyday use, you need the NT 48/1 wet/dry vacuum. The large filter provides impressive suction power and long work intervals, improving your productivity. The easy-to-use SG 6/5 is a single machine that is a steam machine and wet vacuum cleaner in one. Now you can easily disinfect kitchen surfaces, reducing the spread of grease and grime.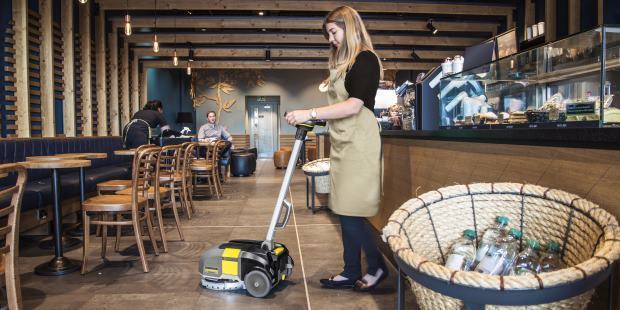 Hospital Exteriors and Loading Docks
The outside and façade surfaces of a hospital must not only give a good first impression and build patient confidence, but also ensure that daily routines can be carried out safely and smoothly. Kärcher has your solution for eliminating soils inside and outside your facility, allowing a comfortable and clean experience for patients and staff.
Keep walkways and entryways soil-free with the Radius 280 Deluxe commercial sweeper. It operates quietly and provides outstanding performance on hard and soft surfaces. With direct-throw and dust control, the Radius 280 Deluxe will keep dust from entering the air inside or outside the hospital. The Radius 360T sweeper is perfect for sweeping larger areas like parking garages and lots. It has an effective automatic filter cleaning system and is easy to empty.
The compact class cold water pressure washer is compact, mobile, and is designed for daily commercial use. Now you can easily clean sidewalks, entry ways, loading docks, and dumpsters. Remove gum from sidewalks, clean dumpsters, remove dirt and grime from loading docks, and clear salt in heavy traffic areas with the HD 4.2/20 St Ea B pressure washer. This unit is convenient and provides the right pressure and flow rates for your cleaning needs.